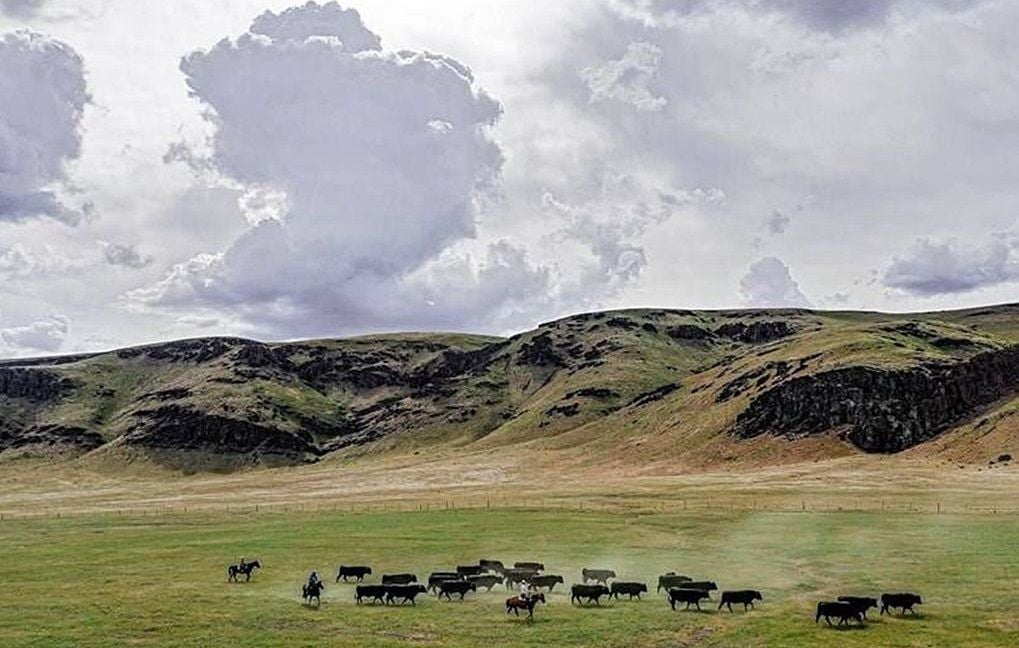 BATTLE MOUNTAIN — A centuries-old working cattle ranch spanning four counties is now on the market.
Watkins Ranch Group of Sierra Sotheby's International Realty listed the 25 Ranch, one of the largest and oldest in the state. Located north of Battle Mountain, the ranch extends from Lander into Humboldt, Elko and Eureka counties.
"Rarely do you see properties of this size with such a large amount of grazing acreage and water rights come to market anywhere in the country," says Asher Watkins with Sierra Sotheby's International Realty. "This is a serious chunk of land."
The property is billed as one of the most notable and historic ranches in Nevada history.
In the 1870s, W.T. Jenkins migrated from Wales to Nevada seeking fortune in mining. When he didn't strike it rich in gold or silver, he turned to raising sheep and cattle.
A fatal gunfight in the open Nevada rangeland ensued between sheepman W.T. Jenkins and cattleman Joe Dean, who attempted to run Jenkins out of the country. Jenkins was victorious, then merged several ranching properties that had been assembled and operated under the W.T. Jenkins Company and Russell Land and Cattle Company umbrellas into what is now the 25 Ranch operation.
At its peak, 33,000 sheep and up to 10,000 head of cattle inhabited the ranch.
Louise Jenkins Marvel, W.T Jenkins' daughter, took over ranch operations in 1918 at the age of 18, and gradually built a ranching empire in a time when few females existed in any leadership roles. Politicians and high-profile visitors would frequent the ranch, including U.S. Sen. Paul Laxalt and renowned horse trainer of the day Tom Dorrance.
Among Marvel's great lifetime accomplishments, which included running the expansive ranch, were paying off everyone she owed money to during the Great Depression and being voted cattleman of the year in 1962, the first woman to ever hold the title.
You have free articles remaining.
After growing the ranch, her sons— Dick, Tom and John Marvel—took over operations. The family ranch was eventually sold in 1964 to a Nebraska-based company, then again to the current owner in 1989. Famous for their rodeo livestock, the W.T. Jenkins name is still recognized across the American West.
John E. Marvel, great-grandson of Jenkins, reminisced fondly about the ranch's heyday.
"In springtime, the cattle would go to the higher country in the north with a cowboy crew of about 14 to 18 with two different wagons," he said.
The Great Basin property is bordered on the south by Interstate 80 for easy accessibility, with public airports and heli-pads also nearby. Consisting of nearly 126,000 deeded acres with approximately 475,000 additional privately leased and Bureau of Land Management allotment grazing acres.
A main residence, multiple dwellings, corrals, barns, shops and support buildings have been added to the 25 Ranch over the years. It holds many vested and decreed water rights dating back to the 1870s and features multiple water sources, along with long-standing BLM grazing permits and a year-round carrying capacity of approximately 6,500 cows.
Fifty percent of all owned oil and gas will be conveyed with an acceptable offer on the property, which is listed for $36,525,000.
Additionally, pastures are rented to several entities on an annual basis, affording a potential gross income of $1.3 million.
"If the new owner had their own cattle operation, they could potentially triple this figure," according to Watkins.
"The 25 Ranch represents a once-in-a-lifetime chance to own an actual piece of wild west history. You can picture the stand-offs that took place on the land, and the wagon trains and miners that traversed it," said Watkins. "Here you can live out dreams of having a large cattle operation and riding across your ranch on horseback, tending to livestock or simply gazing out over your vast expanse of land blissfully while it makes money for you."