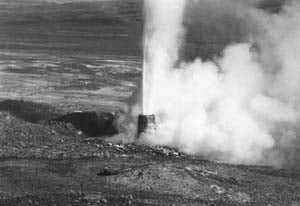 Power for nothing, get your watts for free. Sounds like a 1980s song if you remember the tune.
The idea of drilling into the Earth and tapping pools of thermal energy is of course a reality around the world and certainly here in Nevada. Anyone taking the long and monotonous trek to Reno cannot miss the steam-breathing vents at Nightingale exit, approximately 50 miles east of Reno. Sometimes called Brady's Hot Springs, they supply heat to a food dehydration plant that uses the hot water to roast onions.
Earlier travelers on their way to California called this area "The Spring of False Hope" when the poor animals of the wagon trains — with tongues hanging out, smelling the water vapor, would rush over to them, only to find boiling water. To make matters worse, the water is loaded with sodium chloride and boric acid; this was not a friendly place.
In 1929 however, a concrete pool was built by an industrious gas station owner with the hopes of making a fortune by soaking his customers. They say that the old and dry pool is still there today, baking away in the summer heat longing for those days of yesteryear complete with 1930s bathing beauties. Also located in that neck of the woods is the Desert Peak geothermal area where a power generating station has been operating since 1985 and brings needed electricity to the state grid to the tune of nearly 30 megawatts. 
Brady's Hot Springs once produced water at 83 degrees Celsius, and are, along with the Beowawe geyser, the highest surface water temperatures found in Nevada. Drilling wells in the late 1950s dropped the water at Brady to below ground level but today enough water comes from the wells to process 10,000 pounds of fresh onions per hour, turning them into 2,000 pounds of dry for sale in supermarkets. You can nose them as you pass, a distinct aroma reminiscent of a White Castle hamburger stand.  
The Beowawe geothermal area was well known to early travelers with the same thirsty animals. For those who are curious, Beowawe is a Paiute Native American word meaning "gate" and is home to the second largest geyser fields after Yellowstone in the United States. Unfortunately, they are now dormant due to the extraction of heat from the ground at the nearby power plant operation. Drilling of wells in the early 1960s found deep water temperatures above 205 degrees Celsius and demonstrated that there was enough energy available for an electrical generation station to be made. Since the deep water is under intense pressure it does not boil at the standard 100 degree C point it does at the surface.
A small plant came online in 1985 producing 16.7 megawatts of power but there were problems from the onset. Injection of the spent, briny water back into the ground caused the thermal reservoir pressure to reduce, resulting in cold water influx and lowering temperatures by as much as 21 degrees C. Nevertheless, the plant is still operating today and supplying continuous geothermal power to NV Energy.  
Our own Elko area has a long history of geothermal water use and development. Early Native Americans made use of the "Hot Hole" spring located along Bullion road as a sort of Jacuzzi and there are two active geothermal systems in place in Elko. The Elko County School District has its own drilled well located within a stone's throw of the front door of Flag View School. Drilled to a depth of 1,876 feet, this well not only provides space heating for the rambling school but warms the Municipal Pool, Convention Center and Town Hall as well. Flow rates for this deep well are over 300 gallons per minute. 
The second enterprise, a private company, Elko Heat, operates a considerable geothermal district heating system that provides hot water to municipal, residential and commercial establishments along the west end of town. This includes the Sheriff's office, the Old Post Office, the Henderson Building, Vogue Cleaners and the engineering shop of AHV that is located on Commercial Street.
You have free articles remaining.
According to Mike Lattin, a principal at the company, Elko Heat is one of Nevada's largest geothermal heating systems and has provided service to Elko since 1982. Their well was drilled in 1981 to a depth of 869 feet, with hot water encountered beginning about 705 feet. Flow was reported to be at least 500 gallons per minute with a top exit temperature of 175 degrees F.
The well, located north of the Barrick Gold Corp. Building — the one with the cooling fountain in front — is of the artesian type with a positive pressure of about 50 psi. This provides the force to supply all of the 19 online customers.
A large distribution loop runs from the well toward Fifth Street under the main roads in town. Smaller stainless steel pipes run from this to individual buildings along the way. Geothermal fluid, after passing through the customer heat exchangers, enters the return line and is carried to the disposal facility. Here, the water is first cooled via small ponds (one is visible to the east of the Errecart Bridge over the Humboldt River), and a fountain. Some of the water is allowed to flow into the river but most is returned by subsurface percolation.  
Customers of Elko Heat are billed according to the volume of hot water used, usually at the rate of $1.50 per 1,000 gallons. Mr. Lattin was good enough to send me information that shows more than 130 million gallons of hot water was distributed in the 2009-2010 time frame. According to his calculations this would equate to 48 billon BTUs, 487,000 therms or 15 million kilowat-hours of energy flowing out of the ground. It goes without saying that this is a significant displacement of conventional fuels and pushes us a long way to making our world a little greener.
Gary Hanington is a professor of physical science at Great Basin College and Chief Scientist at AHV. He can be reached at: garyh@gwmail.gbcnv.edu
Joe takes 3 hours to cut the lawn. Amber takes 2 hours to cut the same lawn. 
How long would it take them if they both worked together? (My students always get this one wrong. Most answer with 2.5 hours which, if you think about, cannot be correct.)