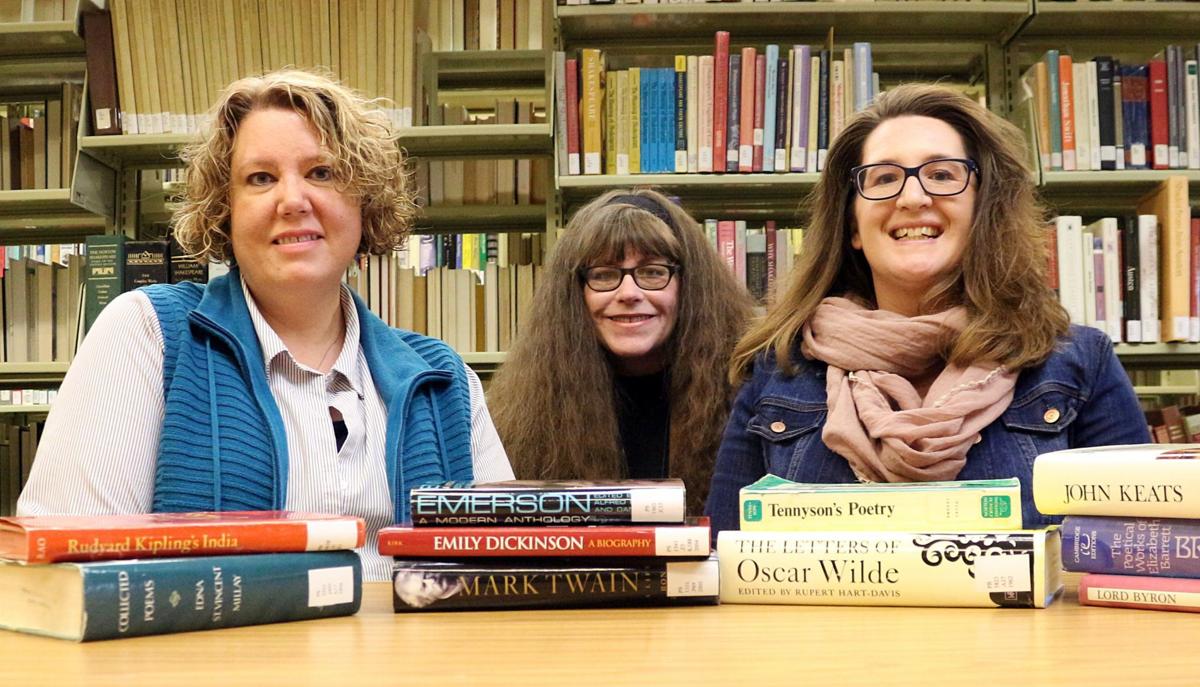 ELKO – Could Great Basin College be the newest center of literary arts in rural Nevada? It is possible now that three employees have been selected for publication in a poetry anthology.
Poems by GBC employees Dori Andrepont, Jeannie Bailey and Jennifer Stieger are part of a new book, "An Anthology of Emerging Poets," compiled and edited by Z Publishing House. The paperback is available for purchase on the company's website and on Amazon.com.
The publication approached Andrepont, Bailey and Stieger last fall, requesting contributions of unpublished poems after reading their work GBC's arts and literary magazine "Argentum." However, it wasn't a guarantee they would be chosen, said Bailey.
"The editors were reaching out for the quality of work they wanted in their publication," said Bailey, who is the grants director at GBC.
Stieger agreed, noticing that Z Publishers seemed to like the style of writing found in "Argentum."
The group was asked to submit about three poems of a similar style that was seen in the magazine, of which about 15 percent of the work for the contributors would be chosen for the anthology, which was initially to be centered on poets from each state.
"I don't believe they had enough from Nevada and some other states," Stieger said, explaining the book may have been a combination of poets from several states.
The publication is not a vanity press, said Bailey, emphasizing that they were not asked to pay the company to be published, nor would the group receive any money.
"We don't get compensated at all," Bailey said, adding they did receive a free download of the book.
As a group, each said they feel honored to be chosen for the publication, which includes 130 "up-and-coming poets from twelve states," according to the book's description, and "is a compelling introduction to the great wordsmiths of tomorrow."
In the anthology, the poems are categorized into eight topics: beauty; family and friends; life and memories; love, romance and heartbreak; inspiration; nature, wildlife and the outdoors; thoughts, reflections and stream of consciousness and miscellaneous.
The goal of Z Publishing is to bring readers to "new talented authors with whom they identify …" and to those new readers to writers.
"By producing anthologies of multiple authors rather than single-author volumes, Z Publishing hopes to foster a community of readers and writers, brining all sides of the industry closer together," the company said.
After reading the poems from other writers, Bailey noticed the editors chose "high-quality" work.
You have free articles remaining.
"I'm honored because everyone they picked has such wonderful writing," Bailey said. "It makes me feel really good to be a part of that."
Seeing that standard exemplified in the anthology made Stieger stop and consider the full meaning of being published.
"It's humbling in a way to think that people will be reading my work in this anthology along with so many other talented writers," she said.
Although being published is a goal for many writers, the group said they hesitated before turning in their poetry because of rejection.
"It's hard to get up the courage to submit your stuff," Bailey said.
Stieger agreed, saying that for most writers it is hard to overcome the fear of being rejected, but ultimately, they take the plunge to see what happens.
"You think, 'I'm going to go ahead and submit, but I'm not going to get my hopes up or expect anything,'" Stieger said.
However, when that moment came, everyone agreed that it was a thrilling – and unexpected – moment.
"It's almost a sense of disbelief," Andrepont said, adding that writing is second nature to her. "My function is to write and I'm not going to stop whether I'm published or not."
For the group, writing is something they are pursuing individually. Andrepont said she submits to publications regularly as she works on her Bachelor's of English degree at GBC and serves as the administrative assistant for the continuing education department.
Stieger has been a freelance correspondent for the Elko Daily Free Press, and currently teaches technical writing. She is also the fitness center coordinator, recently earning her Bachelor's of English degree.
Bailey, who earned an English degree with a writing emphasis from Eastern Oregon University, said that although she only submitted to "Argentum" in the past, she felt better about trying her luck elsewhere because, like Andrepont, she is a writer at heart.
"I just keep writing no matter what," Bailey said. "This gives me more confidence to seek out other placed to submit."
Stieger feels the same way and is looking forward to finding new outlets for her poetry.
"I'm definitely interested in writing more and just seeing what happens in the future."