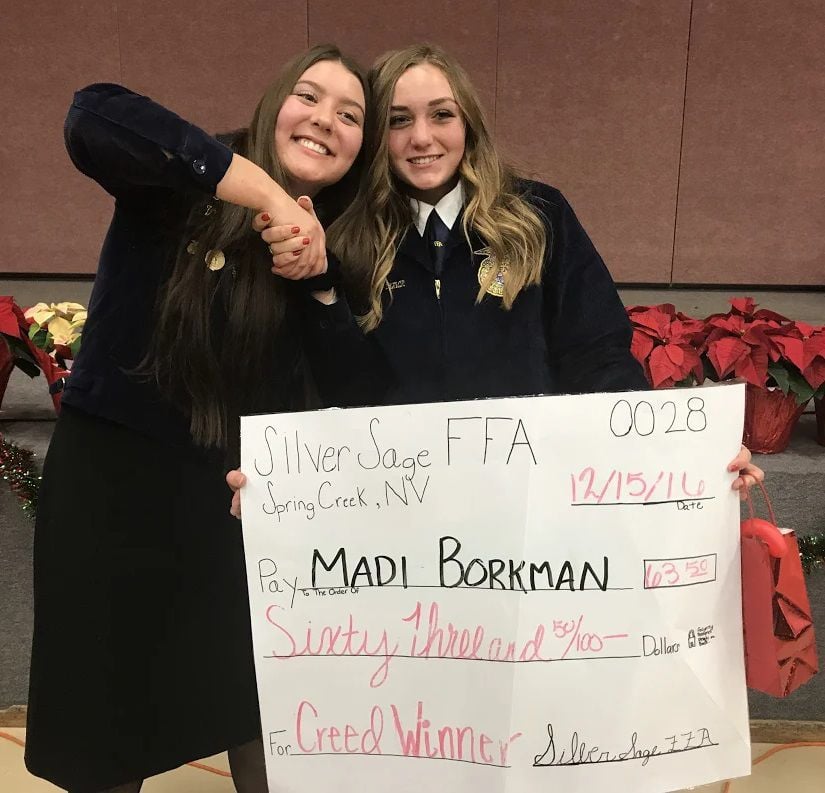 SPRING CREEK — December was a very rewarding month for the Silver Sage FFA Chapter. Our holiday meat fundraiser was very productive. We thank all of those who bought meat and supported our chapter.
Our Annual Christmas Jubilee was a huge success. The new Greenhand Officer Team was elected. Alexia Mauer is president, Madi Borkman is vice president, Emma Borg is secretary, Nyha Harris is reporter, Callie Demel is sentinel, Kashli Stouard is historian, Alyssa Openshaw is treasurer, and Shannon Watkins is the advisor. As the new Conduct of Chapter Meetings team, they will represent our chapter at the state competition. Also, our new Creed Speaker, Madi Borkman, will be representing our chapter at the state competition as well.
A total of 116 individuals received their Greenhand degree this year. Those recipients are enrolled in a first-year vocational agriculture education course and have at least one satisfactory Supervised Agricultural Experience (SAE). They also learned and explained the FFA Creed, Motto, Salute, and the FFA Mission Statement.
You have free articles remaining.
The following 20 individuals received their Chapter Degree: Alyssa Kelton, Cody Fowers, Dakota Draves, Dorthy Ojala, Estrella Anderson, Evan Carlon, Gracey Ledbetter, Jace Williams, Aaron Lousignot, Hailey Cruson, Kaden Syme, Karissa Gurr, Kelsey Taylor, Leanna Sarman, Madyson Gines, Mason Plemons, Talon Wise, Taylor Dunlap, Sam Tomera, and Azeneth Lara.
The chapter degree is the highest degree a chapter can bestow on its members. Chapter degree recipients must have SAE earnings and investments of at least $150 or at least 45 hours outside of class time as well as had received their Greenhand Degree.
This month, we are planning the Bowling Fun night on the 31st. Afterwards, there will be a student/parent meeting for individuals looking to attend the Winter Leadership Training event run by the Nevada FFA Association in Carson City Feb. 27-28. This event encompasses all FFA chapters in Northern Nevada and allows members to participate in fun leadership activities and gain new knowledge pertaining to the aspects of leadership.
Over the past few weeks, members have been practicing their Career Development Events in preparation for the state contest in March at the 2019 Nevada FFA State Convention.