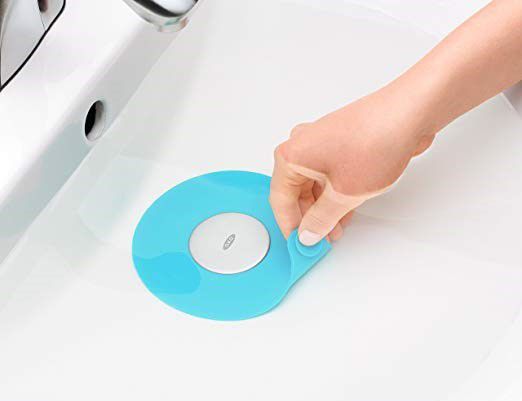 During the final days of winter, a hot bath can be the best pick-me-up. But if your tub stopper is leaking or you have toddlers who might scratch themselves on metal stoppers, this tub drain stopper from OXO should be on your shopping list.
How It Works
This OXO stopper is made from silicone which adheres and forms a seal around your tub drain. The flat metal stopper in the center locks it in place. The silicone stopper also has a suction cup attached so you can stick it to your shower wall while not in use.
Perfect for Tots
Bath time is a lot less fun when you're worried about your toddler getting scratched by a rust-prone elevated metal tub stopper. This silicone stopper is flush with the floor of your tub to prevent scratches. It's also easy to clean and bacteria-resistant.
Why Customers Love It
With over 3,400 customer reviews and 4.4 out of 5 stars on Amazon, this silicone tub stopper is a hit. One common thread throughout the reviews: they couldn't believe this lightweight, flat drain stopper would actually work as well as it did. Customers loved that the silicone prevented leaking water while the metal stopper prevented movement. Several people mentioned that they liked this replacement stopper better than the stopper that came with their tub.