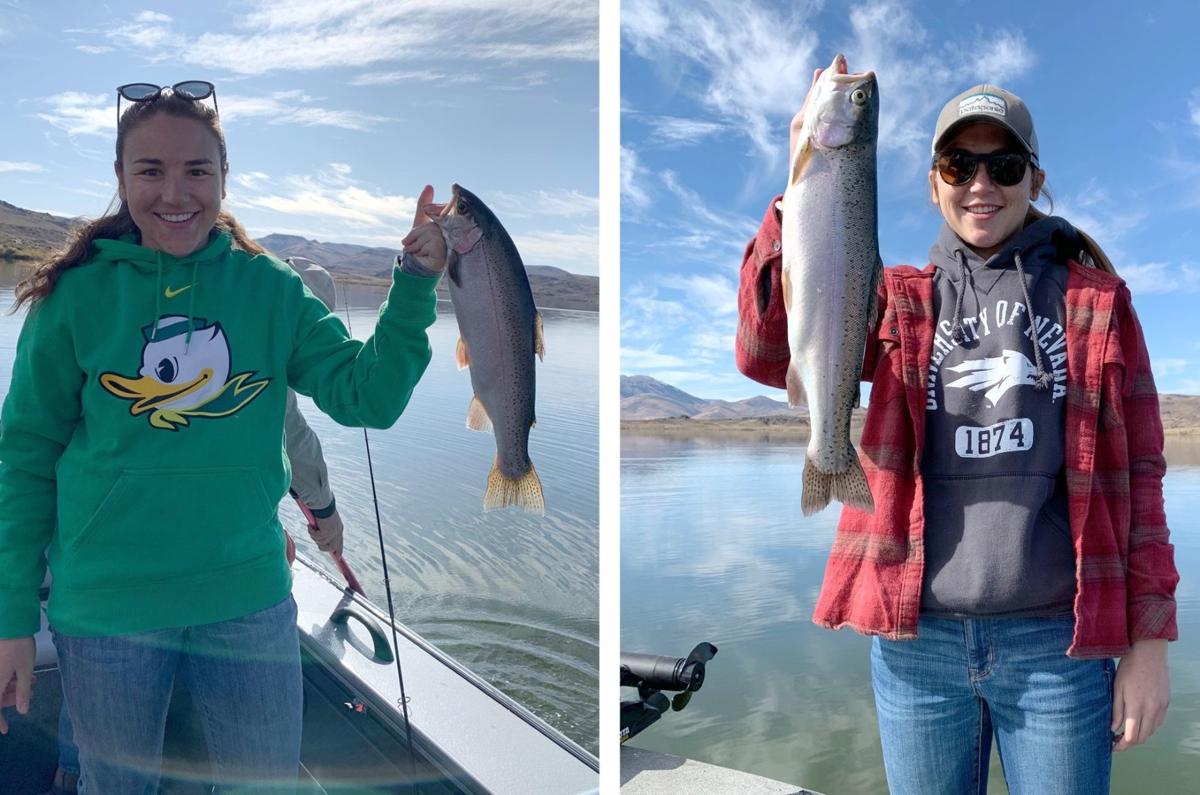 Brook trout and brown trout are fall spawners and are becoming brilliantly colored in anticipation of that. They are also on the move looking for spawning habitat and fattening up for the energy draining mating ritual that generally starts in October. Tiger trout, a cross between brook and brown trout, are sterile, but due to their parentage are even more aggressive than normal this time of year.
When fishing for browns, brookies or tigers in streams, large terrestrial patterns such as beetles, hoppers, wasps and ant patterns are just like candy to these fish. While the cold nights do start to kill these types of food, the fish are used to seeing them and will readily take them. Swinging streamers in the streams is also a great tactic for these fish.
The best time to fish for brown trout is late afternoon into early evening and at first light as they come into the shallow water looking for food and spawning habitat. This is stealthy fishing and especially on our small streams extra care should be taken with noise, ground vibrations and shadows on the water.
NDOW will be holding free fly tying classes starting Nov. 6, at 6 pm. They will be held at the NDOW office at 60 Youth Center Road. This is a progressive fly tying class that will take place every Wednesday night except during holiday weeks until mid-March. The class will end with an introductory fly fishing class in the spring. The class is free and all materials will be provided.
There are some fly tying kits available for loan on a first come first served basis. Supplies for the class are free and provided by NDOW. For more information or to reserve a space in the class, go to www.ndow.org/education and select the class schedules tab.
Wildhorse
Surface water temperatures are in the high 40s to low 50s. Great for trout fishing, but bad news for bass anglers. Weed beds are dying and with 25 mph winds predicted for Saturday the weed beds should break up and the lake will be turning soon. Trout are cruising the shallows making shore fishing more productive. The Penrod Arm has been the popular place for anglers as it has been producing trout, perch and a few bass. However, trout are being caught in many areas, so if you have a favorite spot, try it first. This is also the time of year when midges become one of the few invertebrates that are hatching, so fly rodders should enjoy some success fishing chironomid patterns. Of course the standby wooly buggers, leech patterns, hares ears, prince nymphs and copper Johns should all work as well. One wiper or black bass 15 inches or longer may be kept. Fishing in the stream below the dam is still good. The campground is open and on a first come first served basis. Over the past two weeks, Wildhorse was stocked with approximately 36,000 eight inch trout.
South Fork Reservoir
The algae is starting to die and the water is clearing. The weeds at the south end of the lake are starting to break up and with Saturday's forecast for 25 mph winds this may break the up and blow them to shore. Surface water temperatures are in the 50s and like all area reservoirs is dropping. One angler reported catching a number of nice trout in the main boat ramp cove and along the shore towards the dam, though most were caught in or just outside of the cove. Maybe fishing is finally picking up here? With the weeds dying and breaking up, if you are fishing near weed beds leech patterns and wooly buggers are the ticket. Chironomids should start working in parts of the lake with muddy bottoms. Other flies to try include hares ears, prince nymphs, Carrie specials, balanced leeches and copper Johns. Bass fishing has slowed considerably. Not as many being caught and they are moving into deeper water. Fishing below the dam in the river has been good with low flows around 15 cfs and with very clear water fishing the pools is best. One wiper or black bass 15 inches or longer may be kept.
Jiggs/Zunino Reservoir
The water level is down and the boat ramp is no longer useable. Fishing for trout has been fair to good while fishing for blue gill has been slow to fair. Weeds are dying off though with still weedy shorelines in many areas a small boat, float tube or kick boat make fishing easier though as the water cools the weeds will die back. The same presentations as at South Fork should also work well here.
Wilson Reservoir
Very little change here as fishing continues to be fair to good for 13 to 16-inch trout that are in good body condition. The water level, while down, is in great shape with less weeds and algae than other lakes in our area. The same presentations, flies, baits and lures as used at South Fork or Wildhorse, should also work well here. Shore anglers should start seeing more success as the surface water temperatures cool down. Bass fishing is fair.
Bass fishing in the south marsh is slowing considerably with the cooler temperatures and is close to being done for the season. This weekend's weather may be the thing that finally shuts down most of the bass fishing here for the year. Water levels are low in both the south marsh and the collection ditch. Dark four to six-inch soft plastic grubs hooked weedless are the best bet for bass. Good colors include dark green, brown, purple or blue. Fishing the collection ditch for trout is fair to good depending upon the day. The water is low, with little flow, and very clear. This is making fishing difficult. Anglers would do well to target areas where springs flow into the ditch or around culverts that create some flow between the ditch and the units. Small dark flies fished dry or just under the surface have worked as have streamers and spinners. There is still some dry fly action, mostly terrestrials, mayflies and midges, but expect that to slow with the colder weather. Anglers should also plan to use the usual small nymphs such as PT's, hares ears, olive soft hackles, red or blue copper Johns and prince nymphs. Wooly and crystal buggers in black, purple or olive are also working.
JAKES CREEK/BOIES RESERVOIR
With low water levels and lots of weeds, shore fishing is still extremely difficult. Best fishing is from a float tube or small boat. With the colder weather the weeds are dying off, and in a few weeks, shore fishing may pick up. Trout and bass fishing have been slow to fair. The usual PowerBait and worms as well as small spinners are working for trout. Fly rodders should be using chironomids, hares ears, PT nymphs, copper Johns, and black or olive wooly buggers. For bass dark soft plastic baits with sparkles are working as are minnow type imitations.
Fishing here is fair to good for 10- to 12-inch trout and slow to fair for small bass. The usual worms, PowerBait, small spinners and flies should all work. Trout are also hitting small midge dries and emergers. The lake was stocked with approximately 500 trout two weeks ago.
The lake was stocked with approximately 10,000 ten-inch trout two weeks ago. Fishing for nine to 12-inch fish continues to be fair to good at Cave Lake. Most anglers are having luck with small worms, though PowerBait is also catching fish. Fly rodders should be using small olive or black bead head crystal buggers, small olive wooly worms, hares ears and prince nymphs. Small Adams, black ants, Griffith's gnats, renegades and red or yellow humpies should all work. Due to work that needs to be done on the dam, the water level will be dropping over the next few weeks. During construction, Cave Lake State Park will remain open to the public, and visitors can continue to enjoy kayaking, fishing, swimming, and other recreational activities. The lake will remain easy to access, and the health of area fish and wildlife will not be impacted. The fish will occupy a smaller area within the lake, potentially improving catch rates. The boat dock, however, will be closed for the duration of the project. Expect the shorelines to be muddy as the lake recedes leaving the old saturated bottom behind.
Trout fishing is picking back up with cooler surface water temperatures. Boaters are having the best luck. Shore fishing should pick up though as the fish start moving into the shallow water with cooler temperatures. Bass fishing is slow to fair using minnow imitations and soft plastic grubs. For trout, anglers should try Panther Martins, spoons, PowerBait, salmon eggs, and night crawlers. Fly fisherman should use wooly buggers, leech patterns, and nymphs patterns (midges, beaded pheasant tails … etc.). It is also the time to start using chironomid patterns under an indicator.
Trout fishing has picked up with anglers doing well near the inlet of the lake for both browns and rainbows. Brown trout are on the move as they get ready for the spawn. The usual flies of wooly buggers, prince nymphs, hares ears and chironomid patterns would be your best bet. Small spinners, PowerBait and worms should be effective as well. Illipah was stocked with just under 4,000 rainbow trout averaging around 10 inches earlier this week.
The lake level is down, but fishing has been good here as the fish prepare for the long winter under the ice by trying to eat every bit of food they can find. Worms or PowerBait fished just off the bottom should work. Flies to try include beetles, ants, black Adams, Griffith's gnats, yellow or red humpies, yellow or red stimulators and small crystal buggers. A small nymph dropper suspended below one of the previously mentioned flies is a great tactic this time of year. With Saturday's predict wet weather, take care driving up the steep windy road. With the cooler temperatures anglers may start moving to more subsurface flies, though the fish are still used to seeing some dries. Small spinners or spoons in green and gold, black and gold or red and gold should be tried. This lake is at 8400 feet of elevation and anglers heading there this week, should be prepared for snow. The lake has been stocked with approximately 6500 trout this summer.
Snow has arrived at some of higher elevation lakes and skim ice is forming on the shorelines in some places. Anglers, hunters and hikers need to go prepared for winter conditions. The flies used at Angel Lake should all work at all the alpine lakes. Spin anglers should try small worms or pieces of nightcrawler on a small hook fished below a clear bobber. Small spinners and even small plastic grubs on a jig head should all work.
This last cold spell probably did the grasshoppers in but they are still used to seeing them so some may take a hopper pattern. Fly rodders can still fish dry flies including yellow Sally's, elk hair caddis, hoppers, ants, beetles, yellow or royal stimulators, red or yellow humpies and just about anything in red or yellow. Nymphs and small streamers should work as well. Soft hackles swung through runs and riffles could be very effective. Fishing the tailwaters below both Wildhorse and South Fork dams has been good for reservoir sized fish though flows below South Fork Reservoir are low and anglers will have the best luck hitting the pools where larger fish have been trapped due to the low flows. As of October 18, the Bruneau River was flowing at 27 cubic feet/second (cfs), the Jarbidge at 7 cfs, Salmon Falls Creek at 66 cfs, Lamoille Creek at 8 cfs, South Fork of the Humboldt at 15 cfs, Cleve Creek at 9 cfs and Steptoe Creek also at 5 cfs.
Be the first to know
Get local news delivered to your inbox!