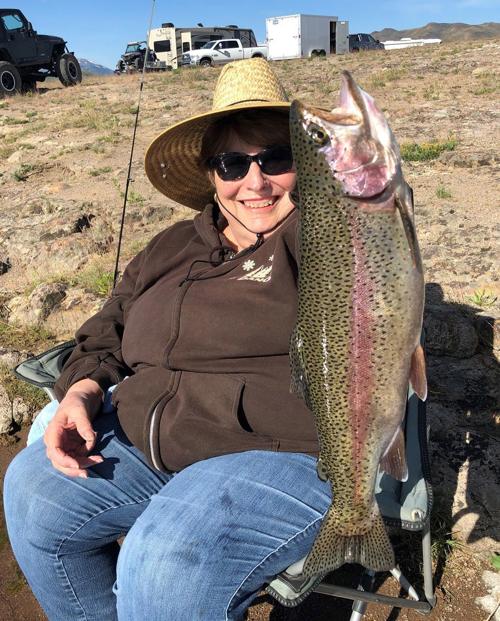 Happy 4th of July everyone! It looks like it's going to be a great weekend weather-wise, so get outdoors and enjoy the sun and fresh air. The one downside to this weekend's weather may be the winds, which are expected to be between 10 and 20 mph most of the weekend.
The mistake anglers make is being on the windward side so that the wind helps them with casting. Unfortunately, the food isn't as plentiful there so there are less fish for anglers to catch.
Use the winds to your advantage when fishing. Waves created by wind will move aquatic insects and other food materials towards the leeward shore. Fish often move to these areas as the food collects here, allowing them to feed without expending much energy.
The wave action also stirs up the bottom of the shallow waters along the shore where aquatic insects often burrow, "digging" the insects out of sand or mud. More fish food!
The up and down action of waves will move a bobber up and down, which will move your bait up and down. This movement will often attract fish. By adding a small spinner inline above your bait or using a small plastic jig to hold your bait, the up and down movement will cause the spinner or jig to twirl, further attracting fish.
Ideally you don't want the wind directly in your face. I like to find a shore where the wind and waves are coming in at a 45-degree angle so I am not casting directly into the wind. Several times, while not paying attention, my presentation has drifted to within a few feet of shore when a fish has taken it. So don't be afraid to let your bait, fly or lure drift almost all the way in.
Wildhorse
Water levels are still good, but algae and weeds are starting to grow. Surface water temperatures are in the high 60s to 70 degrees depending where you are on the lake. Fishing for trout and perch ranges from good to very good, both from shore and from boats, while fishing for bass is fair to good but getting better. Trout are moving into deeper water with the warmer surface water temperatures. The usual PowerBait and worms for bait anglers have been working for trout. For fly fishermen midge larva and emerger patterns as well as hares ears, and PT nymphs are good patterns to use. Black or olive wooly buggers are taking fish as well.
Most anglers are fishing Penrod and Hendricks Arms as well as the beach in front of the State Park. Perch fishing has been good using small brightly colored jigs tipped with a piece of worm or just a piece of worm on a small hook fished under a bobber. The Hendricks Arm has been very good for perch. Also target perch in just about any cove with some vegetation. With the lake spilling earlier this spring, fishing below the dam has been good for reservoir sized fish using streamers or hopper patterns. This lake has been stocked with more than 30,000 trout this spring. Smallmouth bass are coming off the beds. One black bass 15 inches or longer may now be kept. The campground is open and is on a first come first served basis but is limited to 50% of capacity. Tribal land around the lake is open to camping.
South Fork Reservoir
This reservoir is full and fishing for trout has been fair and bass has been fair to good. Surface water temperatures in the low 70s which is helping the bass bite but causing the trout to move deeper into the water column. Weeds are growing though there are lots of holes and channels providing great edges to fish. Fly fishermen fishing chironomids (midge larvae) or balanced leeches under an indicator are finding some success. Most of the trout being caught from shore have been in the backs of deeper coves, along Jet Ski Beach and Coyote Cove and by the dam. Fishing small PT's, hares ears or chironomid emergers just under the surface has worked as well. Leech patterns and dry flies such as PMDs, humpies and midges have taken trout this week. Catfish are being caught near the northwest corner by the dam, the west side flats and at the south end of reservoir by old ranger station. Fishing below the dam in the river has been slow to fair. Bass fishing has been good for both smallmouth and largemouth using soft plastic baits in darker colors and expect the bass fishing to improve with warmer temperatures. South Fork has been stocked with more than 55,000 trout so far this year. Anglers may now keep one black bass 15" or longer. The state park campground is open at 50% of capacity.
Jiggs/Zunino Reservoir
Fishing has been good for both trout and bluegill with an occasional bass thrown in for good measure. This is a great water to take children fishing as the bluegill are very cooperative and fairly easy to catch. Anglers have been catching keeper sized bluegill with a small bit of worm on a red hook suspended about 18 inches below the bobber. The same presentations as at South Fork should work well here for trout. Trout fishing has been fair to good. Bait anglers are doing best with worms under a bobber for bluegill and garlic flavored red or pink PowerEggs fished off the bottom using a slip sinker for trout.
Wilson Reservoir
The water level is good though it is starting to have some algae and weed growth. However, the boat ramp is clear of growth right now. Fishing is fair good for 12- to 15-inch trout that are in good shape and good for smaller bass. The same presentations, flies, baits and lures as used at South Fork, should also work well here. Wilson was stocked with just under 10,000 trout a few weeks ago. The trash pile is getting pretty big at the campground, so please pack your garbage out.
Ruby Lake Nwr
Bass fishing is good for numbers but fair for keepers. Surface water temperatures are in the mid-60s and climbing which will help the bass fishing. This should be a good year for bass fishing in the south Marsh. Fishing off the dikes in unit 21 for bass has been fair to good for bass depending upon the weather. Fishing is fair to good at the collection ditch for 13 to 18-inch trout with the occasional large trout being taken. Fishing in the ditch seems to improve on rainy or windy days. Small brightly colored spinners were doing well. Trout are starting to hit dries including hoppers, yellow stimulators and yellow elk hair caddis. Yellow seems to be the key. Other flies working include the usual small nymphs such as PT's, hares ears, olive soft hackles, red or blue copper Johns and prince nymphs. Wooly and crystal buggers in black, purple or olive are also working. In the crystal clear water of the collection ditch, if you can see the fish, they can see you. Go low, slow and wear drab clothing.
JAKES CREEK/BOIES RESERVOIR
The water level is good and trout fishing is fair to good and bass fishing is slow to fair. Some catfish are being taken near the dam and near the inlet. The usual PowerBait and worms as well as small spinners are working for trout. Fly rodders should be using chironomids, hares ears, PT nymphs, copper Johns, and black or olive wooly buggers. Approximately 3,000 trout have been stocked here this spring.
Fishing here is fair to good for 10- to 12-inch trout and good for bass. The usual worms, PowerBait, small spinners and flies should all work.
Fishing at Cave Lake has been good but the water level is low from a drawdown due to concerns with the dam. The usual small nymphs and crystal buggers are working for trout, with beadhead pheasant tail nymphs being very effective. The float tube launching area is closed and anglers should fish at the north end of the lake near the dam and main boat launch area. Other areas are muddy with very soft deep mud along the shorelines.
Comins Lake is fishing well with a full lake and surface water temperatures climbing into the high 60s to 70. Anglers are catching trout averaging 14 to 16 inches on a variety of tackle. Panther Martins, spoons, PowerBait, salmon eggs, and night crawlers should all do well for the majority of bait fisherman. Fly fisherman should use wooly buggers, leech patterns, and nymphs patterns (midges, beaded pheasant tails…etc.). This lake has been stocked with just under 14,000 trout this spring. Bass fishing is starting to pick up. If you catch a pike, please check to see if it has a radio transmitter tag near the tail. If it does, please return the fish to the water so that NDOW biologists can track its movements. If it doesn't have the transmitter tag, please humanely dispatch the fish. Don't put it back in the lake.
The reservoir is full and fishing has been fair to good. The usual flies like wooly buggers, prince nymphs, hares ears and chironomid patterns should all work. Small spinners, PowerBait and worms should be effective as well. Illipah has been stocked with approximately 9,000 trout this year.
Angel lake
The lake is about as full as it can get and is spilling into the creek. Fishing has been fair to good this week. Fair for bait anglers and good for fly rodders. The usual worms under a bobber or fished off the bottom with a slip sinker should work as should small spinners and rooster tails. If using a bobber, put your bait at least two to three feet below the bobber. For fly rigging a dry and a dropper is working very well. Good flies for the dry are hoppers, yellow or royal stimulators and humpies. Wet flies to try include flashback PT nymphs, small black or olive wooly or crystal buggers, olive or peacock soft hackles, hares ears and small leech patterns. This lake was stocked with more than 1,500 tiger trout last week.
Alpine Lakes
The recent snows made hiking over Liberty difficult early in the week, but it is burning off quickly and the high mountain lakes are all open for fishing. Expect fishing to be good using the same techniques as at Angel Lake.
Streams
The recent precipitation caused flows to increase a bit earlier this week, but they are back down to where they were late last week. When fishing small streams be aware that thunderstorms that pop up in Nevada can quickly cause dangerous stream conditions. Trout are hitting dry flies now and fishing has been good at the beaver ponds in Lamoille Canyon. As of July 2, the east fork of the Owyhee was flowing at 155 cubic feet/second (cfs), the Bruneau River at 79 cfs, the Jarbidge is at a fishable 45 cfs., Salmon Falls Creek at 118 cfs, Lamoille Creek down to 40 cfs, the South Fork of the Humboldt approximately 55 cfs, Cleve Creek at 7 cfs and Steptoe Creek at 4 cfs. Tabor Creek was stocked with approximately 2,000 tiger trout in early July.
Be the first to know
Get local news delivered to your inbox!