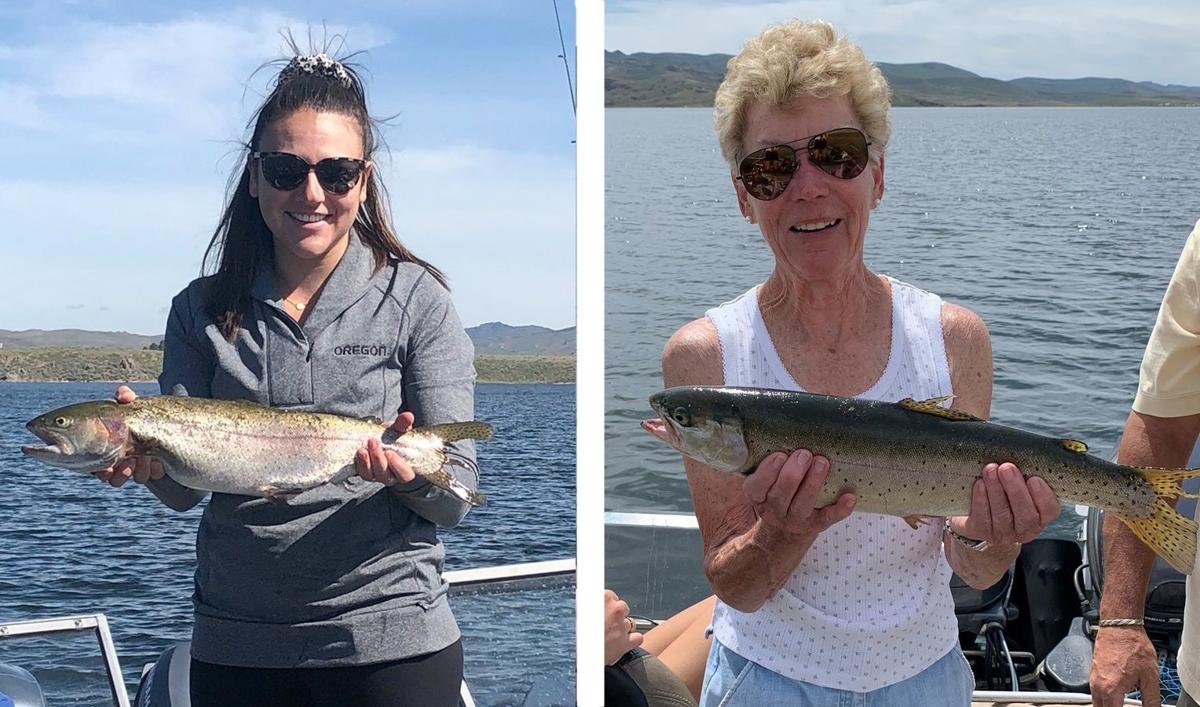 With continued daytime highs in the 90s, bass fishing is good at the reservoirs and improving at Ruby Lake NWR, while trout fishing is moving into the dog days of summer and slowing down.
Now is the time for trout anglers to move to the myriad of streams that dot northeastern Nevada. Stream flows are at or above normal in the northern part of Elko County, but below average for this time of year south of I-80. However with hoppers, caddis and stoneflies hatching, fishing is good in most areas using dry flies.
If fishing for trout, remember they like cool water, so hit the lake early in the morning or head a bit deeper. Trollers seem to be having good luck fishing in 10 to 15 feet at most area lakes and shore anglers should target steeper shorelines that often get deep fast, so you can fish deeper water where the trout are from the shore.
In the streams look for rocks or other obstacles that they can use to get out of the current. They use less energy this way, and as insects float around the rock past them, they dart out and snatch the food. Also look for overlying brush, bank cutouts and foam lines. Foam lines indicate transitions between still and moving water and insects are often trapped in the small eddies in these areas.
With below average stream flows, the water tends to be a bit warmer than normal, so look for areas where it might be cooler. Is there a spring or tributary putting cool water into the stream you are fishing? If so, fish right below where the water comes into the main stem. This often brings in extra food as well as making the water cool down.
WILDHORSE
Water levels are still good, but algae and weeds are growing fast. Surface water temperatures are in the high 60s to 70 degrees depending where you are on the lake. Fishing for trout and perch ranges from good to very good, both from shore and from boats, while fishing for bass is fair to good. Trout are moving into deeper water with the warmer surface water temperatures. The usual PowerBait and worms for bait anglers have been working for trout. For fly fishermen midge larva and emerger patterns as well as hares ears, and PT nymphs are good patterns to use. Black or olive wooly buggers are taking fish as well. Most anglers are fishing Penrod and Hendricks Arms as well as the beach in front of the State Park. Perch fishing has been good using small brightly colored jigs tipped with a piece of worm or just a piece of worm on a small hook fished under a bobber. The Hendricks Arm has been very good for perch. Also target perch in just about any cove with some vegetation. With the lake spilling earlier this spring, fishing below the dam has been good for reservoir sized fish using streamers or hopper patterns. This lake was recently stocked with 7,300 tiger trout and 8,600 rainbows. One black bass 15 inches or longer may now be kept. The campground is open and is on a first come first served basis but is limited to 50% of capacity. Tribal land around the lake is open to camping.
SOUTH FORK RESERVOIR
This reservoir is full and fishing for trout has been slow to fair and bass has been fair to good. Surface water temperatures in the low 70s which is helping the bass bite but causing the trout to move deeper into the water column. Weeds are growing though there are lots of holes and channels providing great edges to fish. Fly fishermen fishing chironomids (midge larvae) or balanced leeches under an indicator are finding some success. Fishing snow cones and midge larva a foot off the bottom in about 10 feet of water seems to be the ticket. Also using a full sink line in the same depths with a black/red wooly buggers has also been productive. Most of the trout being caught from shore have been in the backs of deeper coves, along Jet Ski Beach and Coyote Cove and by the dam. Leech patterns and dry flies such as PMD's, humpies and midges have taken trout very early in the morning. Catfish are being caught near the northwest corner by the dam, the west side flats and at the south end of reservoir by old ranger station. Fishing below the dam in the river has been slow to fair. Bass fishing has been good for both smallmouth and largemouth using soft plastic baits in darker colors and expect the bass fishing to improve with warmer temperatures. South Fork was recently stocked with approximately 3,000 rainbow trout. Anglers may now keep one black bass 15" or longer. The state park campground is open at 50% of capacity.
JIGGS/ZUNINO RESERVOIR
The water level is low and a bit murky, but fishing continues to be good for bluegill and fair for trout. This is a great water to take children fishing as the bluegill are very cooperative and fairly easy to catch. Anglers have been catching keeper sized bluegill with a small bit of worm on a red hook suspended about 18 inches below the bobber. The same presentations as at South Fork should work well here for trout. Trout fishing has been fair to good with the best fishing first thing in the morning. Bait anglers are doing best with garlic flavored red or pink PowerEggs fished off the bottom using a slip sinker for trout.
WILSON RESERVOIR
The water level is good but weeds and algae are coming on. However, the boat ramp is clear of growth right now. Fishing is fair good for 12 to 15-inch trout that are in good shape and good for smaller bass. The same presentations, flies, baits and lures as used at South Fork, should also work well here. Wilson was stocked with just under 10,000 trout a few weeks ago. Please pack your garbage out.
RUBY LAKE NWR
Bass fishing is good for numbers but fair for keepers. Surface water temperatures are in the mid to high 60s and still climbing. This should be a good year for bass fishing in the south Marsh. Fishing off the dikes in unit 21 for bass has been fair to good for bass depending upon the weather. The best tactic seems to be four inch soft plastic jigs rigged weedless. Dark colors such as black, blue, motor oil and guacamole with flashy flakes in them seem to work the best. Poppers on a quiet evening with no wind as the shadows are hitting the water along the cattail edges are also working. Fishing is fair to good at the collection ditch for 13 to 18-inch trout with the occasional large trout being taken. Fishing in the ditch seems to improve on rainy or windy days. Small brightly colored spinners were doing well. Trout are starting to hit dries including hoppers, yellow stimulators and yellow elk hair caddis. Yellow seems to be the key. Other flies working include the usual small nymphs such as PT's, hares ears, olive soft hackles, red or blue copper Johns and prince nymphs. Wooly and crystal buggers in black, purple or olive are also working. In the crystal clear water of the collection ditch, if you can see the fish, they can see you. Go low, slow and wear drab clothing.
JAKES CREEK/BOIES RESERVOIR
The water level is dropping a bit with irrigation, but still good and trout fishing is fair to good and bass fishing is picking up. Some catfish are being taken near the dam and near the inlet. The usual PowerBait and worms as well as small spinners are working for trout. Fly rodders should be using chironomids, hares ears, PT nymphs, copper Johns, and black or olive wooly buggers. Approximately 3,000 trout have been stocked here this spring.
Fishing here is fair to good for 10- to 12-inch trout and good for bass. The usual worms, PowerBait, small spinners and flies should all work.
No change here as fishing at Cave Lake has been good but the water level is low from a drawdown due to concerns with the dam. The usual small nymphs and crystal buggers are working for trout, with beadhead pheasant tail nymphs being very effective. The float tube launching area is closed and anglers should fish at the north end of the lake near the dam and main boat launch area. Other areas are muddy with very soft deep mud along the shorelines.
Comins Lake has water temperatures climbing into the 70s which is driving the trout deeper and helping the bass bite. Anglers need to change their tactics for trout and fish full sink lines and get to the lower depths. Fly fisherman should use wooly buggers, leech patterns, and nymphs patterns (midges, beaded pheasant tails … etc.). Bass fishing is picking up and anglers are reporting decent sized bass using soft plastics, crankbaits and poppers on quiet evenings and mornings. If you catch a pike, please check to see if it has a radio transmitter tag near the tail. If it does, please return the fish to the water so that NDOW biologists can track its movements. If it doesn't have the transmitter tag, please humanely dispatch the fish. Don't put it back in the lake.
The reservoir is full and fishing has been fair to good. The usual flies like wooly buggers, prince nymphs, hares ears and chironomid patterns should all work. Small spinners, PowerBait and worms should be effective as well. Illipah has been stocked with approximately 9,000 trout this year.
ANGEL LAKE
The lake is about as full as it can get and is spilling into the creek. Fishing has been fair to good this week. Fair for bait anglers and good for fly rodders. The usual worms under a bobber or fished off the bottom with a slip sinker should work as should small spinners and rooster tails. If using a bobber, put your bait at least two to three feet below the bobber. For fly rigging a dry and a dropper is working very well. Good flies for the dry are hoppers, yellow or royal stimulators and humpies. Wet flies to try include flashback PT nymphs, small black or olive wooly or crystal buggers, olive or peacock soft hackles, hares ears and small leech patterns. This lake was stocked with more than 1,500 tiger trout last week.
ALPINE LAKES
Access to the alpine lakes in the Ruby Mountains and East Humbodts is good. The fish in these high mountain lakes are very cooperative and the further you get from the trailhead the better the fishing. Bait anglers will find that as a general rule worms and hoppers seem to work better than PowerBait. So bring a container and as you hike up catch some grasshoppers at the lower elevations and fish them or worms. Small spinners in dark colors with light contrasting highlites, as well as small panther Martins and rooster tails also are effective. For flyrodders small yellow or red dry flies such as stimulators, hoppers, elk hair caddis and humpies with a soft hackle or other nymph dropper is the way to go. In low light conditions darker colored flies such as black gnats, ants, beetles and Griffith's gnats are the way to go.
STREAMS
Streams in the northern part of Elko County are flowing at above or near normal flows, while those south of I-80 are generally well below normal. Hoppers, caddis and stoneflies are out and about, and trout are hitting dry flies. Did you see the rhyming in the previous sentence? LOL. Fishing has been good at the beaver ponds in Lamoille Canyon and other streams in the area. As of July 10, the east fork of the Owyhee was flowing at 135 cubic feet/second (cfs), the Bruneau River at 44 cfs, the Jarbidge at 27 cfs., Salmon Falls Creek at 85 cfs, Lamoille Creek down to 27 cfs, the South Fork of the Humboldt approximately 40 cfs, Cleve Creek at 6 cfs and Steptoe Creek at 4 cfs. Lamoille Creek was recently stocked with approximately 5,000 tiger trout.
Be the first to know
Get local news delivered to your inbox!