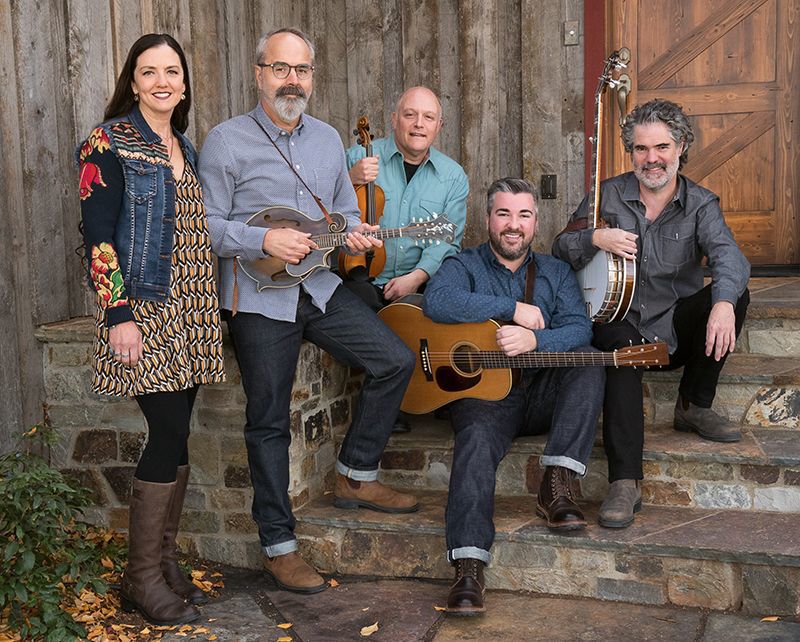 ELKO — The Western Folklife Center will host John Reischman and the Jaybirds on June 28 for a workshop and concert. The concert will feature new tunes and songs from their brand new seventh recording: "On That Other Green Shore."
"The Jaybirds put their own particular stamp on bluegrass, old time and acoustic roots music, with a satisfying blend of traditional and modern styles," wrote Folk Radio U.K. "... There's plenty here to please both bluegrass traditionalists and lovers of modern American folk music … great harmony singing as well as masterful instrumental playing."
The Jaybirds feature some of the finest acoustic musicians on the road west: John Reischman on mandolin and vocals, the newest member Patrick Sauber on guitar and vocals, Greg Spatz on fiddle, Trisha Gagnon on bass and vocals, and Nick Hornbuckle on banjo and vocals.
Like the powerful mandolinist and composer at its helm, John Reischman and the Jaybirds fashion a fresh take on bluegrass that seamlessly blends original songs and instrumentals with Appalachian old-time music for a truly unique band sound.
Now on their 20th year, with seven acclaimed albums and two Juno nominations, the Jaybirds are simultaneously innovative and unadorned, sophisticated and stripped-down, happily old-fashioned and 21st-century contemporary.
A world-renowned mandolinist and composer, veteran performer John Reischman currently hails from Vancouver, British Columbia. He has released three critically acclaimed solo instrumental albums, and recorded on dozens of other projects, including the Grammy-winning "True Life Blues: The Songs of Bill Monroe."
Bluegrass Unlimited Magazine called him "one of the world's undisputed masters" of the mandolin, and he's known for producing wonderful tone from his famous 1924 Gibson "Lloyd Loar" F-5 mandolin.
Los Angeles-based Patrick Sauber is the newest member on guitar and vocals. He is considered one of the West Coast's most sought-after sidemen. A soaring harmony singer and firecracker lead guitarist, he's featured on the 2016 Grammy-nominated album, "The Hazel and Alice Sessions by Laurie Lewis and the Right Hands."
Chilliwack, British Columbia-based Trisha Gagnon is portrayed by Sing Out! as "one of the most versatile" and "irresistible" lead vocalists in bluegrass, her strong and distinctive style ranging from "mournful and plaintive" to "hopeful and yearning." Trisha anchors what Dirty Linen Magazine calls "gorgeous three-part harmonies."
Nanaimo, British Columbia-based Nick Hornbuckle has developed his own voice on the five-string banjo — a two-finger roll unlike other contemporary banjo players. "Nick Hornbuckle's banjo can be downright spine-tingling," said the L.A Daily News.
Spokane, Washington-based Greg Spatz is hailed as a "world-class bluegrass fiddler" by Fiddler Magazine. Audiophile Audition says Fiddlin' Greg's "virtuosic playing is flawlessly delivered time after time." Greg also tours and records with Mighty Squirrel, has a solo album called "Fiddler's Dream," and is an award-winning novelist.
Concert Admissions are $20 general; $15 for members/seniors/students/workshop participants; $5 for kids. Workshop tickets are $10. Advance tickets available at the Western Folklife Center Gift Shop at 501 Railroad Street or by calling 738-7508. Find out more at www.westernfolklife.org
This concert is funded, in part, by the Nevada Arts Council, the National Endowment for the Arts, and with generous support of the Red Lion Inn & Casino.
Be the first to know
Get local news delivered to your inbox!