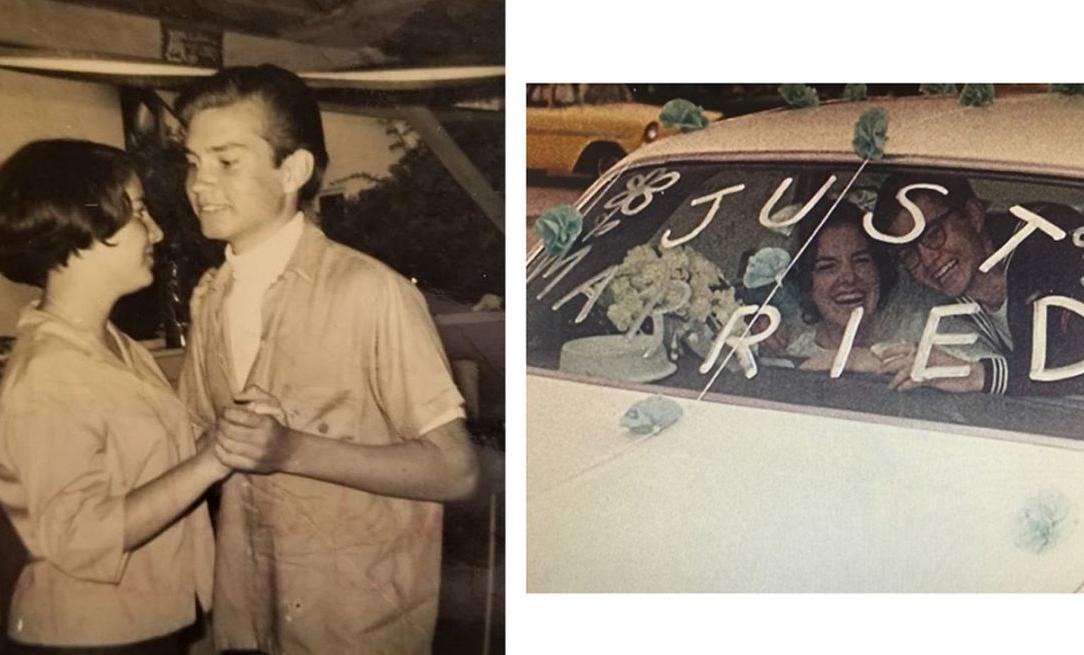 Lee and Christina Foster have reached a milestone that few couples ever reach: 50 years of marriage. Married on May 3, 1969, this devoted couple has weathered the storms of life and come through together.
According to Lee, the keys to 50 years are taking responsibility to say sorry and I love you, as well as pure stubbornness.
"If you and your sweetheart have an argument," Lee said, "you take care of it before you go to bed. 'Cause if you don't, then you wake up the next morning mad at each other still. Besides that it's really hard to get a good night's sleep when you're irritated."
"You cannot let your pride get in the way," he said. "There's always something you can be sorry for. That's the biggest thing to 50 years' worth of marriage."
"The other part is don't worry about the small stuff. … You have to keep the main thing the main thing. And that is you have to love your wife. It's been scientifically proven that if you verbalize a feeling, like love or hate or anything … then your feelings will follow. That's one of the reasons that my sweetheart and I are always telling each other 'I love you.'"
The last key. "It's just plain stubbornness. You just have to decide that good, bad or indifferent we are together no matter what. Which means when you have problems, you have to work them out."
But they don't consider themselves to be marriage experts.
"You have just as many changes in your life as you get older as you did when you were younger," Christina said. "Things change. Your health, your income, your position, your mental attitude. It's constantly learning and doing and building and trying to get along."
The couple met June 1965 at a party where they had their first dance.
"I used to wait to catch a glimpse of him going into class. And so I asked my friend Judy to invite him to a party she was having," Christina said, admitting to initiating the introduction.
Within a month, Lee decided she was worth getting to know better.
"I'd been hanging around my sweetheart and over at her place for about a month or so. And at that time, I had – not really long hair, but for that time it was long. One time I went over to spend time with my sweetheart, and Jack (Christina's dad) told me. 'If you want to hang around my daughter, cut your hair.' And so, I went to the barber shop and cut my hair."
That was the first in a long line of sacrifices that both of them have made through the years. After graduation, Lee officially proposed.
"I had been over at her house that night," Lee said. "She walked me down to the streetlight at the end of her block. And that's where I asked her to marry me … on the corner of a street underneath a streetlight."
Lee enlisted in the Navy in November 1968. He would serve four years on the USS Constellation, doing two tours in Vietnam; but before he left, the couple got married.
His first tour lasted from June 1969 to June 1970.
"We came home and the Connie was assigned up to the naval shipyards in Seattle … for the enlisted personnel that were married. They were allowed to bring their dependents onboard ship. My sweetheart and I sailed up to Seattle from San Diego onboard the Constellation. Since the Air Wings were not on board, we were given an officer's stateroom. We were allowed to eat in the officer's dining room. For the three days that it took us to get up to Seattle I didn't have any duties. The only thing I had was to show my sweetheart around the ship."
During his second tour, Christina moved back down to Riverside, California, to be close to family and to give birth to the couple's first child.
You have free articles remaining.
Liberty Ann was born on Christina's birthday. Lee joked that he'd arranged the baby as a birthday present since he couldn't be there in person.
After he was released from service, Lee eventually found a job with the U.S. Post Office.
"We had some friends, Steve and Diane," Lee said. "They were living up here (Elko). So we came up here to visit them. I liked the area. So after we came up and visited with them we went back down to Riverside, and I looked for probably 12, 13, or 14 months for a job down there…"
During that time Lee took the test for the Post Office.
"I came back up here and got a job at the Ruby Mountain Implement. So I started in Elko as a tire buster. I worked that for about a year or so."
He had his scores transferred up to the Elko Post Office. They were high enough that he was at the "top of the new hire list." So he started delivering mail.
"That following summer we moved to the trailer out on Trescartes," Christina said. "And then … it would have been June of '77 … we were down in Riverside for maybe eight months at the most, and then moved back up here in '78."
They lived in that trailer raising their daughter. Christina chose to remain at home. She had always wanted a large family, but the couple struggled to get pregnant again.
They decided to enter foster care with the intention to adopt, but in 1980 they were blessed with another daughter. The following year they had their third daughter. Even with their house full, they continued in foster care, helping more than 25 children through the years.
It was during this time that Lee changed jobs.
"In '83 or '84 he went to farrier school, which was in Arizona," Christina said. "I told him he had to work for the Post Office for 10 years, 'cause I told him, 'when you earn enough in your retirement then I have no problem with you quitting' 'cause we can pay off the trailer and I'd be comfortable with you going to farrier school and becoming a full-time farrier."
So Lee went. But that didn't work out.
"I felt he was paying too much attention to too many horsey things," Christina said. "Away from the family. And I was asking God to help him feel that the family was more of a priority than the horses. God answers prayers in his own ways. So, he started developing an allergy to horses. It was around the time that he also got the job with animal control."
But Lee wouldn't stay with animal control for long. "The sheriff at that time was Jim Miller, and Neil Harris was his undersheriff," he said. "They both said they liked my work and so a full-time position came open in the jail … so I hired on with the Sherriff's department."
He started in the jail when it was still behind the courthouse. When a road deputy position opened, he took it. "And I worked the road for almost 20 years."
Lee retired from the Sheriff's Department in 2011. But the couple hasn't chosen leisure in retirement. Lee works for Owens Transport and Christina sells her crafts and gives lessons at Chique, Unique & Antique.
After 50 years, the couple has much to be proud of: three happily married daughters, 11 grandchildren and seven great-grandchildren.
"I am proudest," Lee said, "of having married my sweetheart."
"We are now the cute old couple that holds hands," Christina said. "It's the secret to a long, happy marriage. Even sitting here," she held up her hand, "watching TV, we hold hands."