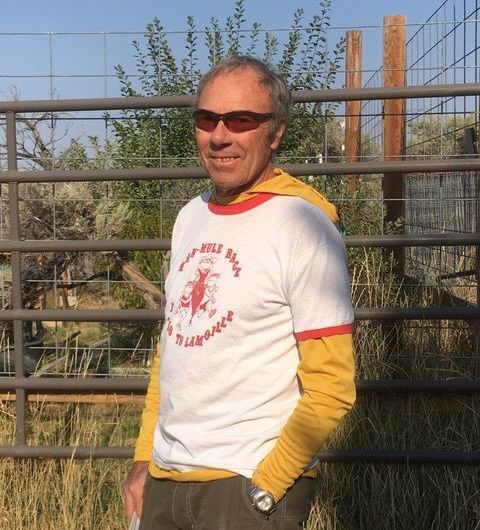 ELKO – The annual Man-Mule Race takes place this Saturday.
Longtime participant Mike Jones has already completed his circuit.
Not even a heart attack could keep Jones from participating in the Man-Mule Race. On Sept. 12, 2014, having just finished an eight-mile training run up North Fifth Street, Jones suffered a heart attack just as he returned to the paved road.
In one of those strokes of pure luck, some friends saw him collapse and started resuscitation. Emergency crews were called and they were able to revive him. Eight days later, he managed to walk one mile in the Man Mule Race, thereby keeping his perfect attendance record.
The race began in 1978 as a wager between a long-distance runner, Tony LaMorte, and a mule rider, Fred Harris, betting who could travel the 20 miles between Elko and Lamoille in the shortest time. As rumors of the wager spread through the community it was decided that the proceeds would be donated to the newly formed therapeutic riding program, Ruby Mountain Riding for the Handicapped. As the community grew and changed, so did the race.
In 1984, LaMorte invited Jones, who had just moved to Elko, to consider running in the race. That year it started in front of the Stockmen's Hotel with great commotion of runners, horses, riders, and a few bicycles, and ran down the two-lane highway 20 miles to Lamoille. Although he didn't beat the mule (or any of the quadrupeds), Jones did win his age division, and received a handmade trophy from LaMorte.
Jones ran in every Man-Mule Race after that, watching as it changed to accommodate the expanding community and widening highway. Eventually, the race between towns became too dangerous and the event was moved to the roads and pastures around Lamoille. Horses no longer challenged runners, but went off on their own route to compete over a course of judged obstacles; bicycles raced over a rugged route at the base of the Ruby Mountains, and runners and walkers took to the unpaved roads that loop out and back to the little town.
During one of the last races between Lamoille and Elko, Jones recalls overtaking a chuck wagon stuck in traffic and being forced to drop down into the roadside ditch to get past it. The hardest part of that race, Jones says, was having to run a final lap in the soft sand of the racetrack at the fairgrounds.
As the years went by, grandkids came along, and Jones bravely pushed them in a jogger stroller as he ran.
A proud and dedicated supporter of RMRH, Jones has even run the race when his schedule didn't allow him to be present on race day; marking off the distance, running or walking while timing himself, and turning in his time, entry form, and registration fee to the race committee. This year, he walked the six miles in 1 hour, 40 minutes and 52.29 seconds on Friday.
For everyone else, the Man Mule Race and Trail Trial happens this Saturday, Sept. 25, starting at Lamoille Grove. Runners will go a distance of nine miles; walkers, six miles. Bicyclists can choose between a beginner distance of 10 miles, a "sport" distance of 15 miles, and an advanced route of 15.2 miles, which incorporates a chunk of more mountainous terrain.
Horses will stretch out on a mile of dirt roads before returning to the Kennedy pastures, where there will be nine judged obstacles spread out in some beautiful wooded fields. And just so nobody is left out, kids on foot or bikes, moms with strollers, and just about anybody with any form of non-motorized transportation can enjoy the Boy-Burro Fun Run; a roughly three mile loop of paved and unpaved roads. This year, there will also be a tractor pulling a wagon for those who would like to sit and ride.
Entry forms can be picked up at Capriola's, IFA and T-Rix bike shop, or found online at www.Steninger.us.
Six rarest animal sightings in Elko County: