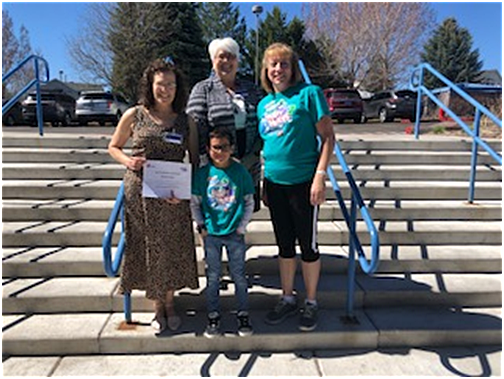 ELKO – Mountain View Elementary school was recently congratulated by the American Heart Association for raising the most money in the state for a first-year school participating in the Kids Heart Challenge.
Physical education teacher Jeannie Baumann reintroduced the program to the school this year.
Mountain View students raised approximately $10,000 for lifesaving heart research, beating larger schools from Clark and Washoe Counties. The students jumped rope and participated in a heart education assembly.
"Students learned how to jump rope, learned jump rope tricks and competed for most jumps," said Baumann.
Funding came from families and friends in the community. This support may have been due to Mountain View having two heart heroes who were born with heart problems.
Baumann said she has seen the positive impacts for the school. "We see a lot more kids jumping rope on the playground, now."
According to the AHA, "The Kids Heart Challenge prepares [children] for success through physical and emotional well-being."
"They learned how to better take care of their hearts to prevent heart disease," Baumann said. "They learned that [jumping rope] is hard, and you have to keep working at it to get better."
Ultimately, Baumann attributed the school's success to the students. "We just have good, kind-hearted kids," she said.
The AHA is the largest nonprofit that donates to lifesaving research.
Be the first to know
Get local news delivered to your inbox!