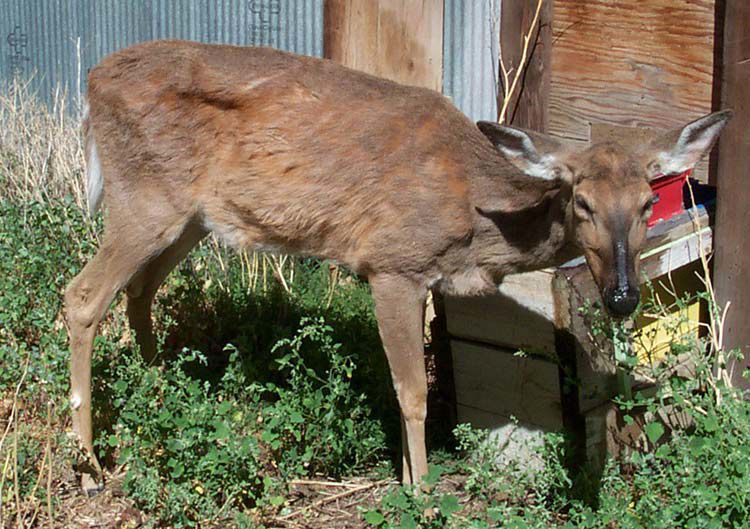 Chronic wasting disease (CWD) is a strange disease and deadly to animals of the deer family. It has been found in deer, elk and moose. The disease is caused by abnormal proteins, called prions, that attach to, and transform, healthy brain proteins into mutations that lead to a deterioration of the brain, and ultimately death of the animal.
Although not much is known about CWD, it is currently identified in 25 states and Canadian provinces, plus other countries. Concern is the disease may be in other locations and not yet identified. Infection rates may exceed 10% of the deer family in an area and local rates can run above 25%.
Part of the problem is the symptoms do not show in affected animals for over a year and the animal may die without showing symptoms. Visible signs of CWD include stumbling, poor body condition, excessive drinking and salivation, and difficulty running.
These prions most likely spread between animals through body fluids, from direct contact or through soil or water. Prions can remain in the environment for a long time. Spread of the disease to new areas seems to be from healthy animals coming in contact with infected remains brought into the new area.
No evidence currently indicates that CWD can be transmitted to livestock or humans. Any spread to humans would likely be through people eating meat of infected animals. Since 1997, the World Health Organization has expressed concern that CWD agents could enter the human food chain. The Centers for Disease Control and Prevention states "Hunters must consider many factors when determining whether to eat meat from deer and elk harvested from areas with CWD, including the level of risk they are willing to accept." They further state "Strongly consider having the deer or elk tested for CWD before you eat the meat."
Almost all of Wyoming is known to be infected, as is much of Colorado. The closest known infection area is central Utah. Nevada hunters hunting in infected areas are advised to not shoot, handle or eat meat from animals that look sick or act strange. Latex or rubber gloves are advised when dressing the animal or handling meat. Household knives should not be used. Minimize the handling of organs, especially the brain and spinal cord tissues.
You have free articles remaining.
Forty states and seven Canadian provinces have implemented restrictions on importation of harvested members of the deer family. In Nevada, these restrictions came about in Senate Bill 85. Basically, it is illegal to bring into Nevada any parts of the spinal column, brain, or attached head. This includes antlers with attached flesh. Wrapped meat, hide, clean skull plate and taxidermy mount, without attached flesh, are OK.
Tom Donham is the game supervisor for the Elko office of the Nevada Department of Wildlife. Tom said CWD is not in Nevada and we can always hope it will not arrive but acknowledges it is probably inevitable.
He described the measures being taken to find any local animals infected with CWD. Voluntary sampling stations have been set up during the last two hunting seasons, with the closest in Wells.
Last year, NDOW biologists collected over 400 samples (338 mule deer, 108 elk, 1 moose, and 1 fallow deer) and the goal is the same for this year. None have been positive. This represents 4.7% of the reported deer harvested and 4.2% of the reported elk harvested.
The sampling takes five minutes and does not affect the antlers or meat. A sample of brain stem and lymph nodes is collected and sent off for analysis, which takes about two weeks. Contact information is collected for the hunter and the area where the animal was taken, in case of a positive test.
A taxidermist can submit a sample for the hunter and hunters can also bring the head into an NDOW office. Tom reminds hunters that the head or spinal column of a harvested animal should be buried or taken to a landfill.
Tom's fear is that hunters traveling along I-80, returning from a hunt in an infected area, will dump a head or spinal cord in Nevada. This could infect a local deer or elk, and bring CWD to Nevada.
Basically, it is illegal to bring into Nevada any parts of the spinal column, brain, or attached head. This includes antlers with attached flesh.