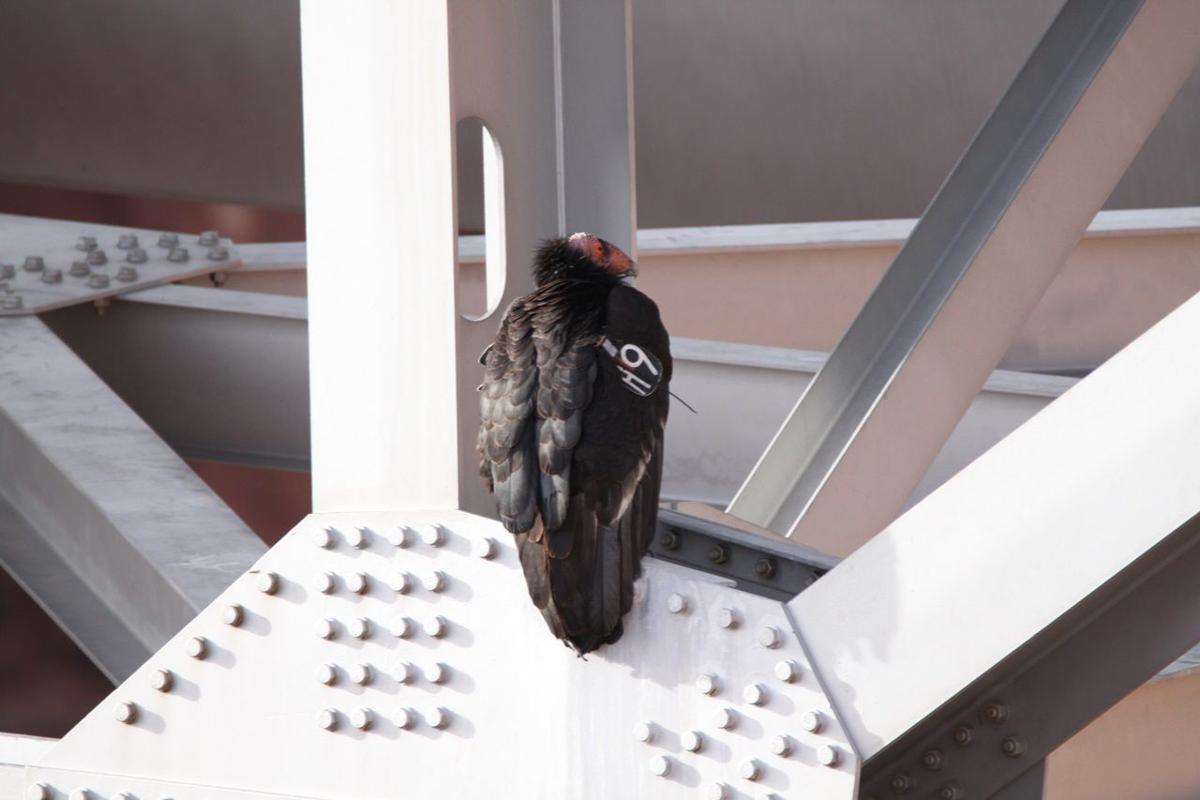 Visitors to southwest national parks are able to watch California condors soar past on their 9-1/2-foot wingspans. They are now seen in Cedar Breaks National Monument, Glen Canyon National Recreation Area, Grand Canyon National Park, and Zion National Park. In 2019, a condor was seen on Forest Service land near Cedar City, Utah. I have seen condors three times, at Arizona's Navajo Bridge over the Colorado River, near Lee's Ferry.
The birds are identified by their huge size. They can weigh over 20 pounds. Size is difficult to determine on a soaring bird and a better identification is their triangular white patches of feathers on the underside of their wings. Turkey vultures also frequent the area and are smaller and lack the white triangle. Another good guide is that many of the condors carry wing tags.
These sightings are possible because of much hard work done in the recovery of this very rare bird. In the 1980s, only 22 condors survived in California. Captive breeding programs increased that number and in 1996, six condors were released on top of Arizona's Vermillion Cliffs, a few miles from the Grand Canyon.
Several milestones in condor recovery have occurred recently. In 2019, the condor population of wild and captive birds was over 500, with over 300 living in the wild. About 200 California condors live free in California, 98 in Arizona and Utah, and more than 39 in Baja, Mexico.
In 2017, the first "second generation" condor was born in a redwood tree in Big Sur, California. Its parents were also born in the wild, with its grandparents being the last cage-born condors.
In 2019, the 1,000th chick was born (since recovery efforts began) in Utah's Zion National Park.
Nest sites are located in rock caves and fissures, also trees like coast redwood and giant sequoias. No actual nest is constructed, and the egg is laid on bare gravel, sand or bark. Their incubation period is 53-60 days and nestling period is 163-180 days, so such a nest can be used for five months.
In 2019, five Chicks fledged from Vermilion Cliffs National Monument, Arizona BLM lands, and Kaibab National Forest Lands, also at Zion National Park, and Grand Canyon National Park. Ten more adult condors were released into the wild, and six were known to have died.
From 1992 through 2019, 93 deaths have been documented from lead poisoning in the wild population. Lead poisoning is responsible for 50 percent of the 185 condor deaths where a cause of death has been determined. The lead comes from hunters' bullets, ingested as condors feed on the remains of deer and coyotes killed by hunters. Lead bullets break up into tiny pieces of lead in animal bodies. California has banned lead shot. Both Arizona and Utah are working with hunters for voluntary bans of lead shot. The U.S. Fish and Wildlife Service states the condor recovery program would be highly successful if not for the lead poisoning problem.
Condors eat wild and domestic carrion and prefer small to medium-sized carcasses. Condors locate carcasses using their keen eyesight and not by smell. They find carrion by spotting other scavengers assembled at a carcass. They take over the carcass from smaller species but are tolerant of other condors and usually feed in groups. Condors are wary of humans and do not use roadkill as a food source.
Be the first to know
Get local news delivered to your inbox!