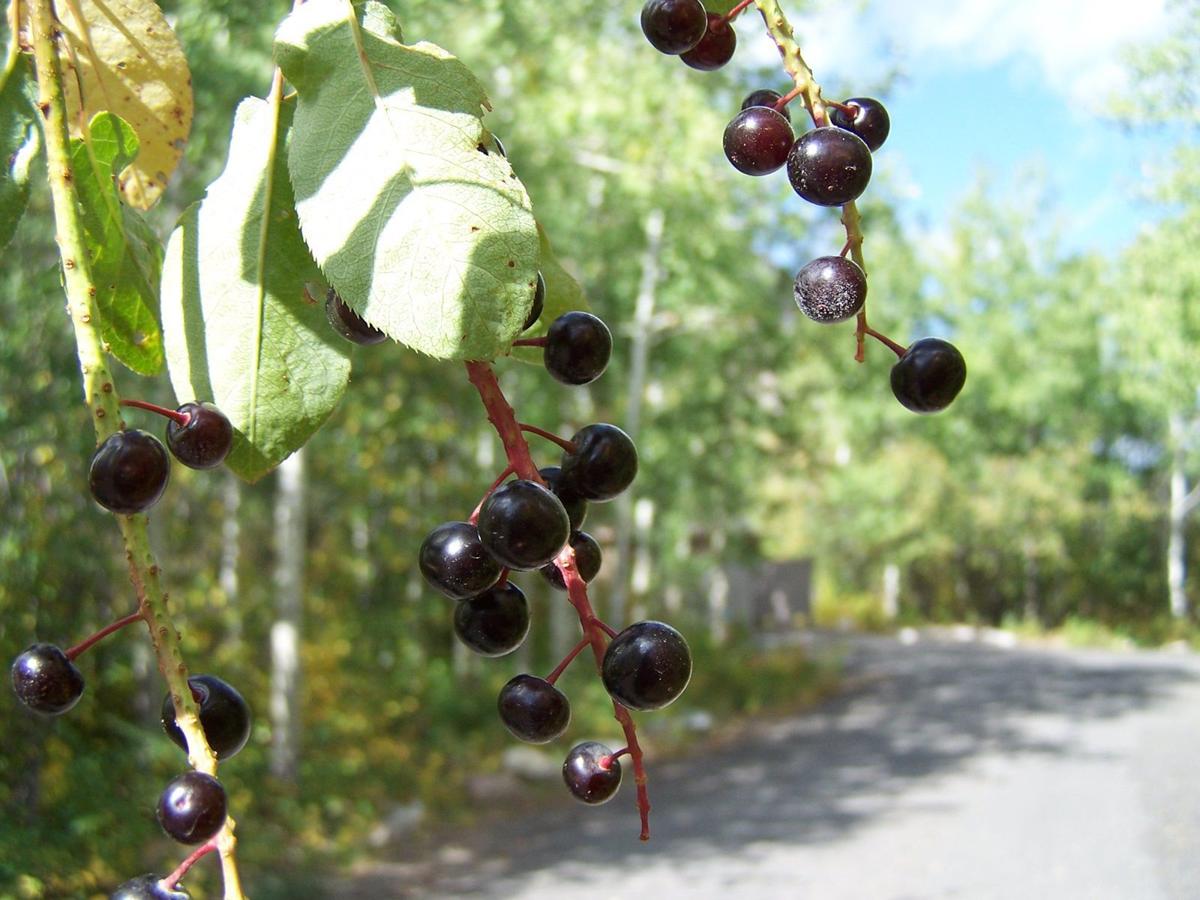 Fall in the Ruby Mountains is the time to pick berries. Canyons are thick with berry bushes. Lamoille Canyon offers a good collection of berries, even after last year's fire.
To my way of thinking, the "king" of berries is the chokecherry. Spring is the time to mark good locations for future berry picking. The small, white flowers form long, drooping bunches looking like clusters of white grapes. During good springs for berries, entire creek bottoms are white and thick with fragrance. The trees in Thomas Canyon Campground are usually covered with these flowers.
Each white flower develops into a dark purple berry containing a single, large pit. The "choke" name may come from the tart taste, but I enjoy eating them off the tree. After a hard frost, they are even sweeter. Chokecherries make excellent syrup, jam and even wine.
Chokecherry seeds contain a cyanide compound, like apple seeds, and can be toxic if eaten raw in large quantities. The Native Americans traditionally prepared chokecherries by pounding the whole berries, seeds and all, and drying the mass in the sun.
Elderberry bushes are tall, with many branches and long, arrow-shaped leaves. The white flowers grow in flat faced clusters. Several large bushes line the lower Lamoille Canyon road. The berries may not be good eating off the bush but people eat the berries dried, or use them to make pies, jellies, sauces and elderberry wine. Some people cannot tolerate a toxic substance in the berries. Webmd.com lists several medical uses for elderberries.
The western golden currant produces small yellow to orange fruit with flower remains prominently displayed on the end. Currant bushes are usually found close to a creek. The fruit is tart but can be used for jelly. The foreign fungus called "white pine blister rust" that is killing so many white bark pine trees must spend part of its life cycle in currant bushes. At one time, currant bushes were routinely destroyed in an attempt to control blister rust.
Western serviceberry bears white flowers in clumps like the chokecherry, but the flower clumps are smaller and they carry narrow, twisted flower petals. The blue or purple berries have a tuft on the end, the remains of the flower parts. They are also delicious from the bush, although bland. Several soft pits inside each berry make them pulpy.
The Wood's wild rose produces berries called hips. They can be used for jam or jelly, but a more common usage is to add rose hip juice to other jams or jellies to increase their vitamin C content. They can also steep in hot water as a tea.
The Oregon grape is a small plant with yellow, globe-shaped flowers and holly-like leaves. In late fall, the leaves turn red. A nice winter sight is its purple berries and red leaves tipped with frost. The berries are too tart even for me but can be used for jams and wine. The tiny plants found locally would require a lot of picking to get enough berries.
What could be better on a cold, snowy morning than chokecherry syrup on pancakes? Unless, it is serviceberry jam on toast. I can't forget chokecherry syrup on vanilla ice cream, either.
A good thing to keep in mind as we enjoy fall's berry harvest is that birds and other wildlife need these berries more than we do, so leave their fair share.
Be the first to know
Get local news delivered to your inbox!