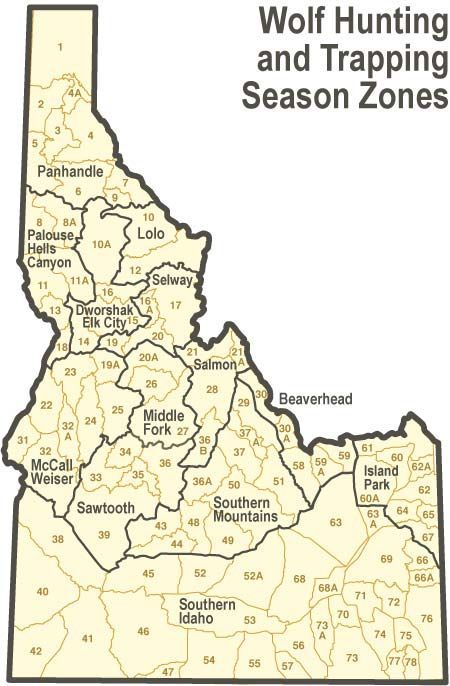 Idaho's wolf hunts are nearing the middle of their seasons. The state is divided into 13 wolf management zones that were created based on existing elk management zones. Many of these hunts in specific zones started their seasons last summer and are either year-around or end in late spring of 2016. As of Nov.19, 89 wolves have been taken by hunters and 13 by trappers.
Five of these management zones have limits on the number of wolves that can be taken but none of the actual takes are anywhere close to the maximum allowed. The Sawtooth Zone around the Sawtooth Mountains allows 60 wolves but only three have been so far.
You have free articles remaining.
During the 2014-2015 season, a total of 131 wolves were taken by hunters and 119 by trappers. None of the zones reached their maximums. The Island Park Zone had a maximum of 30 but only 10 wolves were removed. The most wolves taken were in the state's northern panhandle, where trappers took 66 wolves and hunters took 21 wolves. The second highest take was around Grangeville and Elk City, where hunters took 17 and trappers took 15 wolves.
Several of the wolf management zone hunts have two seasons. One season takes place only on private land and is generally a longer season. The Selway Zone's private land hunt is year-around while the separate season on U.S. Forest Service land is from Aug. 30 through June 30.
Of interest to Elko County is the large wolf zone across Southern Idaho where one wolf was taken by a hunter during last year's season. This area is not considered good wolf habitat and acts as a barrier to any wolves migrating south into Nevada.
The state's 2014 monitoring report states Idaho contained approximately 770 wolves in at least 119 packs with 12 new packs added that year. The average pack size was 6.5 wolves and at least 173 pups were produced. It lists one wolf pack in the Southern Idaho Zone but also lists eight wolves removed by the state, and by other means. It also lists 12 sheep losses due to wolves in this zone.