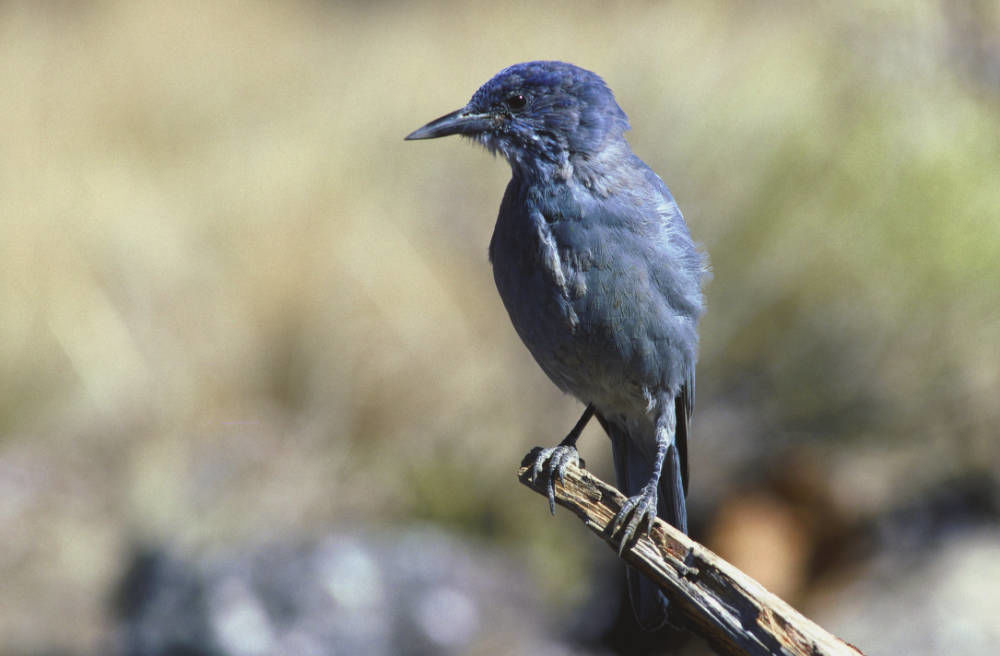 There is a tree and a bird that have such a close relationship that as wildfire changes the fortunes for one, so it affects the other.
The pinyon jay is a blue-gray bird usually seen in large flocks flying above the pinyon (or piñon) pine/Utah juniper (p/j) woodlands of Elko County. Jays and pines have a symbiotic relationship, where the existence of both benefits the other. The problem is as wildfire affects the pinyon pines, it also affects the birds.
Pinyon jays eat the large pine nuts produced by the pinyon pine. They eat these pine nuts all year, along with other foods. They also feed pine nuts to their nestlings.
Pine nuts are available all year because the jays cache seeds each autumn. The birds pluck seeds from open pine cones on the trees, then fly off with up to 40 seeds in an expandable esophagus. At another spot, they scratch at the ground, deposit the seeds, and cover them up.
Jays make thousands of such caches and return to most to retrieve seeds. Some caches are forgotten and the seeds in these caches often germinate and become new pinyon pine trees. The jays, in essence, plant gardens of new pine trees. The birds get a great, nutritious, year-long food supply and the trees get a great way of spreading seeds to expand their range.
The jays live in large flocks. They nest in loose colonies. They lay eggs in January and February each year. This early nesting is possible because of the ready food supply stored in caches during the previous fall. Nesting success is tied to pine nut availability. When a good crop of pine nuts is available during the next summer, jays even raise a second brood in August.
You have free articles remaining.
For jays, the most important part of the p/j woodland is the edge between pine tree habitat and sagebrush habitat. They prefer a mixed-age mosaic of woodland interspersed with sagebrush shrubland. They generally nest within a half mile of a convoluted, weaving edge between woodland and sagebrush. They like small openings of sagebrush in the woodland and small islands of trees for foraging and digging caches.
Jays and trees have coexisted for thousands of years. In the past, small, frequent wildfires began in the sagebrush and burned into the trees. Therefore, pine trees were confined to steep, rocky areas that did not burn easily. But over the last 150 years, humans have stopped most fires. This has allowed the p/j woodland to expand. Trees have matured and woodlands are dense with trees.
These conditions do not benefit jays. More pines have not meant more birds since most of that thick woodland is not used by the jays. The amount of quality edge between woodlands and sagebrush has not increased nearly as much.
Worse, recent huge fires have burned away large swaths of woodlands, greatly reducing jay habitat. Also bad for the jays, large areas of woodland have been mechanically removed to return that encroaching woodland to sagebrush habitat to benefit sage-grouse, wildlife and livestock. This reduction is usually done through mastication and wood cutting. Too often, the edges left in these reduced woodlands were straight lines, further reducing that important edge utilized by jays.
All of this, including wildfires, woodland reduction and the loss of important edges, has reduced the pinyon jay population. Their population has fallen by 50-85% between 1970 and 2014, according to a group called Partners in Flight. They also project pinyon jay populations could drop by another half by 2036. This rate of decline is greater than that suffered by the greater sage-grouse.
There is hope. Today, biologists recognize the importance of that loose edge. Woodland reduction projects have been designed with weaving, open edges, creating mosaics of woodland and sagebrush. This is done to benefit all wildlife, not necessarily jays. In Elko County, BLM and Nevada Department of Wildlife biologists walk project areas and flag the edges that will be created. Projects are also not done when known to be near jay nesting sites.
Little research has been done on the needs of pinyon jays and little work is being done to specifically benefit this iconic bird of the p/j woodlands.
Information for this article came from SageSTEP and the Great Basin Bird Observatory.
Information for this article came from SageSTEP and the Great Basin Bird Observatory.