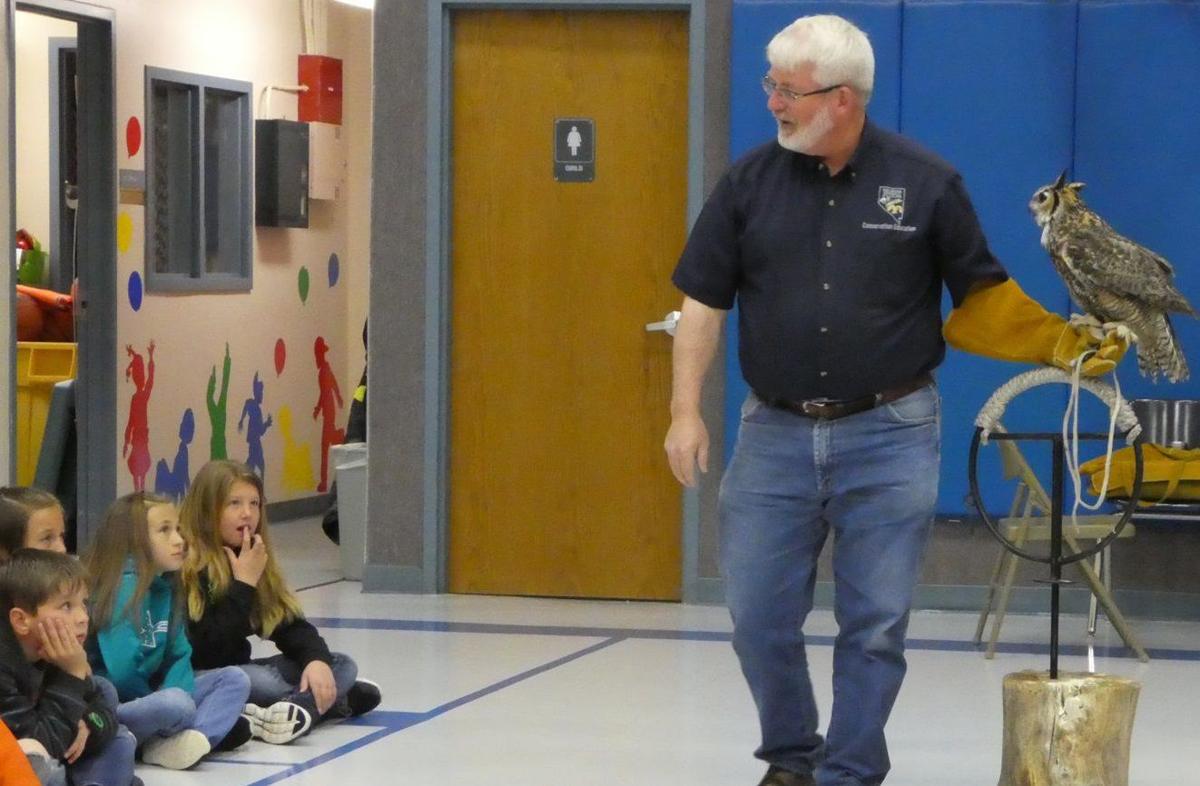 ELKO — Joe Doucette and Hedwig the owl recently kept some Spring Creek Elementary students captivated — not an easy job with third-graders. Students of Mrs. Porter, Mrs. Jacobs and Mrs. Hughes Learned not only about great horned owls, but also some basic biological concepts.
Joe has kept Hedwig for three years, often taking the owl to visit classrooms as part of his job as the Nevada Department of Wildlife Regional Outdoor Education Coordinator.
Hedwig was brought to the department after someone shot it with a pellet gun. Its right wing was severely damaged and had to be amputated. Hedwig cannot fly and rather than being euthanized, Joe took Hedwig for use in classroom education.
This is actually Hedwig II since Joe had another great horned owl for 10 years before it died. The original Hedwig was kept for the same purpose.
Hedwig lives in a mew (bird pen) behind Joe's house. A young red-tailed hawk occupies a second mew, and Joe is working with this young hawk for future educational work. Both birds are fed dead ground squirrels. Joe travels to Diamond Valley, where he fills a cooler with ground squirrels trapped out of hay fields.
The third-graders asked good questions:
"Can Hedwig turn his head completely around?" No, but he can turn it 270 degrees, because he has double the number of neck vertebrae as humans have. He has to be able to turn his head since his eyes cannot move side to side.
"Can he hear a lot better than us?" No, a little better than humans but he lives in a quiet world, whereas we humans are surrounded by noise. In an owl's quiet world, he can hear very well.
"How much does Hedwig weigh?" Three pounds; he looks bigger with all the feathers.
"What do owls eat?" Great horned owls eat small rodents and especially like to eat skunks. They may even eat small cats around Spring Creek.
"Are those horns on the top of Hedwig's head?" No, they are merely feather tufts. His ears are on the side of the head beside the eyes. His ears do not have an external flap. They are located slightly differently on each side and are different sizes. This helps owls locate prey using slight sounds. When the sounds are heard equally in both ears, the owl is looking directly at the prey.
"Why is Hedwig panting?" He is used to being outside and is warm in this building, plus he is stressed with all of you around him.
Joe is an educator and among the talk of owl poop (the students kept track of how many times Hedwig defecated on the gym floor), he talked to them about terms such as carnivores, herbivores, and omnivores, predators and raptors. He talked about eye placement on herbivores compared to carnivores.
After the 45-minute session, third-graders left with a better knowledge of both owls and biology.