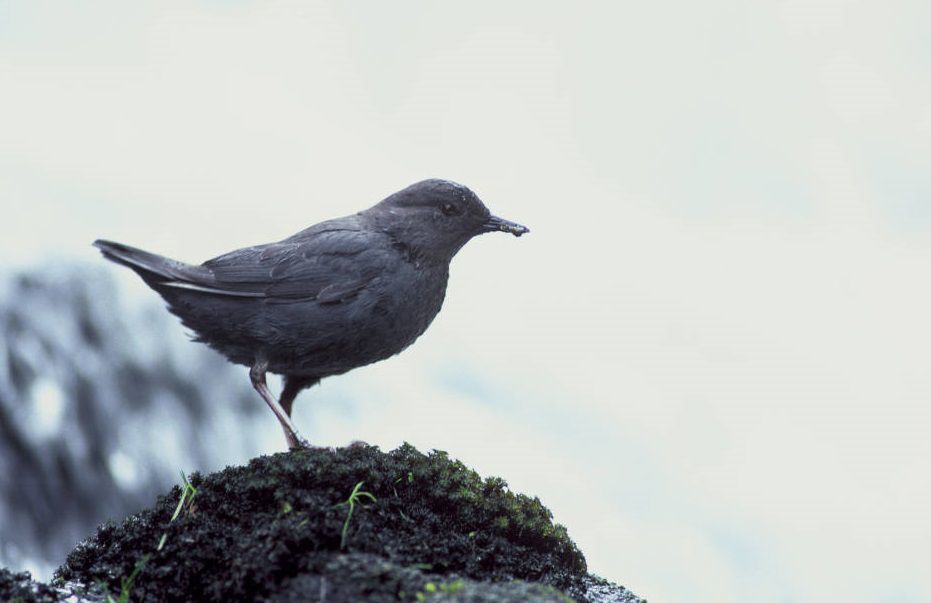 This bird is not something exotic like a penguin, but a bird common in the Ruby Mountains. It is not a waterfowl or a shorebird. It is an all gray bird the size of a robin and America's only aquatic songbird. It can be seen along fast flowing streams like Thomas or Lamoille Creeks.
The American dipper is definitely unique. Its prime habitat is mountain streams where the most common sighting is not of a bird sitting in the top of a tree but flying barely above foaming, splashing streams. Weaving along the curves of the stream, it is often accompanied by its high pitched, whistling or trilling, song.
Careful observation will spot a gray bird with a stubby tail standing on a mid-stream rock with rapids surrounding it. The observer will know it is a dipper by the bird's continual bobbing or dipping, looking like it is doing squats.
Even further patience will be needed to see it fly underwater. It feeds by diving into water too fast for a person to brave. Rather than being flushed downstream, it will pop back to the water's surface in the same area or even upstream of where it entered.
You have free articles remaining.
Underwater, this bird swims against the current using its wings and walks across the bottom by gripping pebbles and rocks with its toes. On the bottom, it flips over rocks to find aquatic insects, larvae, small fish and fish eggs, crayfish, and tadpoles. It can rise to the surface directly into flight or hop back onto its rock to eat its meal.
Even closer observation will show a flash of white in the bird's eyes. The dipper has nictitating membranes it draws across its eyes while underwater, to protect the eyes. When it blinks, white feathers surrounding the eyes show as a flash of white.
A dipper's nest fits its lifestyle. The nest is made of moss and sticks and usually placed so close to a stream that it is continually wet from splashing water. Often it is built on a vertical rock face, in a crevice or beneath a rock ledge. The only indication of its presence may be a bird flying in and out barely above the roaring stream. Nests have also been built behind the screen of small waterfalls. The dipper is monogamous and defends a territory along a linear stretch of stream.
Winter is not something it avoids. The dipper does not migrate. Its only concession to snow and ice is to move downstream to ensure open water is available. A common winter sighting is the bird diving into a small opening in the covering ice to forage along the stream bottom beneath its covering of ice and snow.
Its range stretches from northern Alaska, through the Rocky Mountains, Cascades, and Sierra Nevada, as far south as western Panama, but always along pristine mountain streams.
This aquatic bird has disappeared from some areas due to habitat loss. In spots, water pollution caused by poor practices in clearcutting, mining, and agriculture have removed it.