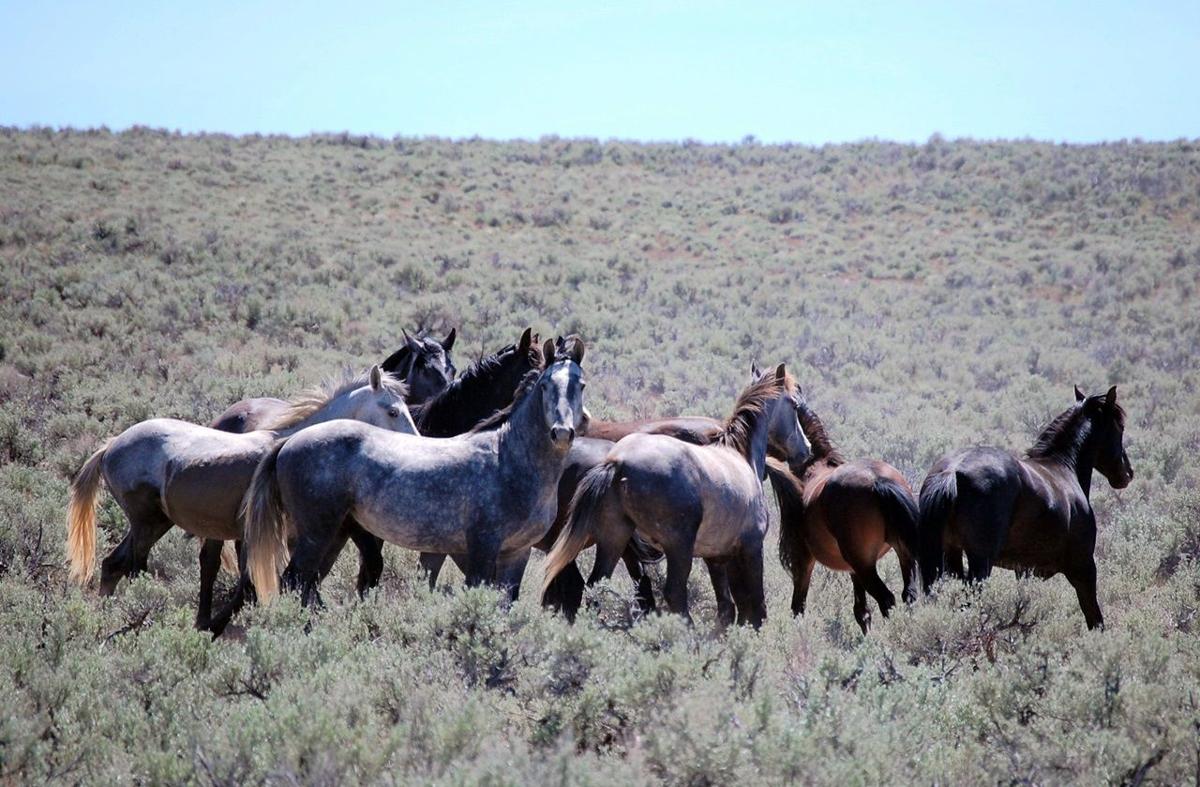 In describing the wild horse population, the descriptive term that comes to mind is "explosive growth." I first reported on rising wild horse numbers in 2009 and since then their numbers have doubled.
Let's start with the largest numbers first. The Bureau of Land Management manages 81,951 horses and burros on western public lands, as of March 2018. This number is a 13 percent increase over 2017's population of 72,674. Since Elko County has no wild burros, I limit myself to the 66,976 wild horses on the western range.
The term appropriate management level (AML) describes the maximum number of wild horses that should be living on public land. The BLM evaluates each Herd Management Area to determine how much forage is available for use among wildlife, wild horses, burros and domestic livestock. The number of horses which can graze without causing damage to the range is called the AML.
The national AML is 26,690 horses. The current wild horse population is above that number by 55,000, or roughly 2 ½ times the national AML.
Closer to home, Nevada contains 40,394 wild horses, almost two-thirds of the nation's wild horses. The state AML is 12,811, so Nevada's public lands contain almost four times the number of horses the BLM says it should hold.
When I wrote about wild horse numbers in 2009, 33,692 wild horses lived on the nation's public lands. Since then, their population has doubled. In 2009, Nevada had 17,711 horses, so that number has more than doubled in nine years.
Of course, not all wild horses are living on public lands. Many are being maintained in holding facilities (the BLM calls these off-range horses). The BLM manages 49,339 off-range horses. In 2009, they held 34,500 off-range horses. They also estimate the maximum number they can maintain is 56,106.
During the BLM's 2018 fiscal year, $81 million was spent on the wild horse and burro program. Of that, caring for the off-range horses cost over half, or $49 million. Caring for wild horses on the range, including monitoring and gathering excess horses, along with the horse adoption program, cost $31 million.
During 2018, 9,749 excess wild horses were removed from public lands, or approximately 15 percent of the total number. More horses were gathered in 2018 than during each of the six previous years.
During 2018, 2,459 off-range horses were adopted and that yearly number has been fairly consistent over the last 10 years.
The BLM is trying to get more horses adopted. Their latest offer is giving a horse adopter $500 when a horse is adopted and another $500 a year later, when the adopter receives title to the horse. They also offer an online bidding system for horses.
These numbers come from the BLM's Wild Horse and Burro Program web site, blm.gov/programs/wild-horse-and-burro. I believe these numbers are correct, but I also expect to hear from people who will say I am helping the BLM lie about wild horse numbers.