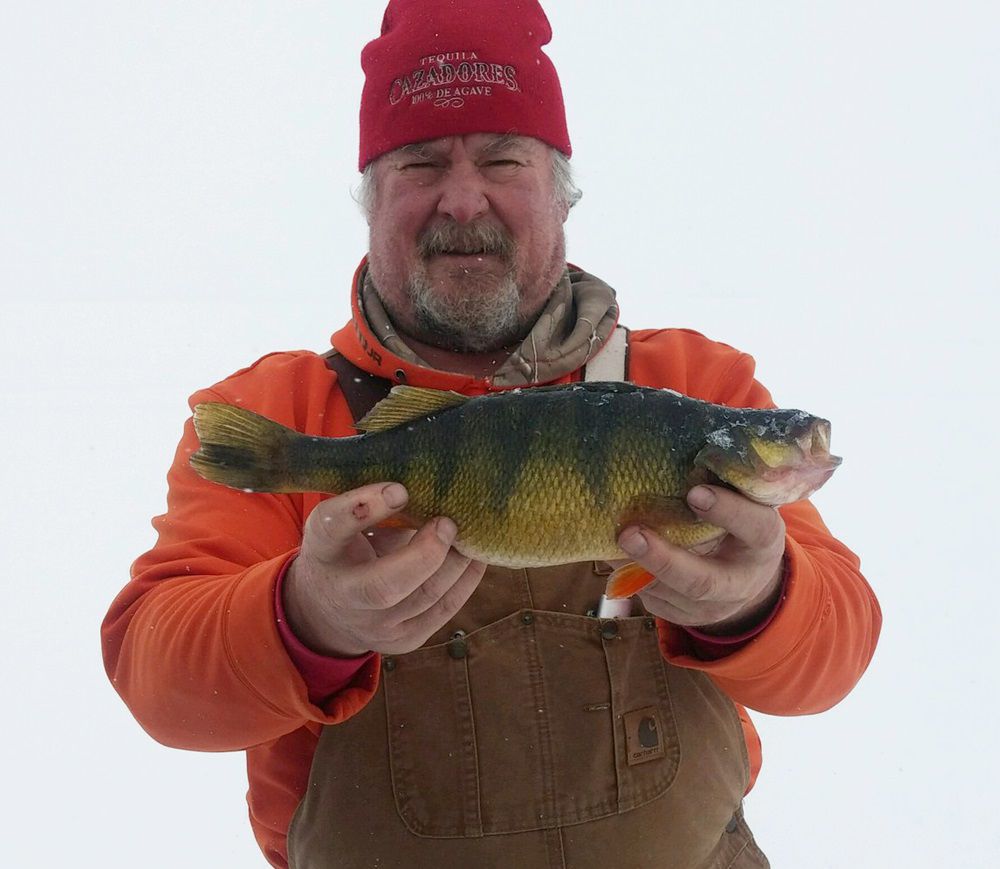 WILDHORSE – Nevada angler John Shorter III has proved yellow perch are making a comeback in Wildhorse Reservoir after tying a record that has been held for more than 30 years.
Shorter caught the 1-pound, 8-ounce, 13.5-inch long perch on Feb.16 at the reservoir, which ties the state record caught by Warren Todd Goodale in 1987 at Dufurrena Pond.
"He's had the record since 1987, so he's had quite a run with the record!" Shorter laughed.
Shorter and his friend, Kenny Moore, went ice fishing for rainbow trout at Wildhorse Reservoir several weeks earlier but had come away empty handed. Nevada Department of Wildlife Fisheries Biologist Chris Drake told the anglers he had witnessed others having success fishing for yellow perch.
You have free articles remaining.
Hoping for better luck, Shorter and Moore returned to Wildhorse Reservoir on Feb. 16. They ice-fished near the boat dock at the Wild Horse State Recreation Area using chartreuse jigs with a small piece of nightcrawler worm as a fishing lure. Between the two, they caught 57 yellow perch.
"We started catching fish right from the start. We had some 14-ouncers, some small throwbacks. We had some variety," Shorter said. "Then, at about 2:30 p.m. I hooked into the big fish. I thought it was a trout because it was putting up way more of a fight than the perch had put up. We put it on the ice, and I said, 'We've got to get this thing measured.'"
A fish must be weighed on a certified scale and be witnessed by an NDOW employee to be considered for a State of Nevada record. The anglers called dispatch, and Elko Game Warden Buck Tingle met the two at Raley's grocery store, where the fish was officially weighed.
"Between the drought and some predation of larger fish, perch fishing had really declined at Wildhorse. This is the first year in probably six years, maybe even seven, that people were actually catching a lot of keeper-size perch through the ice," NDOW's Eastern Nevada Conservation Educator Joe Doucette said. "In fact, last year I couldn't remember any perch being caught at all, so it's very exciting. Lots of people are on the ice enjoying this."
Generally, anglers can enjoy ice fishing from January 1 until mid to late March at Wildhorse Reservoir. Before ice fishing, anglers are recommended to check ndow.org or call NDOW's Eastern Region office at 775-777-2300 for current ice conditions.
Fishing licenses are available at ndowlicensing.com for $40 for Nevada residents, 18-years-and older, and $80 for non-residents. Anyone under 12 years old can fish for free. All stamps are now included, and licenses are good for one year from the date of purchase. Anglers who hunt can buy a combination license to get the most bang for their buck.