Just like with humans, washing a dog too often can strip them of the natural oils they need to maintain a healthy coat and skin.
But dogs can have a knack for getting into messes that can leave them filthy and smelly. Waterless dog shampoos can clean and freshen up your dog between grooming sessions.
Waterless dog shampoos work by absorbing oils and loosening grime so you can wipe your dog clean. They also tend to leave a pleasant scent behind.
Here are five things to know about waterless dog shampoos, plus recommendations on some shampoos to try.
Waterless dog shampoo types‌
Aerosol shampoos come out in a fine, powderlike mist. They're among the easiest to apply and leave very little wetness behind. However, dogs with breathing problems and respiratory issues can inhale it, causing some damage.
Foam shampoos are easy to apply, but they take effort to massage into your dog's coat.
Gel shampoos, like foam ones, need to be massaged into your dog's coat. Keep in mind that sensitive dogs and those that don't like to be touched much can rebel against gel shampoo's thick consistency.
Powder shampoos are the messiest to apply but the most absorbent and therefore the best for dogs with especially oily coats and skin or dogs that have gotten into watery or oily messes.
Spray shampoos are similar to aerosols but come as a liquid rather than powder. These are best for cleaning targeted areas rather than your whole dog. It can be easy to oversaturate areas as you go.
Scent‌
Most waterless dog shampoos are scented, for masking smells and freshening your dog before their next bath. Citrus scents are popular, as is lavender for its calming properties.
Remember, though, how much better a dog's sense of smell is compared with ours. If you think it's too strong, your dog is likely to be overwhelmed by the scent. As such, it's always best to go with the mildest scents you can find.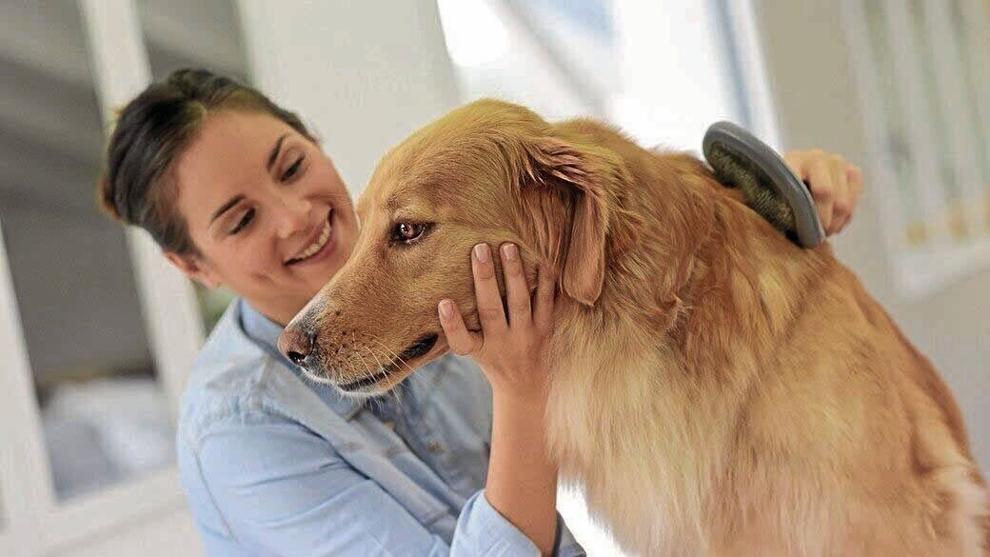 Quantity‌
Most waterless dog shampoo containers hold 8 to 16 ounces of product.
Small quantities of basic shampoo rarely cost more than $10, but larger containers and high-quality products can cost more than $30.
If you've never used a particular shampoo on your dog, buy the smallest size so you don't waste money if your dog reacts poorly to it.
Hypoallergenic‌ formulas
Dogs can have allergic reactions just like us. If you know your dog has allergy issues, you can find hypoallergenic waterless dog shampoos. Alternatively, if you know what your dog is allergic to, you can search for shampoos that exclude that ingredient.
Topical treatment clashes‌
Some flea and tick treatments require you to apply them to your dog's coat and skin so they can be absorbed. Since many waterless dog shampoos are designed to absorb similar substances, some can strip these topical treatments away if applied together. If you need to apply both at once, look for a shampoo that explicitly states it won't interfere with topical treatments.
3 waterless dog shampoos to try
Best of the best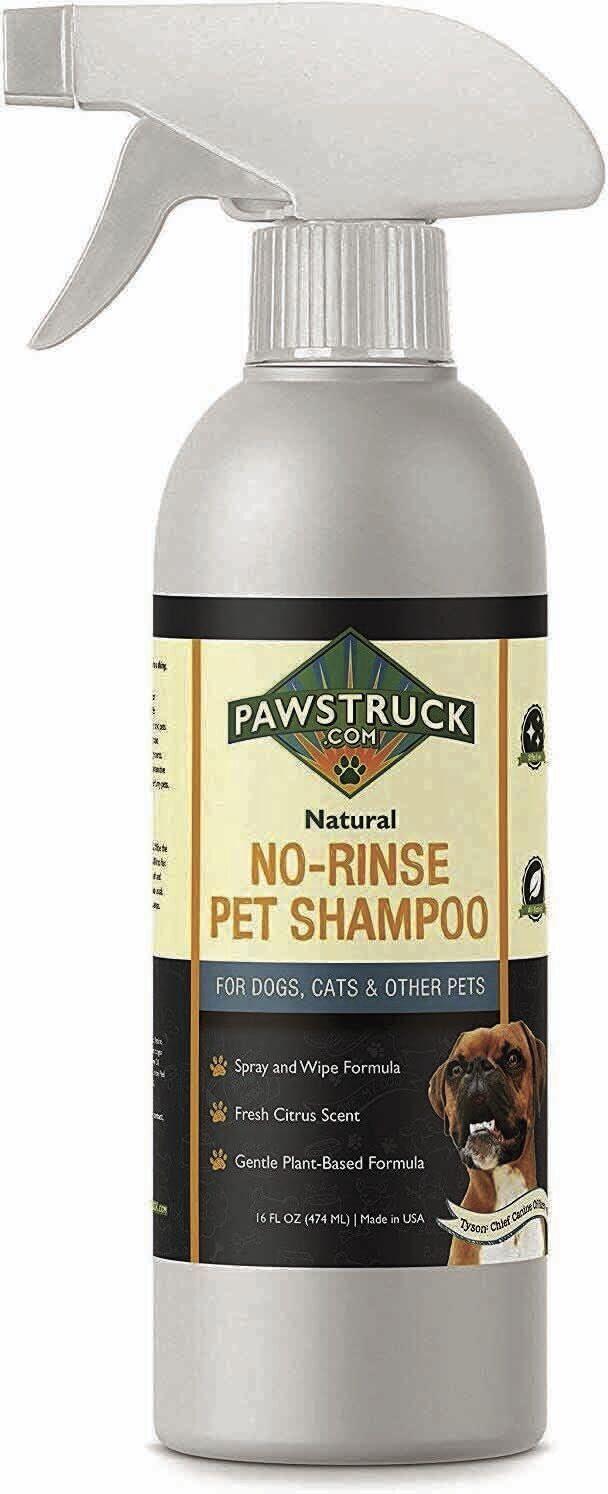 Pawstruck No-Rinse Dry Dog Shampoo
$15.95, available at Amazon and Chewy
Pawstruck is a U.S.-based small business, and this is BestReviews' favorite waterless dog shampoo.
The 16 ounces of citrus-scented shampoo last for ages, and the bottle is made of recycled materials.
Bang for your buck
Wahl Pet-Friendly Waterless No-Rinse Shampoo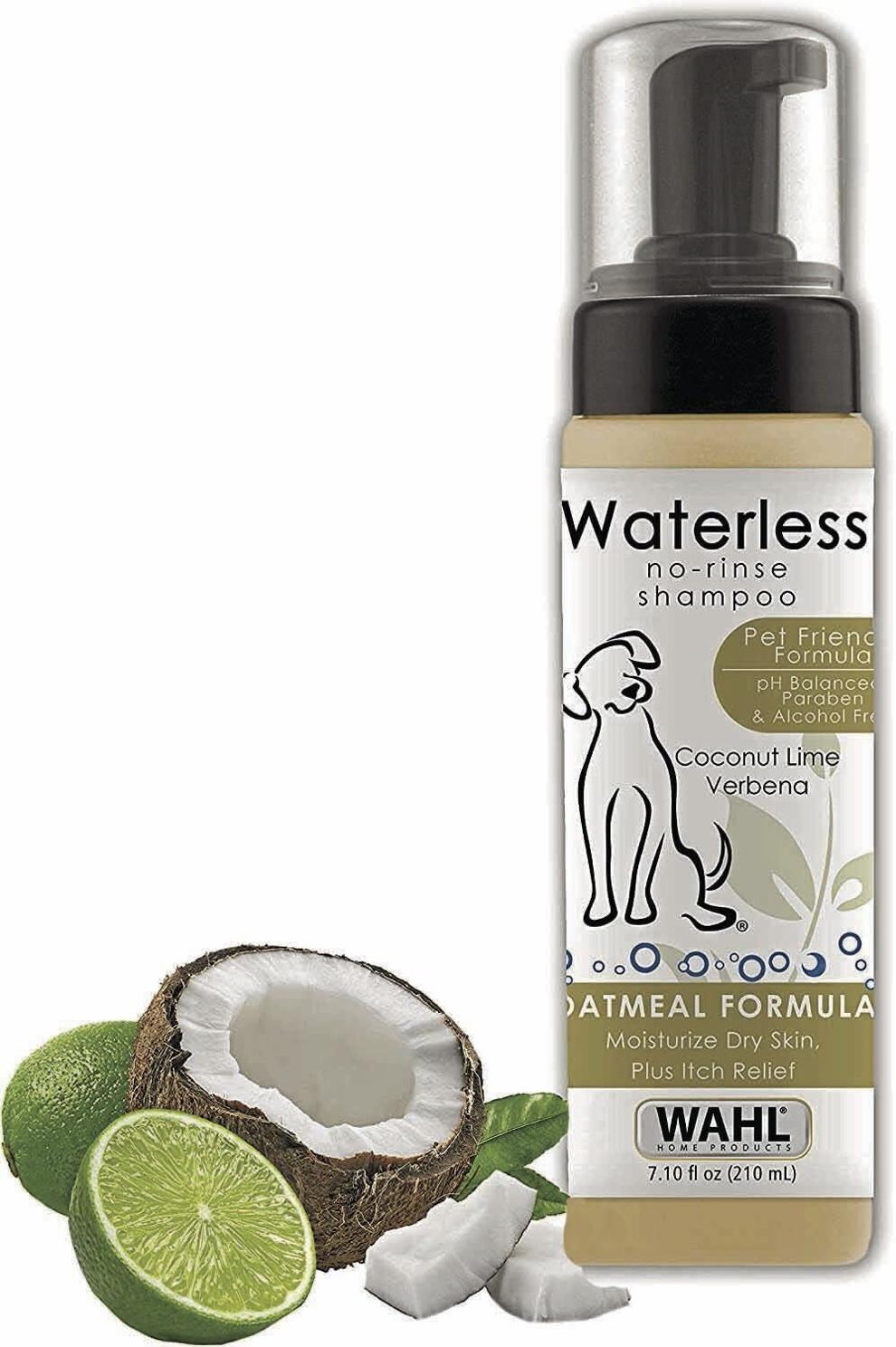 $7.69, available at Amazon
This is an excellent budget shampoo for dogs that rarely need more than their standard bath.
The 7.1 ounces of foam shampoo use an oatmeal formula that helps moisturize the skin and soothe itchy skin, with a coconut lime verbena scent. The formula is pH-balanced, contains no alcohol or parabens and is made in the U.S.
Honorable mention
Bodhi Dog Waterless Dog Shampoo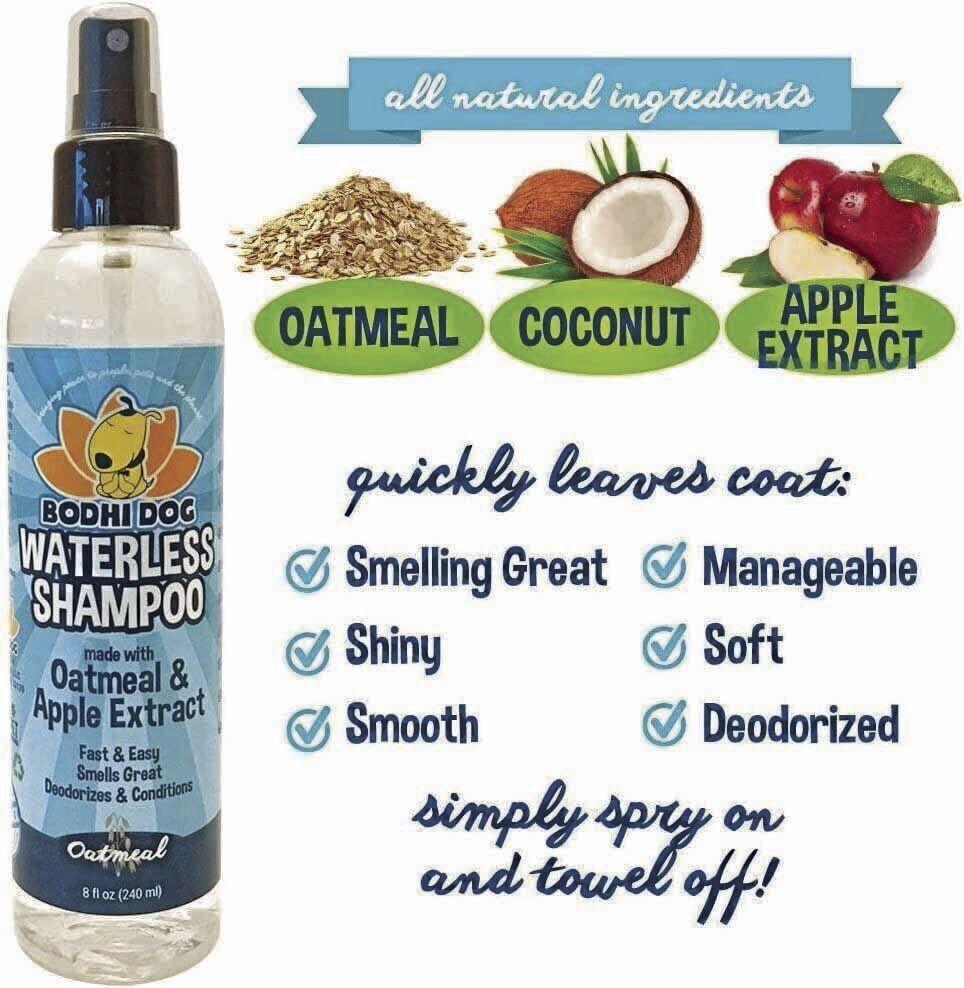 $13.99, available at Amazon and Chewy
This shampoo is formulated for sensitive skin and contains no alcohol, detergent, parabens or sulfates. It's also safe for use on puppies and kittens as well as pregnant animals.
It comes in either 8- or 17-ounce sizes with options for oatmeal and apple, lavender or lemongrass scents.
Jordan C. Woika is a writer for BestReviews, a product review company with a singular mission: to help simplify your purchasing decisions and save you time and money.
5 common dog myths and the facts behind them
Sniffing out the truth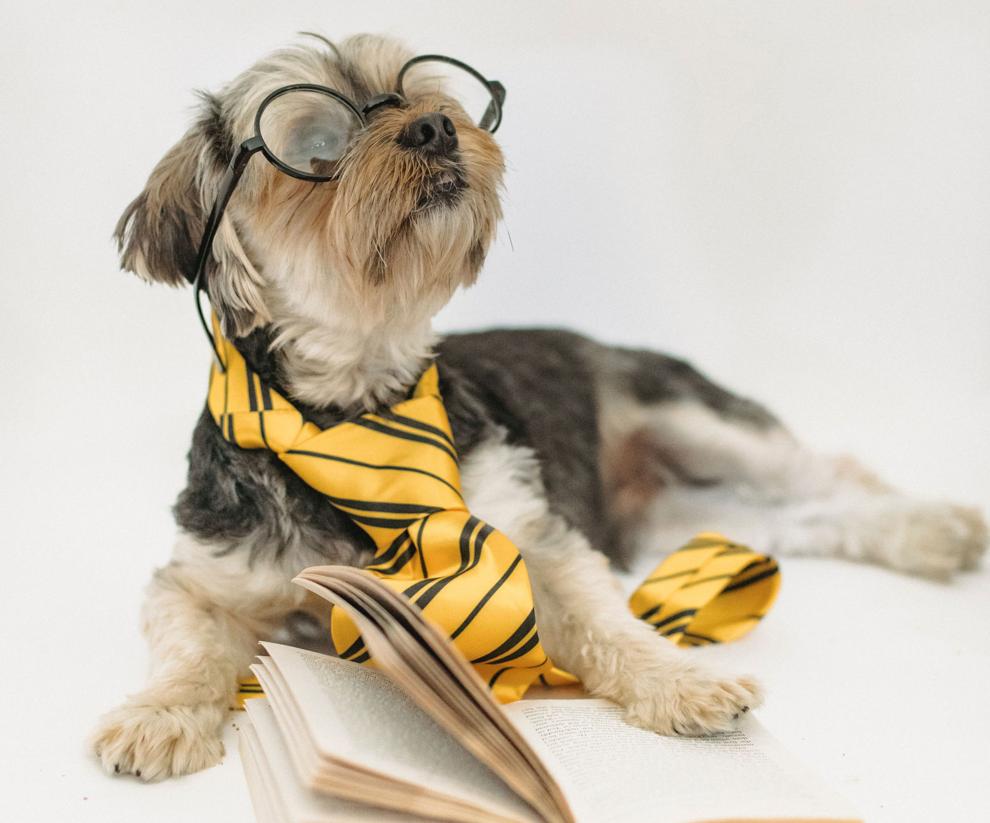 There are countless myths about our pets — some so old they have become facts in the eyes of many people. While some of these myths are harmless, many are filled with misinformation about a dog's care, temperament, behavior and intelligence. Pet owners who act on this misinformation may not be meeting the needs of their dog.
To separate fact from fiction, the American Kennel Club clears up some well-known myths about dogs.
Myth No. 1: A wagging tail means a happy dog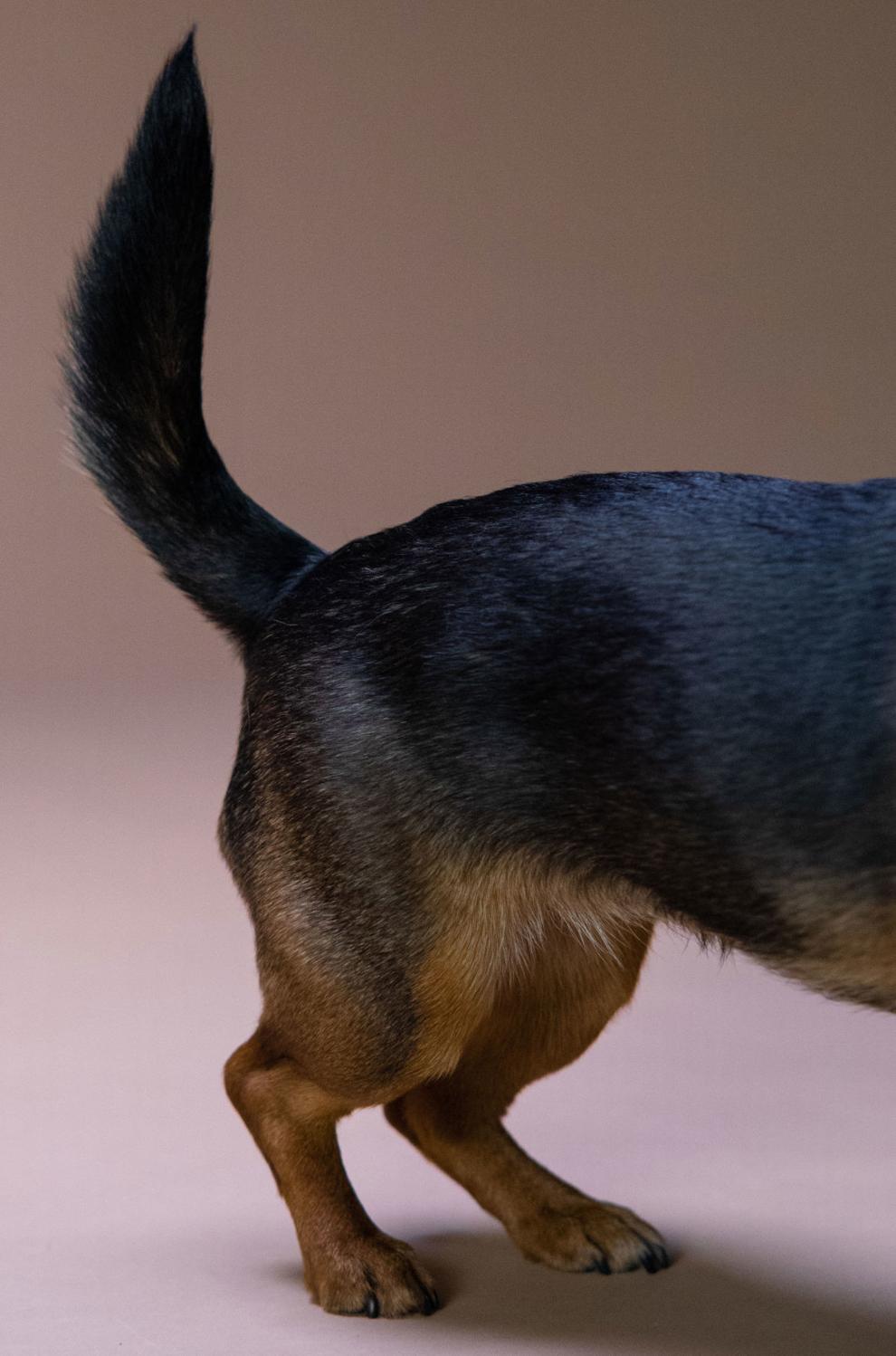 The truth: A wagging tail does not always mean the dog is happy. While a natural, midlevel wagging tail does indicate the dog is content, most other wags indicate the opposite.
A high, stiff wagging tail can be a sign of agitation in the dog, suggesting they are ready to protect something, while a low and quick wag may express the dog is scared and submissive.
Myth No. 2: Dogs age seven years for every human year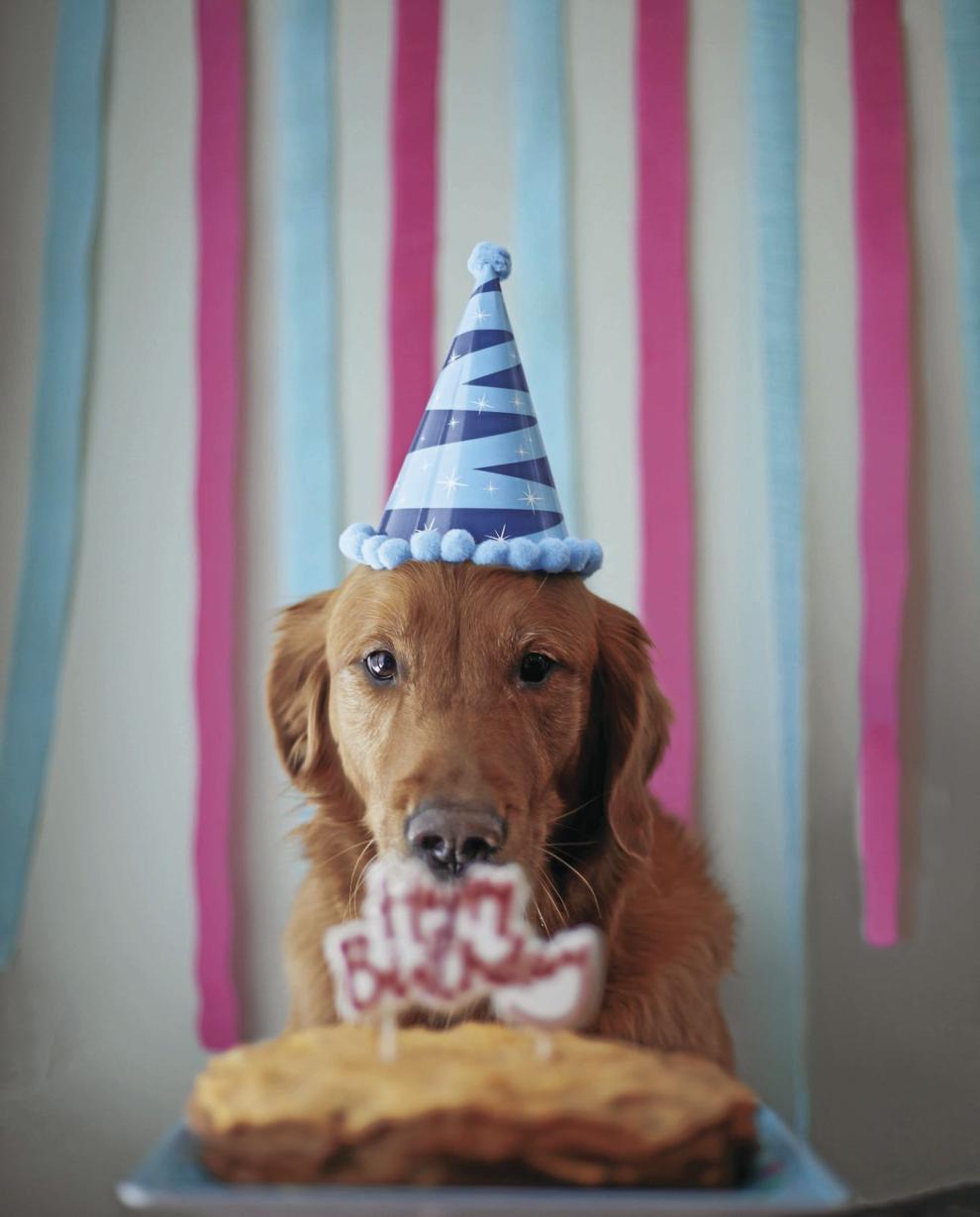 The truth: This myth has been around for so long most people see it as a fact. Although dogs do age quicker than humans, the 7:1 ratio is not perfectly accurate.
Dogs age faster when they are younger, and then the aging process slows down as they get older.
The size of the dog also plays a role in the aging process — larger dogs age faster than small dogs.
Myth No. 3: A warm nose indicates sickness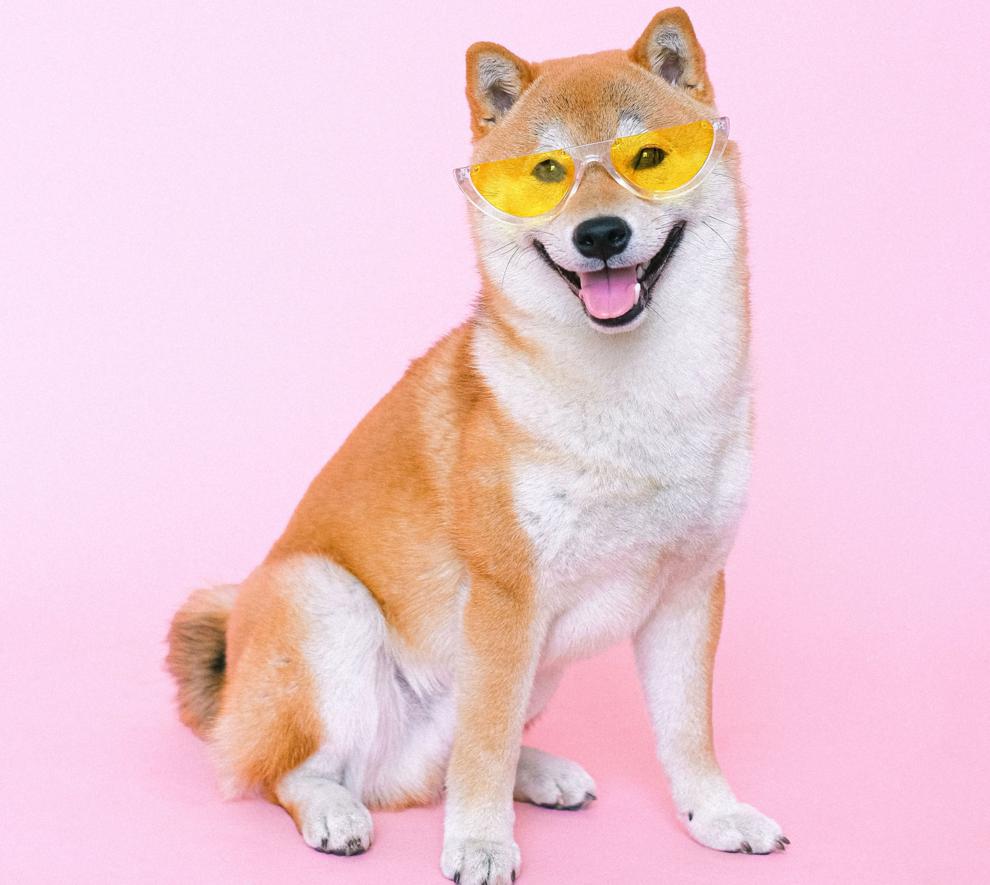 The truth: The idea that a dog in good health should have a cold, wet nose is nothing more than another myth. The temperature of a dog's nose does not represent health or sickness. Using a thermometer is the only way to accurately measure your dog's temperature.
Myth No. 4: Old dogs can't learn new tricks
The truth: You can absolutely teach an older dog new tricks, like how to shake hands, speak or roll over. Keeping the training sessions short and fun while using plenty of positive reinforcement like treats and praise can help make the training process easier.
Myth No. 5: Dogs can't see in color
The truth: At one point in time, it was believed dogs could only see in black, white and shades of gray. This myth is still believed by many people today. Dogs have fewer color-sensitive cones in their eyes than humans do. However, it has been discovered that although it's not in the same way as humans, dogs can in fact see color. They can see blue, green-ish yellow and yellow along with various shades of gray.