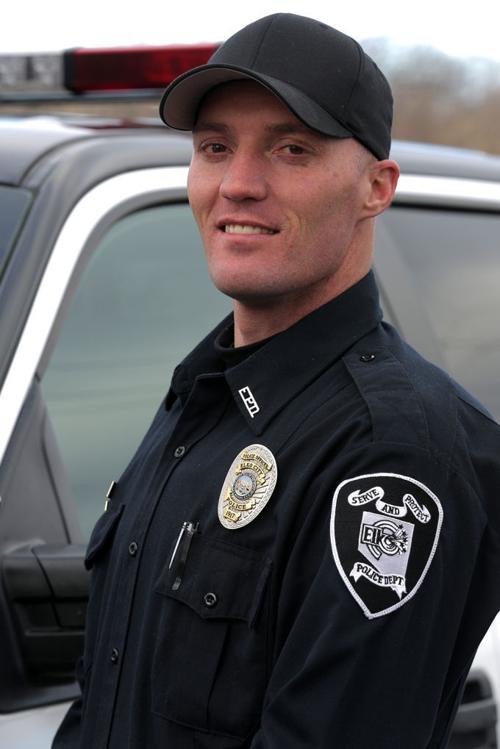 ELKO – Student Resource Officer Aaron Hildreth said he is living the best of both worlds.
Hildreth, who was recently recognized as 2017 Officer of the Year by the Elko Police Department, thought of becoming either a teacher or a police officer when he graduated from Spring Creek High School.
Hildreth was selected by the Elko Police Department Awards Committee for the honor, but he thinks the recognition is lopsided.
"It's unfair that I'm rewarded for coming to work when it's already a rewarding job," Hildreth said.
Hildreth's enthusiasm for his job was noticed by the awards committee. Lt. Michael Palhegyi said he "completes his SRO assignment with professionalism, genuine care and concern for local children while instituting community-policing concepts."
"He was recognized by peers and school officials for his positive demeanor," Palhegyi continued. "He enthusiastically serves as a positive role model for our local youth."
Hildreth also works "outside the scope of his SRO duties" Palhegyi said, by participating in local sports programs and volunteering with overtime assignments.
Hildreth said the pull of being a "big city cop" led him to San Diego after graduation, where he worked for a few years before deciding he wanted to return to Elko.
Because of car chases and shootings, San Diego "was not my idea of where I wanted to raise a family," he said. He returned to Elko and joined the police department.
In 2015, when the SRO was created, Hildreth joined the program. It includes two city police officers, two Elko County Sheriff's deputies and a supervisor. At the time, the program was so new Hildreth said he remembered he was unsure if it would be right for him.
"I wasn't sure about it, being a kiddie cop," Hildreth said. "I didn't know what I was getting into. What if I didn't like it?"
But something changed, Hildreth said.
You have free articles remaining.
"Funny how life does this to you … changes you. When I started I was at a different point in my life."
He said he discovered working as an SRO was "a multi-role position." Mentoring, counseling and teaching youth meant shifting his mind away from patrol work to saving teens and keeping them from going to jail.
"[Patrol work] is not what we're about," Hildreth said, but law enforcement is "a small part of what we do" as the SROs deals with drugs, alcohol and truancy matters.
When the SRO started, students were wary of their presence on campus at first, Hildreth said.
"The kids watched us from the corner of their eye," Hildreth remembered. "Now it's different."
"We go to all the schools in the county and some officers choose certain schools to visit," Hildreth said. The school on his beat is Adobe Middle School.
"I know the kids from spending time there," Hildreth said. "They're more friendly when they're younger and a lot of them got to know me."
Former students at Adobe who are now at Elko High School walk up to Hildreth and talk to him when they see him, he said.
"We joke and fist bump," Hildreth said. "They know I'm not there to take them to jail. I'm going to work with them and keep them out of jail."
"The SRO program is about changing that situation," Hildreth said.
Overall, the SRO's goal is to improve youth and teens' relations with law enforcement, Hildreth said. The hope is that as the students grow up and move away, they'll take positive memories of police officers with them.
"If [former students] meet people who have negative ideas about the police, they will remember the officers in Elko who played volleyball and basketball with them and kept them from getting suspended."
The communication and relationship building is important for children who come from homes where there is a distrust of police officers, Hildreth added.
For someone to have the opportunity to merge two career paths into one may be uncommon, but Hildreth said he sees it as a double dream come true.
"I feel so blessed coming to work. I have the best of both worlds, to be a police officer and work with kids. It's so rewarding for me."