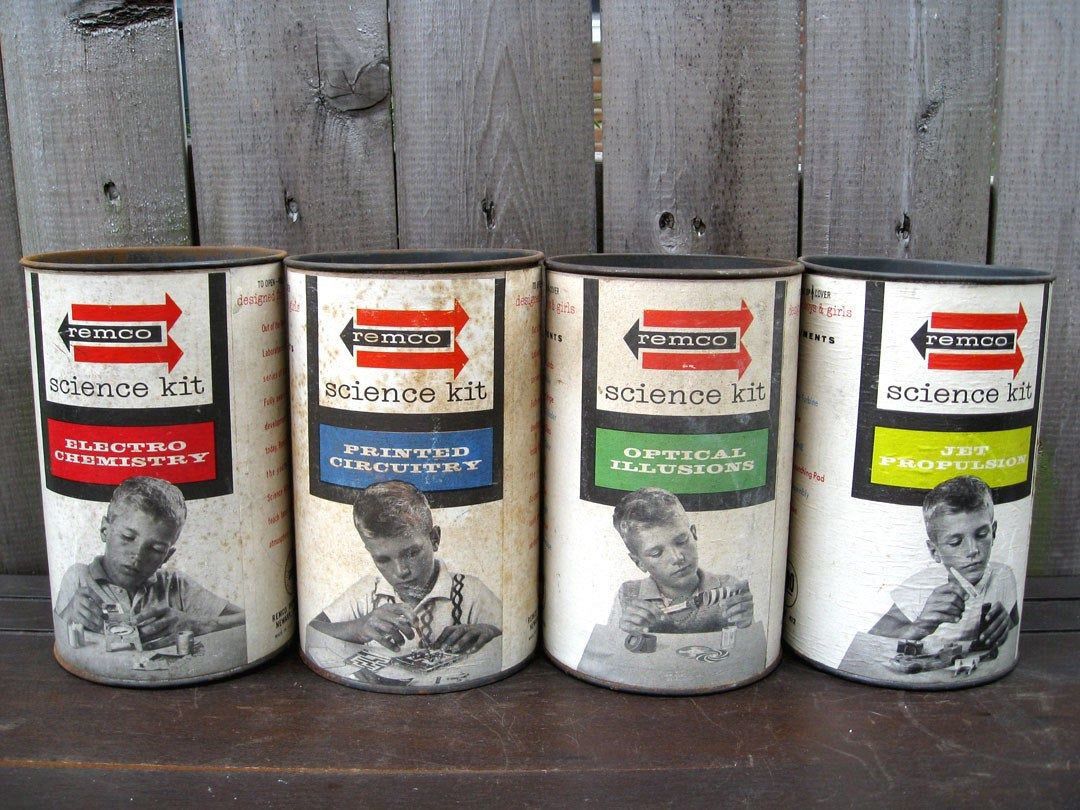 My granddaughter who lives in New York is having a birthday in November. Although she is only 8, I am going to introduce her into the field of science by getting her a beginner's chemistry set. One that she can learn from but not too complex at this stage.
I can say that my entry into science began when a classmate in third grade brought in a Remco Chemistry set. Our teacher made a big announcement that Paul was going to demonstrate some interesting "tricks" to the class that included turning water into wine, making a balloon fill up with some sort of gas that could put out a candle flame, and secret invisible writing that could be read only after a special liquid was poured onto the paper.
Going home that evening all I could talk about was how Paul fascinated the class with his performance and that I had to get such a set for myself. Checking on the accumulation of my meager allowance of 25 cents a week, I found that I only had a third of the $3.25 that the Remco set cost. My grandmother provided the balance and the next time we were at Korvettes, the clerk took the round tube the set came in down from the display shelf and we bought it. That was in 1960 and the chemical black magic began and it was exciting. I did the same experiments that I saw in class and even made an improvement to the invisible ink compounds.
Last week, researchers in China published a paper in the materials science journal Matter describing a new technique to encrypt secret information on a sheet of paper by initially coating the paper with a manganese complex and using plain tap water to print onto its surface using an ordinary low tech inkjet printer. Such a message is invisible to the naked eye and can only be "read" when exposed to 245 nanometer ultraviolet light. The treated paper is re-usable and can be returned to the zero state by placing it under a hair blow-dryer for 30 seconds.
The lead author Qiang Zhao of the Institute of Advanced Materials, Nanjing University of Posts and Telecommunications, commented on the invention:"We adjusted an organic materials' photoluminescence properties through modifying its molecular structure." Zhao further said that they "Developed the rewritable security printing method by utilizing the optical responses of manganese complex when mixed with water and the re-writable feature significantly reduces the cost."
The cost is estimated by the team to be $0.002 per page. Zhao added that "Most fluorescent security inks on the market used to record confidential information are environmentally unfriendly and cannot be erased. The paper is only a disposable recording medium."
You have free articles remaining.
But invisible inks are not really new. Philo of Byzantium may be the first writer known to describe an invisible ink using a liquid made from oak galls and vitriol (sulfuric acid) in the year 220 B.C. People soon discovered that they could write invisibly with one of the ingredients and then cause the writing to appear by adding the other.
Lemons were also used as organic inks by Arabs around 600 A.D., and Europeans starting in the 16th century. A formula similar to oak gall ink was created by John Jay and used by George Washington during the American Revolution and lemon juice was used by the Lemon Juice Spies in England during WWI.
In World War II, neutral or slightly acidic solutions of phenolphthalein a common pH base indicator were utilized. The chemical compound is colorless and is easily extracted from pills for constipation (Freenamint). The writing turns a bright pink when held open the open mouth of a fuming ammonia bottle.
Some commercially available invisible inks glow very brightly and in a variety of colors, under UV light. This makes them suitable for use in readmission to amusement parks when used as a back of the hand stamp.
Security marker pens with fluorescent ink that glows when illuminated with a UV light is often used to invisibly mark valuable household items in case of burglary. There are specialty security maker pens formulated for writing on non-porous surfaces such as glass, plastics, metals, etc. The inks that have been applied can then be identified by using a black light and are widely used as a crime countermeasure. There are also toy invisible ink pens which have two tips — one tip for invisible ink writing, and another tip for "decoding" the secret writing.
Researcher Zhao also said: " In China, information security is a topic that people are greatly concerned about, especially in the economic and military fields. Therefore, the main purpose of our work is to provide a safe and practical solution."
This sounds true until someone comes up with a shortwave UV LED.