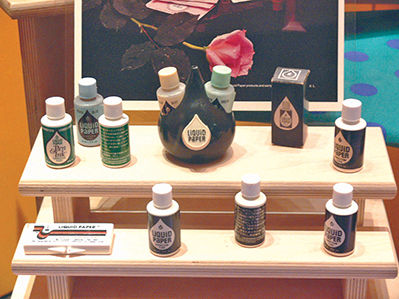 I first learned to type on a mechanical typewriter. I used a machine that was stored away in my grandmother's attic under layers of stratified dust and mothballs.
The black iron frame weighed at least 30 pounds, contained a QWERTY keyboard and was labeled Underwood. It did not have a 1 key, nor a zero.
I would have to use a lowercase L and uppercase O to produce those characters — but it did have a "cents" sign — not found on computer keyboards today, indicating to some extent the slow but steady advance of inflation on our country.
 The ribbon was cloth and came with a red and black section, whereby pushing a certain key, you could actually type red letters or numbers. Seeing that this machine came from the days of the Great Depression, I can see the advantage of that system.
When you type you make mistakes. An IBM Selectric I once used in college came equipped with a white ribbon that could back up over the incorrectly struck letter and apply a dusting of white powder to the paper allowing you to carefully insert the correct letter.
But based on the amount of mistakes I made I went straight through that correction ribbon in no time flat. What a PITA it was to write a 10-page term paper.
Then someone showed me a small bottle of Liquid Paper. It was one of those "it's about time someone invented it" moments. Let's look at the history of this gift to mankind.
When Bette Nesmith was hired as an executive secretary for the Dallas-based Texas Bank and Trust in 1951, she found herself working one of the new fangled electric typewriters that boasted a carbon film ribbon.
The correspondence she produced did present a neat appearance to the eye except when a mistake was made because the carbon particles left a terrible smudge which only spread the more one scratched with an eraser.
Remembering when she was employed as a part time sign painter, Nesmith mixed up a slurry of white tempera paint and called the fluid Mistake Out. This allowed her to camouflage her blunders and generate very neat looking letters to customers.
As the word got around, Nesmith began providing her office co-workers with little bottles of the concoction.
To make the brilliant white, all correction fluids utilize titanium dioxide, one of the most reflectively white substances known after lead oxide.
Often called titanium white, it is obtained from ilmenite, rutile and anatase and has a wide range of applications from paint (80 percent), to sunscreens and food coloring. It is a good bet the white color of your toothpaste can be traced to admixtures of TiO2.
To aid in applying this coloring agent, a volatile solvent such as naphtha allows transfer to the paper. To prevent the non-soluble suspension from settling, a long chain polymer flocculent such as modified polyacrylamide is added.
Rounding this out with a happy fragrance and you have the composition of Liquid Paper.
For five years, Nesmith, a single mother who desperately needed her job, kept her cottage industry a secret.
Working in her kitchen at nights and weekends to produce small batches of correction fluid, she began supplying others with her product.
She was eventually fired from her typist job after she made a mistake she did not catch — typing the name of her company instead of the bank's on an important letter.
After this incident she decided to devote her time to the new venture. Realizing that it took serious capital to become a fully operating manufacturing company, Nesmith offered the product to IBM thinking they would snap it up in a heartbeat but they only laughed at her idea.
In 1962, Bette married Robert Graham who helped her run the business and mix batches together.
For 17 years she sold the product from her house, changing the name to Liquid Paper along the way — it sounded a little more friendly.
By 1968, the product was profitable, and in 1979 she sold Liquid Paper Corporation to the Gillette for $47.5 million with royalties.
In 2000, Liquid Paper was acquired by Newell Rubbermaid. In some regions of the world, Liquid Paper is now endorsed by Papermate, a widely known writing instruments brand (also owned by Newell Rubbermaid).
You may recall Bette's son, Michael Nesmith, was the guitarist and singer in the popular 1960s pop band The Monkees. When Bette died in 1980 he was the heir to her fortune.
Although he still plays at Monkees' reunion concerts, Nesmith continues to record and release his own music.
All from little bottles of white liquid