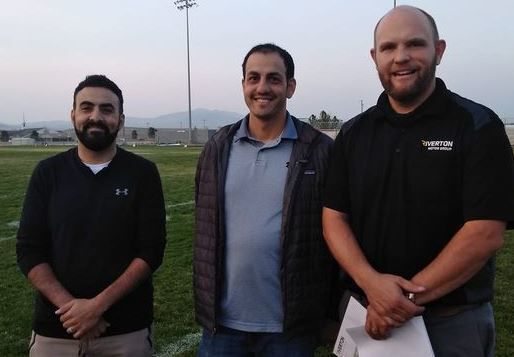 ELKO — Riverton and The Star Hotel are presenting the Riverton Home Town Hero Award during the football season.
During halftime they recognize someone in the community for going above and beyond what is asked of them.
A $100 check is presented to the organization of the recipient's choice. They also receive a $100 gift card to The Star Hotel, and a complimentary oil change and tire rotation.
Thursday night's recipient was the Khoury Family. Sam and Gus Khoury built the first grocery store in Spring Creek in 1982. As Spring Creek has continued to grow, with enormous gratitude, the Khoury Family has helped the community with numerous activities and nonprofit originations. Just to name a few: 4th of July Freedom Festival, the Annual Khoury's Easter Egg Hunt, the Spring Creek Association's Annual BBQ, Khoury's Winterfest & Fireworks, and the Boys & Girls Club.
Jamil and Jehad were at the game Thursday night on behalf of the Khoury family. They would like to say, "Thank you, this recognition would not be possible without the ongoing support of the Spring Creek community."
They have chosen the Boys & Girls Club to receive the $100 donation.