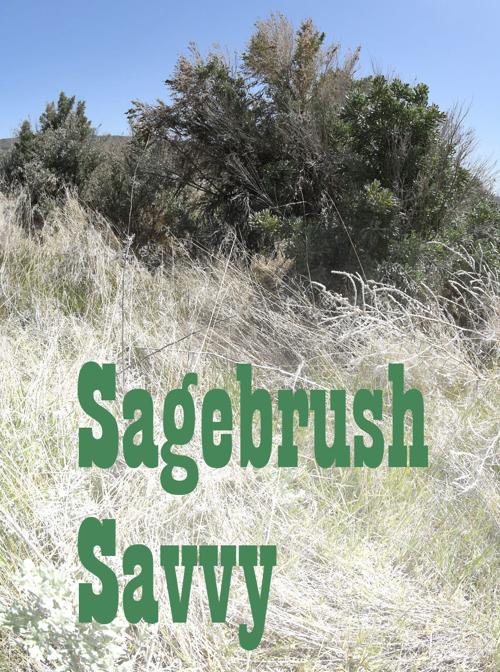 ELKO – Artemisia tridentata is a tongue twister of a name for the grayish-green shrub that grows almost everywhere you look in Nevada. Sagebrush is such a common sight that we often take it for granted. The plants are so prevalent in most of the state that collectively they are known as the "Sagebrush Sea."
But, sagebrush holds secrets that many people may not realize.
Did you know that sagebrush plants talk to each other? According to the Institute for Applied Ecology, the shrubs emit volatile organic compounds that other nearby plants can comprehend during times of stress. A typical scenario might involve an insect predator feeding on one plant. That plant sends out a "message" of danger that signals nearby plants to produce defensive or poisonous chemicals to ward off the attacker.
Apparently, other nearby plants can comprehend the warnings and also prepare for defense. According to Sharman Apt Russell and Max Aguilera-Hellweg, authors of "Talking Plants," tobacco plants planted downwind from a wounded sagebrush suffered less insect damage than those planted near a healthy plant.
Although the plants don't really "talk," messages are drifting about in the wind, a form of "garden gossip."
Sagebrush is not really a "sage." True sage, the kind you usually eat, is a member of the mint family, while sagebrush belongs to the sunflower family. Asteraceae is the largest plant family on Earth. The group contains about 24,000 species. Sagebrush shares its "family tree" with the likes of ragweed, thistles and dandelions.
Although sagebrush leaves are eaten by a number of animals, I don't recommend substituting traditional sage with the stuff growing outside your kitchen window for your Christmas stuffing.
Sagebrush is a very hardy plant. It is equally adapted to both extreme heat and frigid cold. Sagebrush leaves are covered with small hairs that help in keeping the plant from drying out due to heat and wind. The plant rids itself of some of the leaves in the drier part of the summer to reduce the plants overall water needs. Sagebrush produce long taproots that glean moisture from deep in the soil. Shallower roots pick up liquid from the evening dew.
Sagebrush thrives at 4,000 to 10,000 feet, making it a very sturdy cold-desert plant. It grows in soils that would horrify most gardeners. Rocky, sandy and salty dirt poses no problem for the shrub.
Nevada is called the Battle Born State, the Silver State, and the Sagebrush State. The sagebrush was deemed the state flower in 1917. Sagebrush plants produce tiny yellow and white blossoms in the spring. Some folks may not think the sagebrush holds a candle when compared with other state flowers like the camellia, California poppy or peony. What our state flower lacks in finesse and brilliance it certainly makes up for it with its seeming abundance.
The sagebrush ecosystem covers much of western North America, including at least 11 states. This "system" has shrunken from approximately 153 million acres to 106 million acres, according to rockies.audubon.org.
Most people have heard about the plight of the sage grouse. These animals are seen as the signature species of the sagebrush ecosystem.
But, sagebrush habitat is necessary for at least 350 to 450 wildlife species, according to rockies.audubon.com. What is often seen as a true wasteland is, indeed, a region teaming with life.
Mark Twain said, "Sagebrush is a very fair fuel, but as a vegetable it is a distinguished failure. Nothing can abide the taste of it but the jackass and his illegitimate child the mule."
Despite Twain's disdain for the native plant, evergreen leaves and seeds from the bush provide winter food sources for mule deer, elk, antelope, bighorn sheep and jackrabbits. The USDA states that at least 100 bird species depend on sagebrush for their lifecycles. The plant also provides necessary nutrients and/or cover to a variety of invertebrates, reptiles and plants.
Scientists list many modern day threats to the ecosystem. Wildfire increases pose the number one threat. However, conifer and exotic grass expansion, agricultural conversion, increased demand for energy sources, and expanding urban developments all pose serious impacts to the environment.
"The magnitude and rate of western juniper expansion during the last 140 years exceeds anything that has occurred in a similar length of time during the last 5,000 years," said Andy Kerr and Mark Salvo.
Kerr and Salvo authored "Managing Western Juniper to Restore Sagebrush Steppe and Quaking Aspen Stands," a study on the changing "Sagebrush Sea."
According to the study, western juniper has taken over thousands of square miles of sagebrush steppe. Aspen stands are also being replaced by the native species.
Efforts to return burned land to sagebrush steppe are an ongoing process. In Northeastern Nevada singed land is either seeded or planted with small shrubs.
"When we do seedings and plant plants after fires we have to look at many things, including soil," Bureau of Land Management public affairs officer Greg Demiel said. "We have planted in several burn areas recently."
Demiel went on to explain that the survivability expectation of new plantings ranges from 30 to 50 percent. The plants have short root systems and are in danger of being eaten or drying out if the weather does not cooperate.
"We are fighting wildlife and Mother Nature," Demiel said.
Many of the plants that the BLM uses to reclaim burned areas come from Nevada prison systems.
According to Demiel, the BLM gets plants from the Lovelock Correctional Facility, Warm Springs Correctional Center, and Northern Nevada Correctional Center.
The Sagebrush in Prisons Project is a partnership between the Institute for Applied Ecology, the BLM and the Department of Corrections. In 2017 more than 390,000 sagebrush plants and other steppe plants were produced and planted in eight states.
During 2017 in Nevada the three correctional agencies provided about 195,000 plants for the program.
"Second chances are always a ray of hope for prisoners," said Lovelock Correctional Facility inmate Lynn Huffman in a letter to the Institute for Applied Ecology. "An opportunity to assist someone or something is a chance to show a little initiative. I've never been more excited to be part of something more far reaching than myself than when I volunteered to participate in the sagebrush project."
The program was started in 2012 and has involved more than 3,100 inmates in 14 prisons. The prisoners have the opportunity to earn vocational and educational certificates through the organized effort.
According to an article in the Corvallis Gazette-Times, the program may suffer because the U.S. Department of the Interior cut funding in October 2017
"It would be a huge loss for the state of Nevada if the program is defunded," Shannon Swim with the Institute for Applied Ecology said.
Native people used and valued sagebrush greatly. Wikiups, Paiute shelters, were often made using a combination of grasses, trees, willows and sagebrush.
Breechcloths, leggings and poncho-like shirts were made for men from sagebrush bark. Women wore sage fiber garments that draped to the knee. Sagebrush fibers were soaked and beaten to soften them. The women would weave or twine the fibers into clothing and mats. Sagebrush was also a component in many hand-woven baskets.
Sagebrush has long been used by indigenous people for spiritual and medical purposes.
"Sage was burned at the beginning of ceremonies and it was important inside the sweat lodge where it helped to clear the sinuses, and purify the bodies and souls of the sweaters," according to herballegacy.com.
The sagebrush smudge has long been used to send evil forces away, either in a room with a sick person or a newborn.
"From prehistoric times the Indians of the West used sagebrush for colds and congestion," Dr. Wes Larsen said.
It seems that Native Americans and early settlers used sagebrush for a number of other ailments, including toothache, indigestion, rheumatism, diarrhea, laryngitis, and tuberculosis.
"Doctor-brush, we call it," a Native Western Shoshone medicine woman said about the plant.
Sagebrush is still being used today for medicinal and cosmetic purposes. It is also marketed as a food product. Tall Sagebrush Liniment is sold for use as a muscle rub. Other uses include external respiratory treatment for colds and flu; treatment of fungal infections; an antiseptic for cuts or sores; and deodorant.
Many soap and cosmetic makers use sagebrush to scent their products.
Several vendors sell sagebrush flowers that can be added to breads and soups or put on meat. They claim the flowers help fight fatigue and have antispasmodic and calming properties.
Not sold on sagebrush? After pointing out the positive parameters of this powerful plant, you may still think of it as a dull, allergy producing, and monotonous blanket of gray. But during your next drive down the freeway, you might not want to scoff at those thousands of seemingly insignificant shrubs. They just might "talk" back.