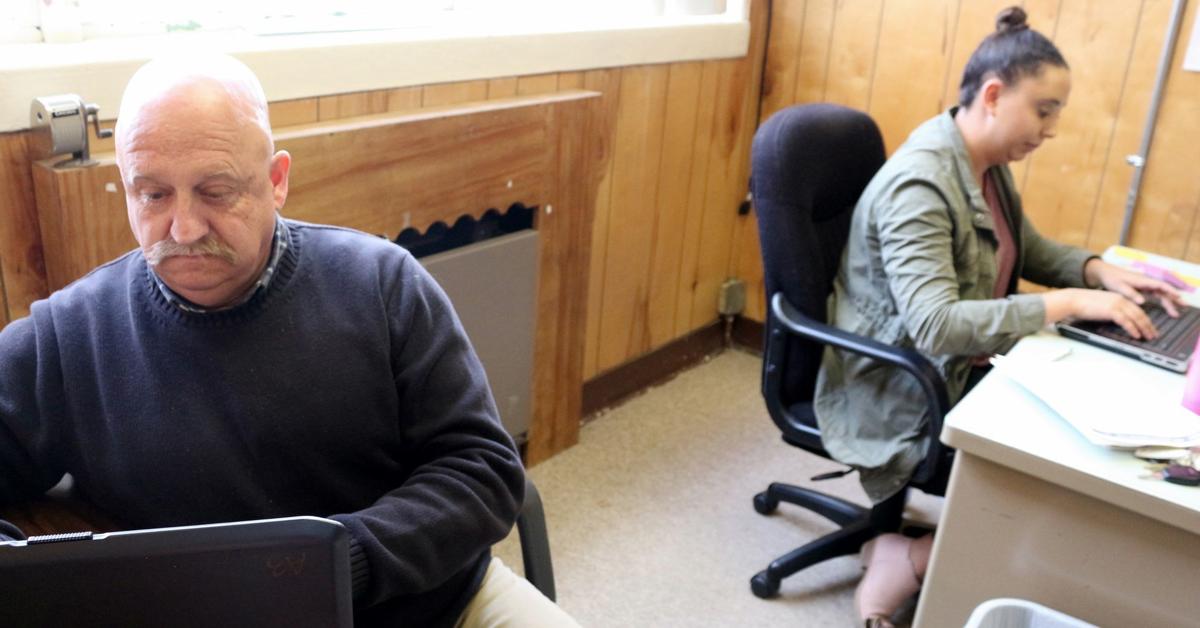 ELKO – What does Elko County need to keep schools safe?
Debate in the last two months has centered around whether to arm teachers and staff, or add metal detectors and door jambs for increased security if a student brandishes a gun on school grounds — a fear that has increased because of the Parkland, Florida school shooting and an anonymous threat that closed Elko High School.
But what if protection could come in the form of counseling and resources offered to students to address mental health needs before it's too late?
Currently, there are three "safety nets" in place within the Elko County School District that work with at-risk youth: Communities in Schools, social workers and School Resource Officers. Their goal is to promote a safe learning environment while helping students navigate through daily challenges.
The resources offer emotional support to a student, a friendly face and guidance to navigate through rough times during school hours. They frequently team up to make sure someone doesn't fall through the cracks – or at least far enough to be caught by another resource.
Social worker Larry Robb, who took charge of a fledgling social work program in 2015 that was enacted by the Legislature, said he and his staff address "anything that interferes with student learning and student success."
Funded through a grant, the program enlisted two professional social workers and three community health workers who circulate throughout the district.
"There's a need for mental health workers" expressed by law enforcement, Robb said, adding that their job is mainly "prevention" for stressed students.
"This is a stress-free zone," Robb said in his office at Elko High School. "They visit with us about what's on their mind and we talk them through some of their stress."
Emphasizing that they are not licensed therapists, "we are the next best thing," Robb said.
Students with attendance, behavior, academic or emotional issues may receive one-on-one support from Communities in Schools, said Executive Director Melissa Schultz.
Seven schools in the district are staffed with 10 site coordinators who work with the social workers, counselors and school nurses to meet the needs of children. CIS also helps teachers who are "not equipped to help" those who are struggling, said Schultz.
A national organization, CIS follows a model but tailors it to fit the needs of an area like rural Nevada, Schultz explained.
"Each program looks different," she said, adding that students must receive parental permission to continue with support services. One of the goals is to see case-managed students graduate, especially if they entered the CIS Academy program several credits short.
"In the academy, they work on credit recovery, leadership, career and academic assistance," Schultz said, comparing it with a study hall period.
"We have seen positive results," she said, noting that 82 percent of seniors in the CIS program graduated last year.
Started in 2008, CIS supplies students with necessities such as warm clothing, personal hygiene items, school supplies and food – even on the weekends — but mostly the program addresses "a need for mental health providers."
"We still don't have enough to serve students and adults. We're not funded to be in each school," Schultz said. CIS services are available in Elko, Spring Creek, West Wendover and at Great Basin College. Carlin, Owyhee, Jackpot and Wells school counselors and nurses contact CIS directly for supplies and clothing.
In the 2016-2017 school year, CIS had 63 students participate in The Practice, an interactive counseling class in partnership with the University of Nevada, Las Vegas.
Out of 548 counseling sessions, 88 percent of the students reported they had the ability to manage emotions and feelings; 78 percent said they had the ability to positively handle and cope with their situations; 93 percent had improved their overall decision-making; and 80 percent said they improved their feelings of their overall quality of life.
The results seemed to point to students who "are dealing with a lot of adult situations or the loss of loved ones," Schultz said, adding she's seen students refer themselves or a friend. "We're trying to put into place supports for them to learn how to deal with those situations."
Social Media
Robb said he's noticed that most of the students who come to his office face "challenges with interpersonal relationships."
One contributor to that problem is teens' access social media, according to community health worker Breanna Allen, who travels between EHS and Spring Creek Middle School each week.
"Social media plays a big part in the kids who come to see us," Allen said, noting one of the common worries is what is said about them on Facebook or Snapchat. "They can't leave it. They're constantly on their phones and it causes anxiety and depression."
The trend of cyberbulling through social media is more frequent at the middle school level, but she is happy some come in and talk to her about their challenges, Allen said.
Robb said he's also noticed how students are more willing to meet with a counselor on their own.
"I think today there isn't the stigma to some degree that students have in coming forward if they have some anxiety," Robb said. "It isn't something they brag about, but they know there are resources."
Allen agreed, saying she "commended" the students who come through their doors and admit to them they are struggling with personal issues.
"It's hard to admit having anxiety or being depressed," Allen said. "The kids we see realize it's important to take care of yourself."
Schultz agreed with Robb and Allen. "I like to think there's less of a stigma. There are those who are feeling more comfortable asking for help and less of a stigma in mental health counseling. It's more acceptable nowadays."
"Everyone has the best interest of the kids we're serving," Schultz said. But it's mainly letting the students know where they can find "a safe adult to ask for help."
"They know where those people are and who those people are," Schultz said.
But the counselors don't automatically take the student's side, Robb said, stressing the social workers are only there to allow students the opportunity "to vent and know it's a safe place to do so."
"We're not here to interrupt the parent-child relationship," Robb said. "There are times we can correct the student on how they are interacting with their parents and correct their thinking."
You have free articles remaining.
Allen said some parents worry when they hear that social workers are on campus, and fear that a situation may result in a child being removed from the home, but that's not what the program is about.
"We're not here to take their kids away, but we are to be an advocate for the kid and the parent," Allen said. "We're here to help everyone."
Resource Officers
Implemented in January 2015, the SRO program was a combined effort among local law enforcement agencies and governing bodies that sought to be a positive presence on school campuses.
Since then, SROs have become a familiar face at schools throughout the district. In addition to alleviating school bullying and violence, the program also sought to forge one-on-one relationships with students.
Officer Aaron Hildreth said the program is mostly about communication and creating trust for youth, especially teens, who could be on the verge of making wrong decisions.
"We deal with a lot of the initial signs such as missing school. Maybe their just lazy," Hildreth said. "But if we get there and find more issues, we get Communities in Schools involved."
Hildreth said because children and teens have various personalities or backgrounds, having three different but intertwining resources can provide options for a student looking for help.
"Some kids need a police mentor, or maybe they'll connect with Communities in Schools. Others may connect with a social worker," Hildreth said. "They can gravitate to one of us."
Setting Boundaries
Covering Adobe Middle School and Elko High School on his beat, Hildreth said he has learned that the students are needing someone to hold them accountable and set boundaries, yet be approachable.
"Sometimes I notice they need to have somebody set an expectation for them," Hildreth said. "They know that I'll joke with them, but at the same time they know I'll bring the hammer down."
For Hildreth, having CIS and social workers available on campus helps him when he's handed a situation that he's not equipped to handle, but he said there's not enough help for students who are struggling with substance abuse issues.
"We're not looking to incarcerate or punish kids. We're looking to help the kids," Hildreth said. Ultimately, however, a teen may have to go through the juvenile court system to receive court-ordered rehabilitation, which is "a last resort."
Adobe Middle School Principal Colby Corbitt agreed with Hildreth that more mental health resources were needed. He said the within the past few years there has been an increase in mental health situations such as attempted suicide among his students.
"The problems have expanded to unbelievable amounts in our schools," Corbitt said. "I remember a few that occurred years ago, but there weren't days full of them … it's all we do any more. It's kind of sad."
Corbitt said having a CIS site coordinator was a tremendous help for him and the counselors at Adobe.
"Thank goodness we have CIS," Corbitt said, adding that 10 to 20 of his students receive telehealth counseling through The Practice.
"We could have 50, but there's a waiting list for that program," Corbitt said.
Social workers are only available during school hours, 8 a.m. to 3 p.m., and will not meet with students alone. If the school district requests a home visit to a student who is on an individual education plan, then the counselors will travel off-campus.
Parents and Partners
"Parents are more accepting of help," said Schultz, reiterating that their permission must be obtained before CIS can start case-managing a student. There is no charge for students to enter the CIS Academy or receive items from the school.
"We work with community partners to help fund it," Schultz said, listing Barrick, Newmont Legacy Fund and Northeastern Nevada Regional Hospital as partners. She also cited support from the school district which "took a proactive approach" to bringing CIS on campus along with the other resources.
"The SROs, social workers and all of us work together along with the Division of Child and Family Services and Family Resources," Schultz said, but "unfortunately, there's not enough resources to serve everyone at the same time – a situation not unique to Elko."
The fate of the programs seems to rest in funding. The results from the 2017-2018 Nevada School Climate/Social Emotional Learning Survey could provide additional social workers in the school district, said Todd Pehrson, director of elementary curriculum for the school district, and Chris McAnany, director of secondary education.
Given to students in the fifth grade on through to 12th grade, the anonymous survey seeks to gather data on where a social worker is needed in the district, and lets the state know how "a kid feels about their school," said Pehrson.
"It will be another level of identification for students who need services," added McAnany.
The goal is two-fold for all three of these resources: mentor students through difficult life situations and have enough money to keep going.
Robb said he hopes that the "entities that are responsible for funding these programs" will see the success rates and "recognize their value."
"We're here to help strengthen the students, empower the parents and ultimately look out for academic and life success," Robb said.
The overall education field has drastically changed in the last 10 to 15 years, and Corbitt said "there's no light at the end of the tunnel unless Elko County receives more funding for resources."
"We need resources for weathering the storm. There's not enough," Corbitt said, however he praised CIS for making his job easier and Hildreth for "going above and beyond to help as a social worker/therapist/mentor as much as an SRO."
Hildreth questioned the rate of increased mental health issues in the past few years, wondering "what has happened with society."
"I think personally there are a lot of parents that are failing in some areas," Hildreth said.
Ultimately, it comes down to "having a caring adult in a kid's life," Corbitt said, no matter where the resource comes from.
"We need more help. More people willing to mentor a kid and talk to a kid in a time of crisis."
— Community health worker Breanna Allen
"Social media plays a big part in the kids who come to see us. They can't leave it. They're constantly on their phones and it causes anxiety and depression."

-- Community health worker Breanna Allen