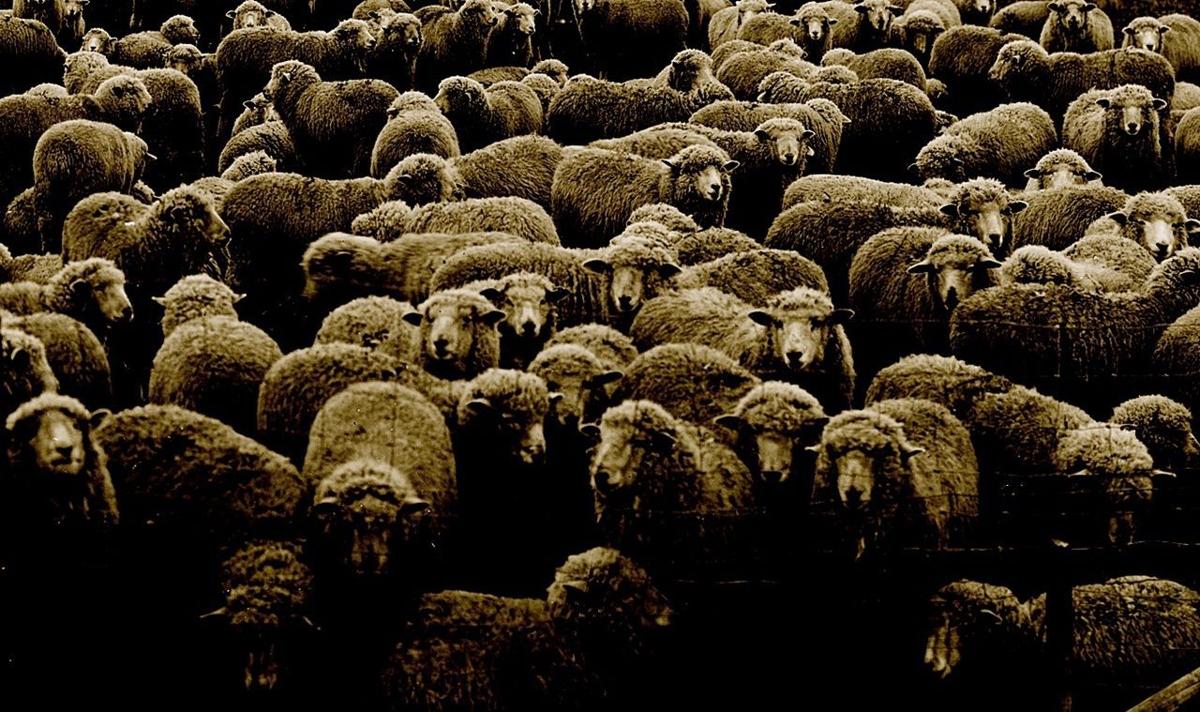 When historian Bernard DeVoto once asked a Basque sheepherder why he chose to work in this occupation, the answer was: "I seek the quiet heart."
Apparently, the Basque immigrant came to the West to search out the solitude and lonely life resulting from working with sheep in the desert. DeVoto, for his part, was probably looking at this Basque as a humble immigrant worker who was pushed out of his country due to difficult economic conditions at home and cheaply contracted to graze large flocks of sheep on the public lands in the North American West.
Between 1880 and 1970, sheep herding was the primary occupation open to Basque male immigrants in the American West. From the late 19th century, the emigration to work predominantly in the sheep industry had become one of the safety valves for the critical situation of many Basques in the old country who were unemployed and impoverished in different historical contexts. Although most of them at first came with the purpose of making money and returning home, many immigrants stayed forever in the United States.
Some of the Basques made their fortune in the sheep business and this helped the mass of immigrants to secure their occupation in this sector. The earlier immigrants sponsored their relatives and fellow countrymen, and after them came others.
This labor migration pattern virtually endured until the late 20th century, when finally Basques were no longer willing to emigrate and were replaced by South American immigrant labor.
Then and now, immigrants, either Basques or others, who have been pushed to the new country expressly for grazing sheep, in the most of the cases, have never done anything like that before back in their countries of origin. Basque immigrants were forced to conform and learn all the work-related duties in the western sheep industry. Many newcomers were, as some of them recognized, "sheeped."
During the last month, while working on my dissertation, I felt an urgent need to learn more about the western sheep industry through my own experience. Thus, I interned for a sheep operation in central Nevada. So, once again, I went out of the library's walls and tried to put myself in those Basque sheepherders' shoes; and again, I am not sure how fully I got it, but it was a very rewarding experience. My new adventure was called just "work."
It was my first time working with sheep. Despite my intensive readings on this economic sector in the West and especially my love of lamb chops, I had never worked on a sheep farm before, neither in the United States nor in the Basque Country. Nevertheless, I knew one thing — the way these American ranches operate has nothing to do with the farms in my country. In either case, I had no idea how to work with sheep. However, I was ready to get my hands dirty and willing to work hard.
Then, there I was again … entering the Nevada desert with my modest car. This is always a challenging task. Before departing from Reno, I was sure to fill my car's tank up; also my water bottle. As I turned east onto U.S. Highway 50, or "the loneliest road in America" as it is well known, rangelands became increasingly sterile. While fertile land is rarely seen in this crude environment, barren areas abound.
I could see for myself the consequences of the current drought that is leaving many farmers in desperate situations. In most of the valleys the creeks that flow into them have been dried up and many of them lost. In every moment I ask myself, 'How do people grow things here?'
Everywhere you look, rocks and sagebrush. On these soils, a very large variety of sagebrush grows that only sheep seem able to distinguish. Along the highway, rolling foothills lead from the valleys up, and mountains roughly rise from these valleys.
Besides the classic tumbleweeds running in a reckless manner, multiple swirling air columns that looked like small tornadoes were visible across the desert valleys while they were moving fast. Some of those so-called dust devils were big ones. These wide spaces are the kind of deserted areas where the only human presence seems to be found in the sheep wagons.
After some hours driving eastward into the heart of the American West, I reached the rangelands of central Nevada. While driving on one of those dusty gravel roads crossing the Antelope Valley, I could easily see mustang herds roaming on the public lands. Wild horses and domestic livestock have to share forage on these grasslands. Besides drought conditions, this competition for natural resources has worsened the local economic and environmental situation.
When I reached the ranch where I was going to work, I did not find any Basques there, only Peruvian workers. Unsurprisingly, I soon discovered that many Basque sheep laborers had worked in the same ranch a long time ago for many generations. Furthermore, one of the early proprietors of the ranch was a Basque immigrant: Fernando Segura Petrotegi (1893-1957).
Fernando Segura, who afterwards became a prosperous sheepman in the state of Nevada, was born on December 10, 1893 in Luzaide (Basque Country). Immediately before the outbreak of the First World War, Fernando decided to choose the same way that his elder brother and other boys of the same hometown took: work as sheepherder in the American West.
At the age of 19, Segura immigrated to the United States. On March 22, 1913, he arrived at Ellis Island in New York and embarked on a train to the West. After some days of rail travel, Fernando jumped off the train in Elko, Nevada. Soon after, he went to Eureka to join his brother Martin and work for a sheep ranch. The third brother, Bernardo, came later.
Very soon after his arrival in Eureka, it was time for sheep shearing and lambing. Briefly, then, this meant that there was a lot of work to do on the ranch.
Despite having no knowledge of English, Segura quickly learned from his brother how things worked in the North American country. He started working for the Handley sheep ranch receiving the wage in lambs, which gave him the possibility to prosper economically in the livestock industry and become an independent property owner. Having accepted his new life and position as a sheepherder in the West, Fernando began to progressively acquire parcels of real property.
In 1922, Fernando bought the Antelope ranch from the Blair family located on the northern part of Nye County and southern Eureka County. He began to make improvements on his newly purchased property. Among other things, Segura constructed a barn and a house on the ranch made of stones according to the Basque style of architecture. He rapidly created his own sheep operation. In 1929, the Seguras acquired water appropriation rights on Charles Allison Spring.
In the early '30s, while many stockmen were forced into liquidation because of the Great Depression, Fernando expanded his holdings. In 1932, he patented a total of 639.90 acres of land in Antelope Range under the Stockraising Homestead Act of 1916. Along with rights in the use of surrounding federal rangelands, the vast Fernando Segura holdings were used for the production of alfalfa to support all livestock. He also began combining sheep and cattle in his operation to respond to different market situations. In the '40s, Fernando had already become one of the largest sheep operators in central Nevada.
By the mid-20th century, his increasing importance in agribusiness made him a prominent personality among state's woolgrowers, as well as one of the most colorful characters of the local community. By then, the Seguras had already put their brand in Nevada.
According to historian Patricia Nelson Limerick, "Western history has been an ongoing competition for legitimacy — for the right to claim for oneself and sometimes for one's group the status of legitimate beneficiary of Western resources."
In the early 20th century, Fernando Segura encountered a rural Nevada quite different from what I experienced. The state was still a disorderly place. On the rangelands, the lax enforcement of laws was the norm. Range wars endured. Sheepherders still worked and lived in those desolate places in the wilderness concerned about the socio-economic problems derived from the water and land competition, among other issues.
In this tumultuous West, some Basque immigrants decided to settle, buy land, and invest in livestock production. Today, these ranches, like the Segura's, are the locations where different generations of Basque immigrants worked on, interacted with, and recorded their history.
Working on a sheep ranch, I learned more about this industry on a personal level. That was my first intention. Also, I activated my physical sense of the sagebrush country and interacted with this rugged environment one more time.
Besides working along with the current immigrant laborers, moreover, I experienced an emotional empathy with those Basques who worked a long time ago in the same place and other corners around the American West. My work at the ranch gave me a new perspective with which to view this historical stage. The experience prepared me to confront new questions on the Basque immigration in the West.
Now, I can better understand the immigrant experience of being "sheeped" in Nevada.
When I reached the ranch where I was going to work, I did not find any Basque there, only Peruvian workers.
When I reached the ranch where I was going to work, I did not find any Basque there, only Peruvian workers.
Be the first to know
Get local news delivered to your inbox!