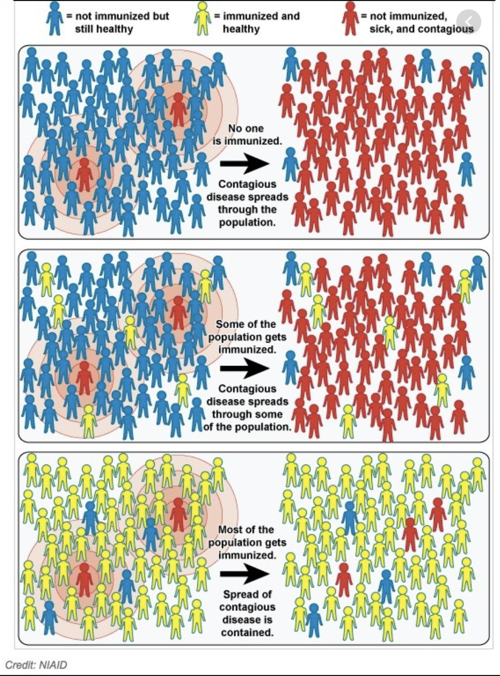 As I write this, Covid-19 cases continue to rise at record rates throughout the United States. Interestingly, I've seen many people arguing this is a good thing as it will allow us to reach something called "herd immunity" sooner and therefore the pandemic will be under control. But what exactly is herd immunity, and can it help protect us against Sars-CoV-2? Let's take a look.
Put simply, herd immunity is the idea that if the vast majority of a population is made immune to a given virus or bacterium, even individuals who are not vaccinated or exposed will be protected. It was first recognized by A.W. Hedrich in 1933 when he noted that during a Baltimore measles outbreak the number of new infections, even among susceptible individuals, temporarily decreased after the majority of the population was exposed.
This works because viruses are not alive and cannot reproduce on their own. Their existence depends on infecting our cells and using our cellular machinery to produce more copies. If a large number of people are immune to the virus, meaning that their body can recognize and destroy it before it reproduces, its copy number in the population will decrease. Therefore, the chance the virus is even able to come in contact with someone who is still susceptible to infection is very low. You can check out a cool interactive animation of how herd immunity works here: https://www.historyofvaccines.org/content/herd-immunity-0.
Exactly what percentage of the population has to be immune for herd immunity to be an effective way of containing a viral outbreak depends on the virus itself, but the number usually ranges from 70-90%.
Will we reach herd immunity?
If we plan to reach herd immunity by having individuals become infected and therefore immune to Sars-CoV-2, the answer unfortunately seems to be no. As I write this just after the 4th of July, the US is at around 3 million confirmed cases of Sars-CoV-2 infection according to the World Health Organization. For a country with a population of approximately 330 million people, that puts us just shy of the 1% infection range. The situation doesn't improve if we look at individual regions within the country. Even Miami-Dade County, currently one of the biggest hot spots in the country, has an infection rate just shy of 2% (estimated 48.9 thousand cases and a population of 2.7 million). The actual number of covid-19 cases is likely many, many times higher than these values given the limited number of tests available and that many people don't realize they're sick with covid-19. Even with this taken into account, we are still very far from reaching herd-immunity levels.
It is reasonable to ask if at current rates of infection, we could still reach the 70-90% range required for herd immunity to kick in. In a best-case scenario where herd immunity is achieved at 70% infection, we would need 231 million people in the United States alone to become sick with Sars-CoV-2 and survive to have immunity.
The problem is that even with only 1% of the population infected, many intensive care units throughout the country are already nearing maximum capacity. Older individuals or people with underlying conditions have a decreased chance of surviving covid-19, and we are beginning to find that even many young, healthy individuals can suffer serious long-term complications from Sars-CoV-2 infection.
Just last week, a large-scale study in Spain found that only 5% of its population has immunity against Sars-Cov-2, echoing similar reports found in smaller studies in China and the United States. The science is clear: encouraging more infections in hope of herd immunity isn't just ineffective, it is straining hospitals and ICUs to capacity and endangering countless human lives.
How can we achieve immunity against Sars-CoV-2?
There is some good news: surviving Sars-CoV-2 infection is not the only way to become immune to the virus. Vaccines can train the body's immune system to recognize and kill the sars-CoV-2 virus before it has time to make you sick, providing immunity as if you'd already been sick with covid-19. At the moment there are 145 potential vaccines being developed around the world that may be effective against Sars-CoV-2 infection, many of which are already being tested in clinical trials.
But even if a vaccine (or vaccines) that can protect us from covid-19 are released, there are still some problems. The main issue is that preliminary studies suggest that being infected with Sars-CoV-2 doesn't provide lifelong immunity, which would mean people would need to have multiple covid-19 vaccinations throughout their lives. In addition, the Sars-CoV-2 virus can mutate and change over time. This means the only way to ensure proper immunity is to have seasonal covid-19 vaccinations, just like there is a seasonal flu vaccine.
But if flu vaccination rates in the United States are any indication, not enough individuals in our country will be willing to get vaccinated to prevent the spread of Sars-CoV-2. This means that even if we can produce vaccines to keep everyone safe, we still need to do a lot of work in health education before enough people are willingly vaccinated for herd-immunity to be maintained.
Hannah Margolis is a postbaccalaureate researcher at the National Institutes of Health with a degree in biochemistry from Dartmouth College. She can be reached at hannah.k.margolis@gmail.com.