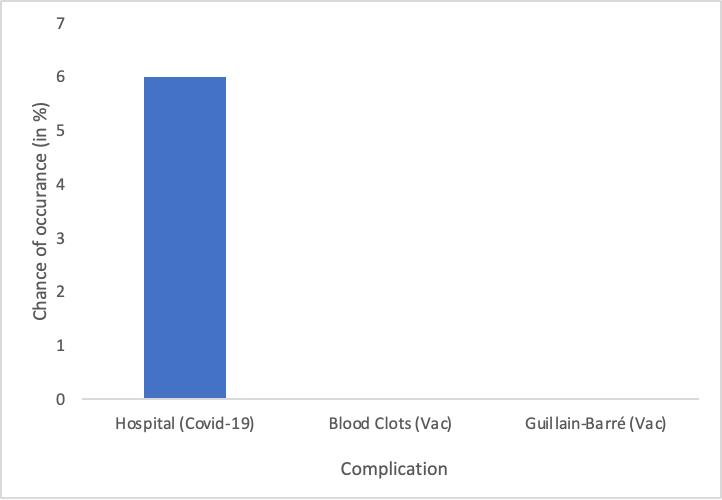 Last week the Food and Drug Administration (FDA) added a warning to the Johnson and Johnson Covid-19 vaccine stating that it could be linked to a rare neurological complication: Guillain-Barré syndrome.
While we have yet to determine if the J and J shot is a direct trigger of the neurological disease, it adds to previous concerns that the same vaccine could be linked to increased incidence of dangerous blood clots.
In the wake of the announcement, I've heard many people expressing regret that they got the shot as they wait to see if symptoms of either blood clots or Guillain-Barré syndrome set in, and many more people pointing to this risk as further evidence that the Covid-19 vaccines were not tested well enough, and that we should push back against taking an "experimental vaccine."
The complications are undeniably scary, and not always fixable. Guillain-Barré syndrome is caused when the body's immune system attacks its own nerve cells, resulting in everything from general muscle weakness to partial paralysis. While many patients recover with proper treatment, others do not. Similarly, the J and J blood clots, which occur in the brain and prevent proper blood drainage, can often be treated, but sometimes lead to a very rare but dangerous type of stroke.
But despite how scary these conditions can be, they're a perfect example of the way we tend to latch onto dramatic anecdotal evidence rather than step back to look at what the numbers tell us (think fear of rare airplane crashes swamping worries over much more common car accidents). In fact, you might remember that "quantify, quantify, quantify" was one of five tools we previously discussed that can help us hone skeptical thinking skills and avoid the very "blind following" that many people want to avoid as independent and free citizens.
So, in the spirit of independent investigation, let's take a look at how we can use tools for skeptical thinking to perform our own risk assessment.
Rule 1: gather the numbers (quantify, quantify, quantify)In a risk assessment, we want to gather as much data as we can to compare the risks of two competing options. In this case, we want to figure out if we're better off taking the risks of Covid-19 infection by avoiding vaccination or risking vaccine side effects while protecting ourselves against Covid-19.
If we want to overcome the pitfall of falling for anecdotal data, our first step is to find trusted sources that can quantify both risks. We can use some of our other tools for skeptical thinking, such as looking for evidence-based articles rather than opinion pieces and making sure our sources are in turn getting their information from reputable sites.
Starting with the risk of Guillain-Barré syndrome and the dangerous blood clots, multiple sources state there are 100 reported cases of the neurological disorder and 1 death in the US. Most of the cases were in men over 50 and occurred up to 42 days after vaccination. At the time the 100 cases were found, J and J had administered 12.8 million doses.
For blood clots, reports from mid-May indicate 28 patients experienced the dangerous side effect, mostly women between the ages of 18 and 48. The complication arose 6 to 13 days after vaccination. At this time, J and J had administered 8.7 million doses of vaccine.
Figuring out the risk of Covid-19 is a bit harder given how long we've been compiling these reports. According to COVID-NET, a regularly updated CDC surveillance network of all Covid-19 complications requiring hospitalization across 10 representative states, an estimated 10-20% of people had serious enough symptoms to be hospitalized. Of those hospitalized, an estimated 15-20% experienced kidney failure or injury, around 40-50% experienced acute respiratory failure, and an estimated 10% died.
Rule 2: play with the variables to fit your situationAs we saw above, gathering the numbers still leaves us with questions. For example, nearly all the cases of Guillain-Barré syndrome are in older men, while younger women dominate the cases of blood clots. Comparatively, the risk of serious illness or death from Covid-19 varies greatly with age and confounding health complications, as you can see by playing with the different variables at COVID-NET.
So, to make our risk assessment accurate for ourselves, we need to try out some different scenarios on the numbers we gathered. For example, as a young woman without any additional risk factors for Covid-19 complications, I can see that my chance of serious complication from Covid-19 is 2-6% whereas my chance of getting a blood clot from the J and J vaccine is 0.0003%. We'll skip Guillain-Barré syndrome as this has only been reported in older men. These numbers will change depending on whose risk we access. For example, if I look at the risk that an adult older male with diabetes has for Covid-19 complications vs Guillain-Barré syndrome, I get a 6-30% chance of hospitalization from Covid-19 (depending on the rate of current infection) versus a 0.0008% chance of Guillain-Barré syndrome.
reality checkAs we continue playing with the variables and numbers, it is important to also do a reality check, relying on our knowledge of the subject and common sense. Some things to check are:
Am I overestimating or underestimating any of the numbers? How would this change my risk (and is the change significant)?
As an example, I might think that the number of cases of blood clots and Guillain-Barré syndrome are underestimated as many cases might go unreported. This would increase my overall risk from vaccination.
As another example, I had trouble finding the hospitalization rates stratified by age, sex, and comorbidity together, so my 6-30% hospitalization estimate for a 60 year old diabetic man is probably underestimated as it doesn't take all three factors into account together.
What do the numbers mean in context?
To help understand how significant the number of blood clots, instances of Guillain-Barré syndrome, or deaths from Covid-19 are, we can run some comparisons. For example, an estimated 0.0001% of people in the US get Guillain-Barré syndrome a year, meaning that those who had the J and J shot were 5 times more likely to suffer the condition. On the other hand, 0.42%
of patients with Covid-19 experienced Guillain-Barré syndrome in one study, making it around 840 times more likely to get the neurological complication from Covid-19 than the J and J Covid-19 vaccine.
Do the numbers make sense?
When numbers start flying around, it's pretty easy to make an arithmetic error, or even copy down a number wrong when you find it from a source. One way to check if the numbers make sense is to put them in context as in step 2. Another is to repeat calculations or check to see if other sources get a similar number.
Conclusion: the pandemic has taught us there that no prevention method is 100% effective or safe. It's up to us to compare the risks of vaccination vs. viral infection for our specific scenarios to make an informed decision.
Hannah Margolis is a NSF GRFP Fellow at the Massachusetts Institute of Technology with a degree in biochemistry from Dartmouth College. She can be reached at hannah.k.margolis@gmail.com.