ELKO – For first-time customers walking into the Ruby Mountain Resource Center, it may seem to be just another thrift store with used items neatly displayed throughout the building.
But others who frequent the store as shoppers and donors are aware of the group of about two dozen disabled individuals who are under the supervision of job coaches to receive on-the-job training that keeps the store humming like a well-oiled machine year-round.
According to Delmo Andreozzi, the son of a former employee of Ruby Mountain Resource Center, the center gave Elko not only a thrift store, but a place for the disabled to learn skills and have a sense of belonging in the community.
"For my dad and many of the people who work here, it was a sense of purpose," Andreozzi said, recalling when his father, Delmo Andreozzi Sr., began working at the RMRC in 1972 a year after sustaining a brain injury.
"I remember as a small boy, my dad telling me, 'I'm going to work today,'" Andreozzi recalled. "He just wanted to belong. He looked forward to going to work each and every day."
The Ruby Mountain Resource Center is more than a thrift store, Andreozzi said. It is "an amalgamation of stories." What began as a way to offer continuing education for disabled children in 1969 has now become a community resource that serves everyone who steps through its doors. Its presence has deeply resonated with the community in multiple ways, he said.
"Everybody has a story that is affiliated with this location."
Humble beginningsIn July 1969, RMRC started in a classroom setting, founded by a group of parents whose children had intellectual or developmental disabilities. It was called the Elko County Association for Retarded Children.
"It was for parents who wanted a place for their children to get a decent education," said Rebecca Hepworth, executive director of RMRC. The parents then decided to implement the thrift store as a way for their children to receive some job training.
A small building behind Southside Elementary housed the fledgling organization. It moved to a few other locations before eventually settling on River Street in the mid-1980s and changing its name to Ruby Mountain Resource Center.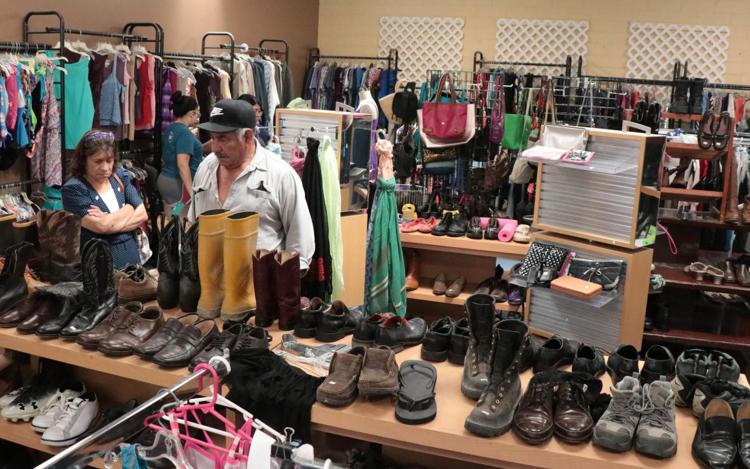 Over the years, RMRC has taught job skills to disabled individuals through the thrift store and other programs such as a paper shredding service and rag bag/button bag sales.
That mission expanded with a day-habitation program initiated in 2017. The goal is to give individuals "who are more profoundly disabled the opportunity to socialize, learn, and maintain skills and be somewhere else besides at home," Hepworth said.
It has also found ways to further serve the community, particularly the homeless, with a food pantry. RMRC gives emergency food baskets to those in need and has donated household items to those who have lost their home in a fire or other disaster like the Humboldt River flood of 2017.
After becoming the executive director of the center, Hepworth had the opportunity to speak with one of the founding members, Caesar Salicchi. His son suffered brain trauma after being kicked in the head by a horse, leading Salicchi to seek specialized education for him.
"I had the privilege of being acquainted with [Salicchi] for a short time before he died to see what he thought [about the RMRC]," Hepworth said. "He knew it was a beneficial program for our community and that our board of directors and our staff was taking good care of it."
You have free articles remaining.
This spring, the Sunshine Boutique opened at the Sunrise Shopping Center. The satellite shop expanded the RMRC to sell higher quality items that are donated by the community, especially vintage and retro items that are coveted by collectors.
"Repeat customers come in to see what we have every week," Hepworth said, adding that lava lamps are a fast-selling item.
"If you're looking for something and have a few months to find it, let us know what you're looking for," she added.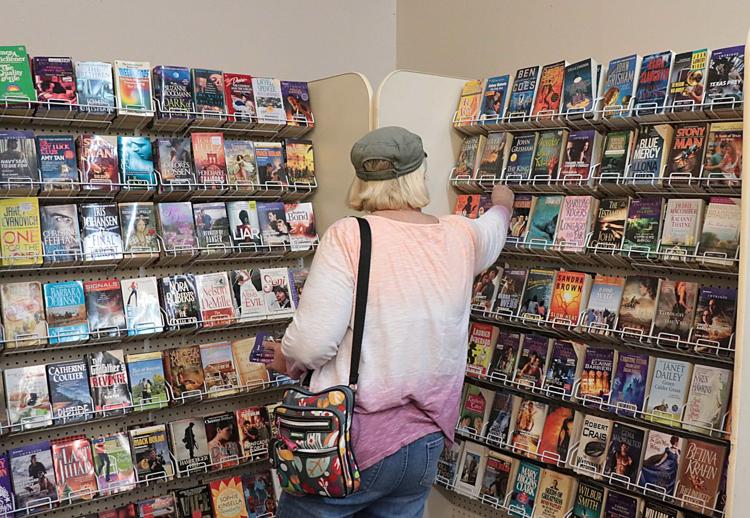 Like most people growing up in Elko, Joli McAnany was familiar with RMRC mostly as a thrift store where she donated her used clothes and toys.
"I had a vague idea of the mission," McAnany said, "but it wasn't until I was an adult that I was able to understand there was more to it than just a thrift store."
That changed a few years ago when her company, Imagine Technology, won a bid to install computer equipment in the RMRC buildings. Spending time in the store for several weeks, McAnany "witnessed kindness and happiness as the overall feeling of the place."
"It's where these beautiful individuals, who are so pure of heart, spend their days in a place that makes them feel happy, have fun and be valued," McAnany said. "There is no stigma associated with anyone's limitations, and there's a great appreciation for each individual's particular talents."
Surrounded every day by an "uplifting work environment," McAnany said she didn't want to leave. She found a way to stay connected by becoming a board member and now volunteers at least once a week, "so that I can spend time with the people."
"I'm happy to be a board member, and I hope that I can continue to be a board member for a long time," McAnany said.
A legacy 50 years in the making
On Aug. 10, the RMRC threw a 50th birthday party, complete with hot dogs, chorizos, cotton candy, snow cones, a cake, a drawing and door prizes.
Assemblyman John Ellison read a proclamation from the Legislature honoring the RMRC, followed by speeches from Elko County Commissioner Delmo Andreozzi, Mayor Reece Keener and board member Joli McAnany. Employees, board members and job coaches also mingled with customers stopping by who were enticed to take 50 percent off their purchase in the stores.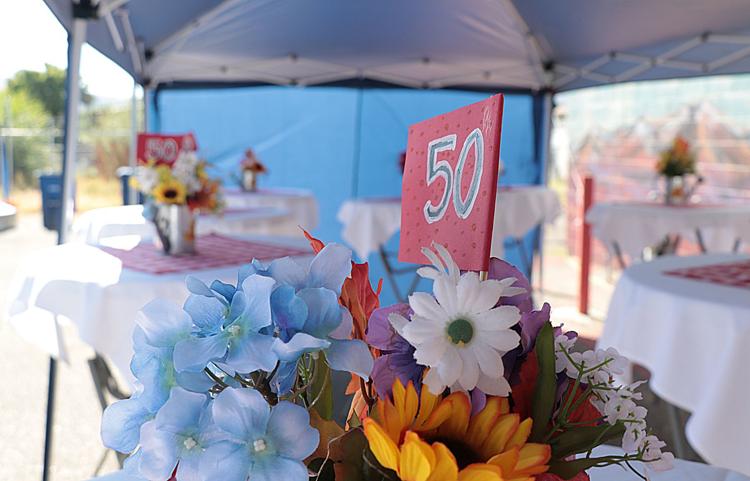 Andreozzi said the day's celebration recognized a legacy that started in 1969 when a small group of people wanted to give disabled individuals a place where they could "feel like they belong to something bigger, something better."
"All these people here have their own story, their own dream, their own sense of purpose, their own place of belonging," Andreozzi said. "That's what this place represents.
"So this is truly a great day to celebrate 50 years of a legacy for the next generation of people that come through this door."