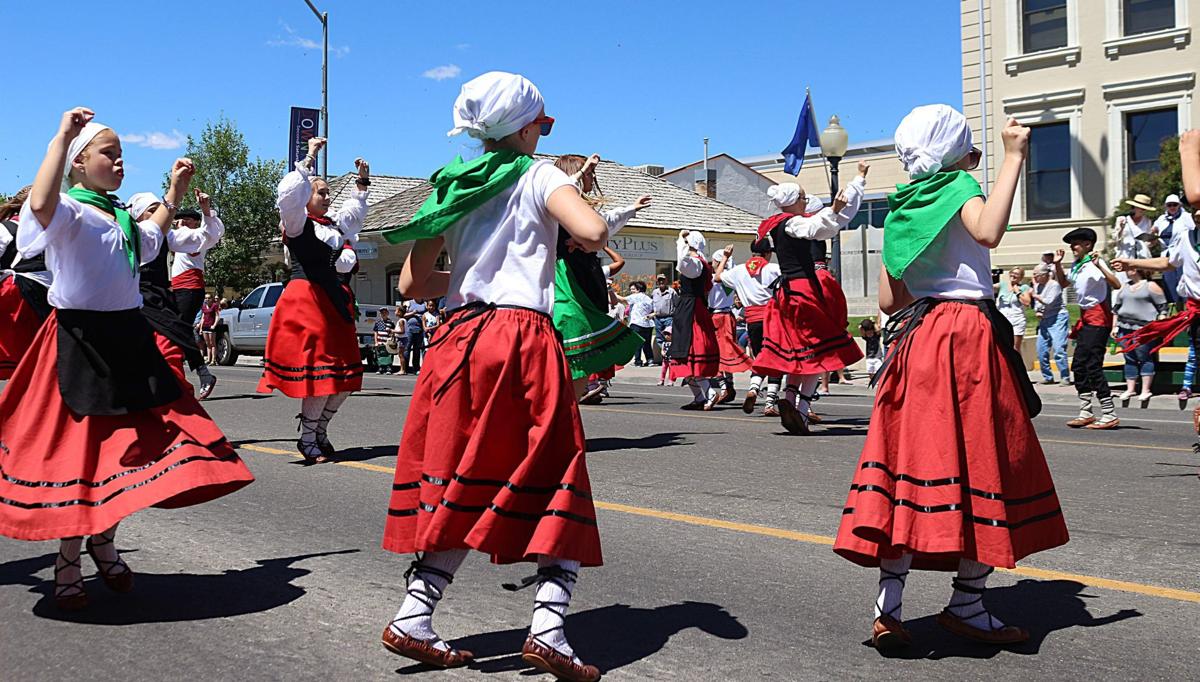 ELKO – The Elko Basque Club parade committee announced the winners of the 55th National Basque Festival and Fourth of July parade.
Dancing was a big part of the annual festival, which included traditional games on Saturday and a picnic on Sunday.
"Thank you to all who participated in the 55th Annual Basque Festival/4th of July parade and to all who came to watch," the committee said in a statement. "We had some fantastic entries and the judges had a very hard time choosing winners for our categories, but it had to be done."
1st place – Elko Arinak Basque Dancers
2nd place – Elite FC Soccer Club
3rd place – Elko Gymnastics Competition Team
1st place – Elko Basque Club Woodchoppers
2nd place – Boise Oinkari Basque Dancers
3rd place – Elko High School Class of '98
1st place – A+ Total Care and Plumb Line Mechanical
2nd place – Northeastern Nevada Museum
3rd place – Greater Nevada Mortgage
ELKO – The National Basque Festival is set to begin Friday and each year Elko looks forward to seeing the swirling red skirts and laced up slippers of the Basque dancers — but dancing has not always been a part of the festival.
"I started helping with the dancing in 1968," Ana Marie Arbillaga said this week. "We had a hundred kids in the first year."
"I was one of them, too," Choch Zaga said.
The original group of ladies who started the program were Arbillaga, Felicia Basanez, Mildred Bilbao, Liz Moili and Flossie Black.
Arbillaga had danced in the old country but did not really pursue it here until she started teaching.
"At that time the kids, it wasn't like today," Arbillaga said. "You tell them to do something and they stayed there to do it."
"We practiced in the basement of the Catholic Church," Zaga said.
Although there are not as many dancers these days, the audience still appreciates the colorful way they use movement to tell stories.
In 2016, Basque dancers of the Great Basin were invited to perform at the Smithsonian Folklife Festival. That year the festival highlighted resilient communities from around the world who retain their cultural identity despite globalization.
Besides dancing, the festival will highlight two musicians from the Basque country, Xabi Aburruzaga and Aitor Uribarri. Local accordionist Mercedes Mendive will also perform.
On Friday evening the dancers and musicians will kick off the event at Ormaza Way. From there they will move to a variety of downtown bars and eateries, serenading and entertaining the guests.
The cooks at the Basque House always put out a huge spread, complete with multiple Basque entrees and sides. This year be prepared for something a little different. The recipe for Sunday's paella includes 20 pounds each of chorizo, chicken, ham, mussels, clams and onions; one case of red peppers; 6 pounds of garlic and 50 pounds of rice.
Several club members got together and purchased a six-foot wide paella pan from the old country.
"The spoons to stir it are almost as big as oars," Zaga said.