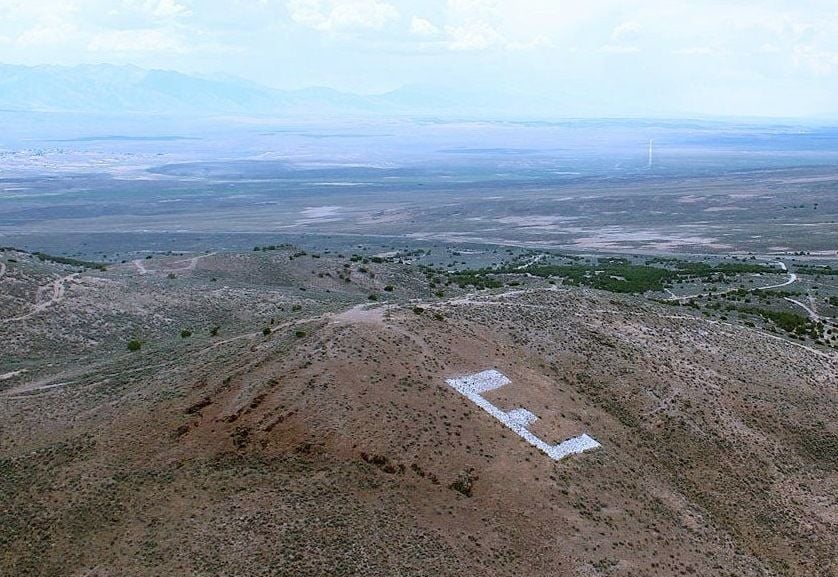 Kountry Kraft Fair & Flea Market
ELKO – The first annual Elko County Fair Kountry Kraft Fair & Flea Market will be held on May 11 at the Fairgrounds Exhibit Building.
Vendor applications are now being accepted for both craft booths and flea market (yard sale items) booths. The Fair Grounds will accept applications until May 6 or until full.
This event is one of many fundraisers for the fairgrounds improvement fund. For an application, visit the Elko County Fair Facebook page or call Dawn at 934-8414.
Stamp Out Hunger
ELKO – The National Association of Letter carriers is holding the "Stamp Out Hunger" food drive May 11. Residents are encouraged to leave a non-perishable donation in a bag by their mailboxes. The food will be delivered to the local food bank.
Basque Club hosts luncheon
ELKO – The Basque Club members lunch will be held at noon on May 12 at the Basque Clubhouse.
Southwind at the Pioneer Saloon
ELKO — Drop by the Western Folklife Center's Pioneer Saloon at 510 Railroad St. and enjoy the lively Americana, Folk and Celtic music of Elko's own Southwind band from 6-8 p.m. May 15.
The bar will be open for business and there's always room to dance.
Yoga and...
ELKO — Looking for something different to do on a Friday night? Wild Iris Yoga & Wellness is hosting a new Friday night event at their downtown studio. 'Yoga and...' will be a recurring event with Yoga practice and another unique activity. On May 17 the event will be 'Yoga and... Live Music and Drinks and Pintxos at Ogi Deli'. Yoga starts at 6:00 at the studio at 455 Railroad Street. Live music, by Peter Chan, will accompany yoga, led by Mitch Benoit. Limited space is available. Please call 208-308-7802 or message us on Facebook to reserve your spot.
Garden Club Sale
ELKO—The annual Garden Club sale will be held from 7 a.m. to noon May 18 on the corner of Second and Sage streets. The club will have a wide variety of ground covers, hardy perennials and shrubs, fruit tree starts, herbs and garden vegetables. These are proven Elko County plants for our growing zone. The club will also be selling pretty plant pots. The Elko Garden Club has been stimulating knowledge, the love of gardening, encouraging civic planting and aiding in the protection of native plants, birds and pollinators for 83 years.
Book sale
Carlin – The Carlin Historical Society will be hosting a book sale and open house beginning at 9 a.m. May 18 at 718 Cedar St.
11th annual Marine Lance Cpl. Raul S. Bravo Run
ELKO – The 11th annual Marine Lance Cpl. Raul S. Bravo Run fundraiser takes place starting at 9 a.m. May 18 at Main City Park.
Bravo was killed by an IED March 2007 while in combat in Anhar Province, Iraq. Proceeds go to the LCPL Raul S. Bravo Elko High School Memorial Scholarship Fund.
Marines will travel to Elko to take part in the run.
Vitality Unlimited meeting
ELKO – This month's meeting is at 6 p.m. on May 21 at the NNRH Classroom behind the cafeteria. The guest speaker is Lynette Vega of Zero Suicide Nevada. She will speak about the suicide crises we are experiencing in Elko County. The public is always welcome at the meetings. Contact 934-8305 for information.
Tai chi in the park
ELKO – A free tai chi session will be held at 5:30 each Wednesday starting May 22 in Main City Park behind the museum.
Call for music at Art in the Park
ELKO — Elko County Art Club is searching for entertainment for this year's Art in the Park. The event will be held July 13 and 14. Contact Tess Senrud at SENRUDT90@gmail.com.
Call to Artists
ELKO — Mayor Reese Keener and the Elko Arts and Culture Advisory Board are seeking an artist to create the 2019 Mayor's Arts Awards. The artist will create five, mostly identical pieces of new, professional, artwork to be awarded to winners of the Elko Mayor's Arts Awards on Nov. 6. Awards will be given in four categories; Arts Education, Arts Organization, Individual Artist and Service to the Arts. The fifth award will be on permanent display at Elko City Hall. Artists will contract with the City of Elko. Those who wish to be considered should submit no more than seven pages with artist bio or resume, photos of work, and ideas or sketches of vision for the award. Submission must be before 3 p.m. on July 1 at City Hall. For more information contact Shelley Petersen at the City of Elko, 777-7210, or find the Elko Arts and Culture Board on Facebook.
Lamoille Country Fair accepting vendors
LAMOILLE — The 44th annual Lamoille Country Fair will be June 30 in Lamoille. Vendor applications are now being accepted for both food vendors and handcrafted booths. The club will accept applications until June 1 or until full. This event is the major fundraiser for LWC. Community donations, Spring Creek High School scholarship and Great Basin scholarship benefit from the fair's proceeds. For an application visit www.lamoillewomensclub.org. Vendors may also contact Pam Osmonson at 397-2214 or Charlene Mitchel at 374-0315.
Elko Senior Games
ELKO — The 18th Annual Elko Senior Games are scheduled for July 24 to 28. The games are for anyone between the ages of 50 to 100. Competitors may participate in horseshoes, darts, basketball shoot, table tennis, tennis, billiards, bowling, swimming, river walk, bicycling, weightlifting, track and field events, pickleball, pistol shooting and, coming back this year, Novice HIIT (High Intensity Interval Training.) We are also adding a new event with indoor archery. Gold, silver and bronze medals are presented to competitors in incremented age groups of five (50-54, 55-59, 60-64, etc.) Pick up a registration form at The Terrace's, GBC Athletic Center and Full Range Physical Therapy or on registration day, July 24, at the Terraces. The cost to participate is $15 plus $2 for each event prior to July 17. After July 17 the cost is $20 for registration and $2 for each event. For more information call Jenny at 801-671-7857 or visit www.elkoseniorolympics.com.
Softball Tournament
Winnemucca – A coed softball tournament will be held July 21 at the Winnemucca Sports Complex. There is a three game guarantee with double elimination. A drawing will be held at 10 p.m. Games start at midnight. The entry fee is $300. Call Craig and Lyle Walters at 409-5510.
Let's Dance!
ELKO — Dancing every second and fourth Thursday of the month in the Western Folklife Center's G Three Bar Theater, 501 Railroad Street. From 6:30 to 7 p.m. they are offering live music during the $5 dance lesson. Adults and teens welcome, no partner or experience necessary. For questions on lesson specifics, contact ElkoLetsDance@gmail.com.
St. Mark Lutheran Preschool
ELKO – St. Mark Lutheran Preschool has opening for 2019 – 2020. Call 753-4750 between 8 a.m. and noon.
Remember Silver the Bald eagle?
ELKO – Help Northeastern Nevada Museum create a new exhibit for Silver on the 45th anniversary of his release at the Ruby Marshes by collecting aluminum cans, like the community did in 1975. Find special collection cans behind the museum. There will also be drop-off locations at Elko Daily Free Press and the Spring Creek Association. For more information contact the museum at 738-3418.
Beta Sigma Phi seeks members
ELKO – Are you looking for new friends and fun things to do? Would you enjoy a social or community service-oriented group?
Beta Sigma Phi could be just right for you. The international women's friendship network provides service opportunities and educational programs to its members. There are women of all ages, interests, educational and economic backgrounds. It is the largest organization of its kind in the world. For information about Beta Sigma Phi visit www.betasigmaphi.org or contact Karla Walker at 397-3562.
Alzheimer's Support Group
ELKO – The Alzheimer's Support Group meets every second Wednesday of each month from 1 p.m. to 2 p.m. at the Terrace, Elko Senior Center. This support group is designed to provide emotional and social support for those caring for a family member or anyone with Alzheimer's or dementia. For information call 800-272-3900.
Horizon Hospice support group
ELKO — Those who have experienced the death of someone significant are invited to join Horizon Center Grief Group meetings on the first and third Mondays of every month, except on holidays. The group meets at 1250 Lamoille Hwy, Suite 413, from 6-7 p.m.
The purpose of the group is to provide information about the grief process; to share experiences; and to alleviate the feeling of isolation.
For more information call 778-0612.
Sunrise Rotary meets at Dalling Hall
ELKO — The Rotary Club of Elko Desert Sunrise meets each Thursday morning (except the second Thursday of each month is an evening social) in Dalling Hall – 600 Commercial St.
Members are dedicated people who share a passion for community service and friendship. The club connection gives you the chance to develop skills like public speaking, project management, and event planning. Buffet breakfast begins at 6:30 a.m., cost is $15 per person. Call at least one day in advance to reserve your breakfast. Everyone is welcome.
Interested to learn more? There are two active Rotary Clubs in Elko. See https://www.elkorotary.org/ for information on the Rotary Club of Elko, which meets around the lunch hour.
Young Life teens meet every Monday
ELKO — Young Life plays an important role in our community and offers teens hope, faith, adventure and unconditional friendship. Young Life is looking for new teen members. Want to go to camp this summer and have some fun with other teens? Meetings begin at 6:42 p.m. at 616 Commercial St. Call 775-397-8129 or see Facebook page under Young Life Elko/Springcreek.
Watercolor class
ELKO – Melanie Smith will be offering a watercolor class from 5:30 to 7:30 p.m. every Tuesday at the Elko County Art Gallery located at 407 Railroad St. Supplies will be provided or feel free to bring your own. The cost is $10 for members and $15 for non-members. Email ecacelko@gmail.com for details.