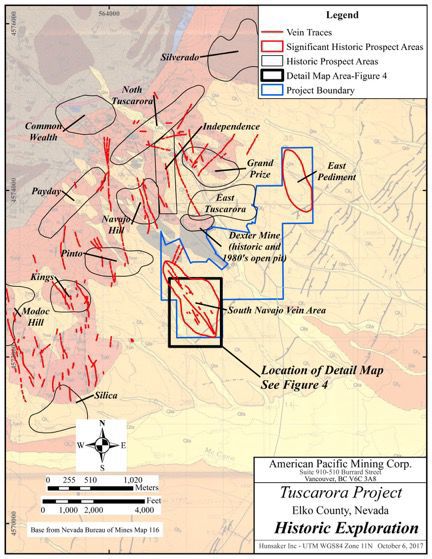 VANCOUVER — American Pacific Mining Corp. expanded Tuscarora Gold by staking an additional 67 claims in Elko County, the company announced March 19.
The 24-claim, 447 acre project, about 13 miles away from the Jerritt Canyon deposit, increased in size to 91 claims and 1,818 acres.
Tuscarora consists of two previously-tested, high-grade gold drill targets: the South Navajo and the East Pediment zones. A drill permit is expected soon for a planned 19-hole drill program that includes both reverse circulation and core drilling of the two main target zones.
"The Tuscarora land package is now a comfortable size at a total of 1,818 acres," said Eric Saderholm, president and director of American Pacific. "We are ready to begin this next phase of exploration to test the continuity and resource potential of this epithermal vein system."
Mining of high-grade gold and silver ores began in the Tuscarora District in the late 1800s. The Dexter gold mine, south of town and north of the project, produced approximately 40,000 ounces of gold and 100,000 ounces of silver in the mid-1980s.
American Pacific Mining Corp. optioned from NOVO Resources Corp. in November 2017.
Be the first to know
Get local news delivered to your inbox!