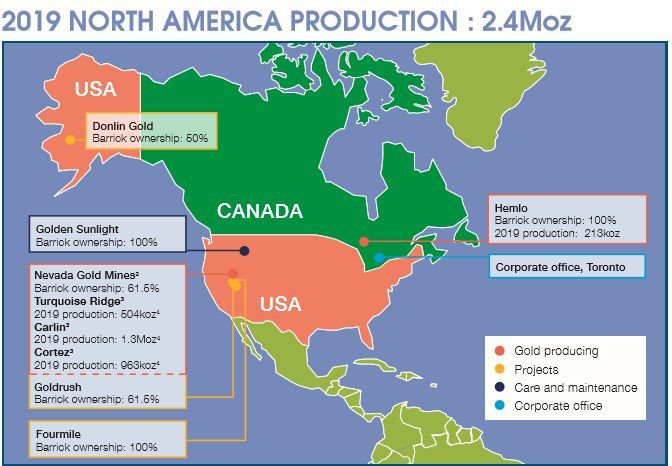 Barrick Gold Corp. outlines the company's accomplishments in its 2019 Annual Report released on March 25, with the creation of Nevada Gold Mines as one of the keys — and Executive Chairman John Thornton writes that Barrick is "fully engaged" in managing the impact of coronavirus.
He says "emergency measures have been rolled out at all of our sites and operations. Our new leadership's experience in managing pandemics and major crises, combined with Barrick's financial muscle and its long-established culture of caring for the welfare of its employees and communities, have placed us in a strong position to contend with this challenge."
Barrick President and Chief Executive Officer Mark Bristow states in the Toronto-based company's annual report that "Nevada Gold Mines is the value foundation of Barrick's business. Already the world's largest gold mining complex, it holds enormous potential for growth.
"The Carlin Trend is the most significant ore-controlling structural corridor in Nevada, with open mineralization at many points, and it is going to be one of our main hunting grounds in 2020 and beyond," he says.
Nevada Gold Mines is the joint venture established on July 1, 2019, between Barrick and Newmont Corp., with Barrick as operator and 61.5 percent owner and Newmont owning 38.5 percent. The joint venture combined all of Barrick's and Newmont's operating mines in Nevada under one umbrella.
Bristow wrote that the joint venture has already identified new areas of exploration on the Carlin Trend, "ranging from walk-up drill targets to large areas that are known to contain prospective stratigraphy and geological features but are largely unexplored. Our fresh geology-focused approach of integrating exploration and mineral resource management is leading directly to a host of new targets."
Writing about the sites outside the Carlin Trend, he said Cortez "was one of the stand-out performers of the last quarter of 2019 as it continued its transition to a mainly underground operation. Its Deep South project is on track to start contributing later in 2020."
Bristow also says Barrick's feasibility study on the Goldrush project is expected in 2021, and "together with the Fourmile project, it will eventually be included in the Cortez complex, securing Cortez's future as a Tier One asset."
Turquoise Ridge in Humboldt County is "another big driver of Nevada Gold Mines' performance and also delivered more than $100 million in synergy savings in the first six months of operations following establishment of the joint venture," he states in the annual report.
Construction of a third shaft at Turquoise Ridge is on schedule and within budget, Bristow wrote.
The annual report also looks at the company's worldwide operations since the merger with Randgold Resources on Jan. 1, 2019, with Bristow stating that Barrick's new leadership began 2019 with a long and challenging to-do list and succeeded in completing the list.
In addition to Nevada Gold Mines, the accomplishments included gold production at the higher end of its guidance for the year, higher copper production than forecast, consolidation of the mines in Tanzania and the sale of mines that weren't core to Barrick, according to Bristow, who also points out that quarterly dividends rose three times in the year and debt was halved to $2.2 billion.
"The work we did in 2019 has equipped us well to take Barrick to the next level," Bristow says in his message.
The annual report includes Barrick's 10-year production plan that forecasts production of roughly 5 million ounces of gold per year, and Bristow states that environmental, social and governance management has become a key investment criterion that "has long been embedded in the DNA of both legacy companies."
Bristow says the company also plans to be on the leading edge of digitalization and automation in the mining industry.
Technical reports on the Carlin mines and on Turquoise Ridge, which includes the adjacent Twin Creeks Mine, were also released on March 25.
The report on the Carlin Complex states that this is a series of open pit and underground mines, advanced projects and seven processing facilities and associated infrastructure.
According to the report, the Carlin mines and advanced projects include the Goldstrike open pit and underground mine; the Leeville underground mine; the Pete Bajo/Fence underground mine, the Exodus underground mine; the Genesis/Tri-Star complex open pits (Goldstar and Silverstar); the Gold Quarry open pit; Emigrant open pit; and the satellite open pit deposits called Perry and Green Lantern.
The annual report and technical reports may be accessed through www.barrick.com.
Be the first to know
Get local news delivered to your inbox!