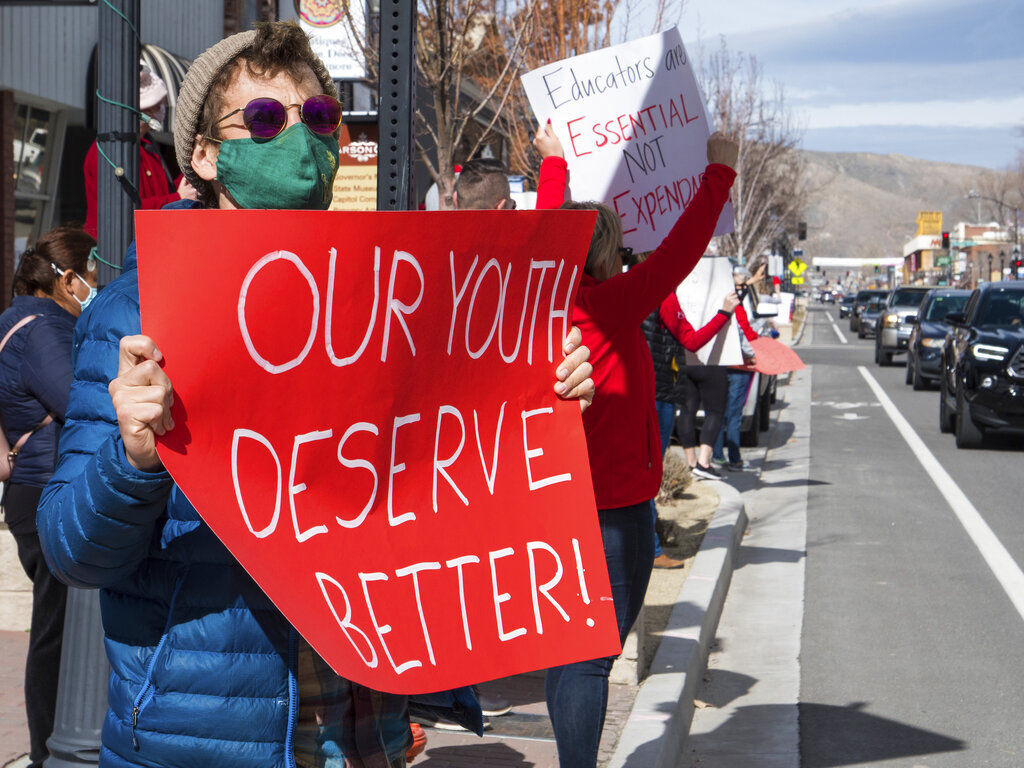 The state's largest producing gold and silver mines will pay about double the amount of taxes in years to come after the Nevada Legislature passed a bill to tax mines' gross revenues and send the money to an education fund for K-12 students.
Lawmakers in both chambers passed Assembly Bill 495 in the last hours of the 81st Nevada Legislative Session on May 31. The bill replaces legislative efforts to take proposed amendments to the Nevada Constitution to voters to raise mining taxes much more than the bill that passed.
Mines grossing more than $20 million a year will pay tiered rates on their gross revenues. The bill adds an excise tax of 0.75% on mines with gross revenues between $20 million and $150 million and 1.1% on mines making more.
The mining tax compromise aims to reform the state tax structure to bolster state spending on education in the wake of the coronavirus pandemic.
Sisolak called the passage of AB495 "one of the most significant steps our State could take on our road to recovery [from COVID-19]—one that will provide a meaningful and dedicated investment for every educator, every student, and every family throughout Nevada," he said in a statement May 31.
"Today's historic vote was only made possible thanks to the partnership of education leaders, business and industry, a bipartisan group of legislators, stakeholders and community members. Our comeback will be strengthened by the continued collaboration and efforts of all Nevadans committed to working together for our families and a brighter future."
The law is expected to levy more than $75 million annually, fluctuating depending on metal prices. That money will be directed starting in 2023 to a newly formed education fund for primary and high school students.
Per the state's constitution, mines already pay taxes on net proceeds of minerals capped at 5%. In 2019, mines paid $61 million in taxes on net proceeds. Those funds were split between the counties where mines operate and the state's general fund.
AB495 also directs that tax revenue generated from mines' net proceeds that previously went to the state's general fund be deposited into the education fund beginning in 2023. Remaining funds will continue to go to counties.
Combined, the funds from the two taxes on mining would funnel an estimated $320 million from the industry toward education every two years.
That is a "significant, significant gift," said Tyre Gray, president of the Nevada Mining Association.
NVMA supported AB495. Gray said mining companies wanted to be part of the solution to education funding in the state. Nevada ranks near the bottom in per-pupil spending nationwide.
Nevada Gold Mines is the state's largest gold producer and a member of the NVMA. NGM worked with the association to reach a solution that would fund education and improve the prospects of Nevada's future generations.
"AB495 achieves this while also ensuring Nevada's mining industry can support that funding going forward," NGM said in a statement, adding that "mining alone cannot solve what is a structural fiscal and funding issue in Nevada."
The measure is a compromise among lawmakers, mining industry advocates, educators and activists that should replace several previous proposals that would have increased taxes on mining by more than 400% and required citizens to approve on the ballot in a general election.
In speaking with elected officials, Gray said it "came to a point where we were able to get a rate that our companies were able to sensitivity test and be comfortable paying while meeting the objective of helping education get to the base funding that they have been trying to get to for the past 20 years."
NGM said in principle the company believes that taxes should be based on income not revenue but is "pleased that all sides have come together to allow this proposal to be put forward, and we are proud to be providing additional funding to something as important to Nevada as the education of its youth."
Kinross Gold Corp. is the state's second-largest gold producer with two mines in Nevada.
"Kinross' Round Mountain and Bald Mountain mines are proud members of their communities and are committed to sharing the benefits of our operations locally and with the State of Nevada," the company said in a statement. "The AB495 bill will provide increased benefits to Nevada and we are pleased to see a balanced resolution of this issue that will create a Mining Education Fund to benefit students across the state. Kinross continues to focus on safely operating our mines to provide significant contributions to the economy through jobs, procurement, taxes and community support."
Previous proposals asked for much more from the mining industry.
One proposed tax change would be to remove the 5% cap on net proceeds from minerals taxes and tax gross proceeds at 7.75%, with 25% of proceeds going to education. Another would allow the 7.75% tax on gross proceeds but send 50% of the tax proceeds to state residents, while the third resolution would keep a net proceeds tax but raise the cap from 5% to up to 12%.
"We were staring down a 400 to 500 percent increase, depending on which ballot measure [moved forward]," Gray said. "I have told everyone that this is not an easy pill to swallow."
The benefits of passing AB495, in Gray's view, include lowering the tax liability from the earlier proposals and developing the state's "most precious resource, which is children," he said.
The newly created education fund will be called the Mining Education Fund.
The law positions mining to be one of education's top supporters, helping make the industry essential to funding the state in addition to providing high-paying jobs to thousands of Nevadans and being "the very first link … in the green supply chain that we want," Gray said.
Not changing the constitution through a ballot initiative also allows protects counties' share of net proceeds. If a ballot measure had passed, tax money from mining would have been directed to the state, and counties would have had to request it back.
Nevada Assemblyman John Ellison, R-Elko, voted "no" on the bill but said he was relieved that the state constitution will continue to protect counties. He called the additional mining tax imposed by AB495 an "attack on mining."
"We are sending a signal that you can't keep taxing these industries to the death," he said of those who voted against the bill.
The Assembly passed the bill 28-14 while the Senate voted 16-5 in favor of AB495.
State Sen. Pete Goicoechea, R-Eureka, could not be reached for comment. He voted against the bill.
Activists say that the change will help make mining companies pay "their fair share" of taxes.
Critics pointed to the previous tax structure of taxing net proceeds—profits minus deductions for certain costs—as showing favor to the mining industry. The tax on net proceeds has been in place since Nevada's silver rush days in the late 1800s.
"Today's vote is the culmination of a year's worth of conversations about a more equitable revenue structure to help fund our schools," said Senate Majority Leader Nicole Cannizzaro in a statement. "This bill is a major victory for our educators, students and families, and it will ensure that we can sustain significant investments in education."
Laura Martin, executive director of the Progressive Leadership Alliance of Nevada, said that PLAN would have preferred a ballot measure to generate even more revenue for the state.
"[But] it was important for us to raise revenue for public education and prove our point: the mining industry in Nevada should and can pay what it owes to Nevadans," she said in a statement. "This deal is a strong start to addressing the privileged position mining has, and in no way let's [sic] them or any corporation off the hook for using our state to make their shareholders rich to the detriment of every Nevada's quality of life."
Gray said he hoped that the passage of AB495 would end the "absolutely false" narrative that mining does not pay what it owes.