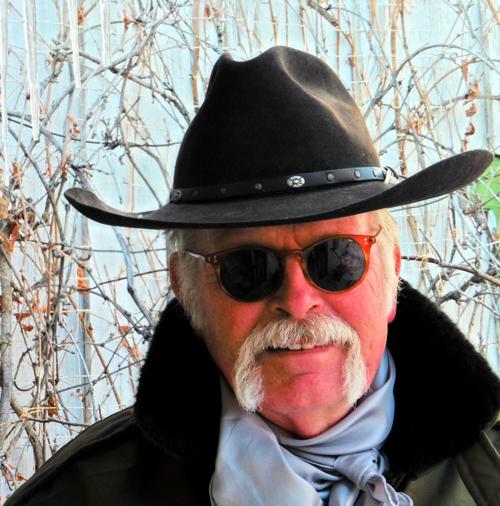 During the Great Depression cowboy humorist Will Rogers quipped, "I'm more concerned about the return of my money than the return on my money." In modern market parlance that defines a "risk-off" sentiment. In a "risk-on" environment, investors seek tempting returns on risky assets like stocks, commodities and high-yielding bonds. When things turn grim they typically sell the high fliers and turn to safer assets like cash, U.S. Treasurys and gold. It is mid-May as I write this column and the recently released April jobs report echoes Depression era unemployment in the time of coronavirus. Things look very grim but by no economic fault of our making – this one comes from Mother Nature to test our mettle and resolve. By the time you read this hopefully things are on the mend.
Our favorite metal has certainly fared well in these hard times as it should. Gold has taken several spirited runs at the $1,800-level and there is a decent chance it will take out the 2011 $1,900-plus all-time high. But here's a funny thing – stocks have had some madcap rallies too. Although technically in a bear market, falling more than 20% in March from February all-time highs, domestic equities have had lots of giddy-up on the hopes the worst is behind us, jobs will return and an effective vaccine will arrive sooner than later. There is also the substantial backstop to risk assets by the Federal Reserve. During and after the 2007-2009 financial crisis, massive monetary accommodation put a floor under copper prices and helped prop up stock valuations. This time around it appears our central bank is prepared to do even more.
How does all this factor into gold's fortunes going forward? Let's drop down a few levels in the mine to understand what's going on.
on gold demand The World Gold Council has published their Gold Trends Report for the first quarter (Q1) of 2020. At first blush the impact of the novel coronavirus (COVID-19) pandemic on global supply and demand appears fairly contained. Gold demand for the first quarter is 1,084 metric tons compared to 1,053 for Q1-2019. Mine production was hampered by the pandemic dropping 3% year-over-year (y-o-y). Despite higher prices, recycled gold fell 4% y-o-y.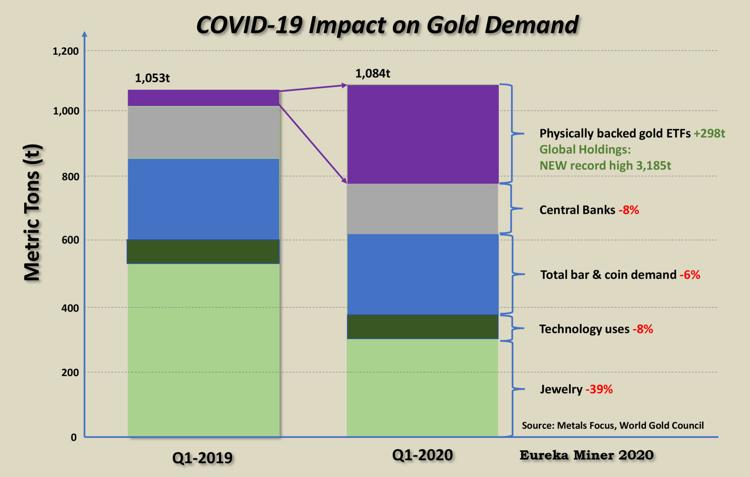 A more revealing picture comes from looking at the composition of the demand side as illustrated by the bar chart. Investors seeking safe-haven poured into physically backed gold Exchange Traded Funds (ETFs). The global holdings for such investment products set a new record high of 3,185 metric tons. All other categories are down with jewelry demand hit the hardest, falling 39% y-o-y. Notably, total bar & coin is down 6% as a 19% drop in bar demand overpowered a sharp rise in demand for gold coins.
Central bank demand is down 8% y-o-y as buyers like Russia hit the pause button. Technology uses for the yellow metal fell 8%.
Around the Monopoly board with gold & stocks Rich Uncle Pennybags is the classic icon of the Monopoly board game introduced to Americans in the same era that Will Rogers shared his wisdom on returns. The second chart shows the fortunes of Pennybags as a stock investor in today's competition between gold and equities. Plotted is the ratio of Comex gold price to the S&P 500, a common benchmark for domestic equity performance. The ratio provides a handy valuation between the two: declining ratio, gold loses value to stocks; increasing ratio, stocks lose value to gold.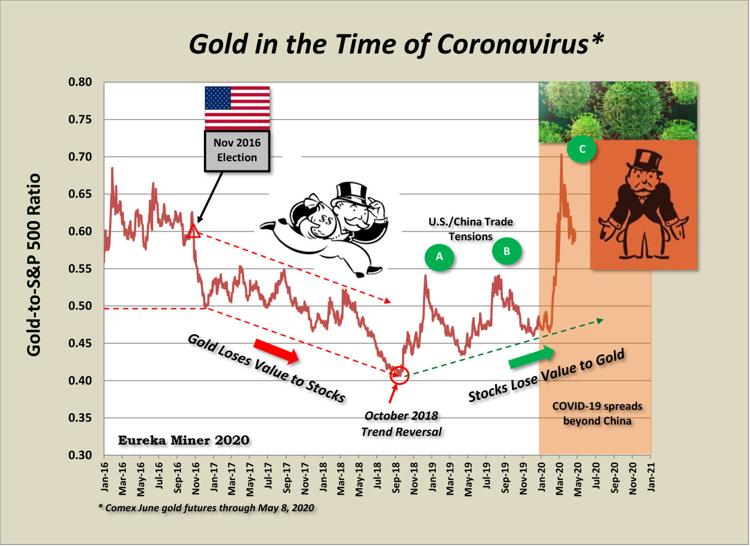 Let's say our rich uncle invested $1,000 in stocks on the day of the 2016 Presidential Election and you invested $1,000 in gold. The equity bull run, that started in 2009, gained rocket propulsion post-election. By October 2018, Pennybags' investment grew to $1,372 as your lustrous nest egg declined to $927. However, this trend down for gold reversed in early-October as U.S. trade tensions with China transformed into investor worries about the health of the global economy. That year closed after "the worst Christmas Eve ever for stocks" (point A). Your investment started to glitter and Uncle started to worry.
U.S./China negotiations ebbed and flowed through 2019 until tensions reached a peak in the late-summer (point B). By August 27 you were above water by $200 but still behind Uncle by $340.
On January 10, the week before the signing of the U.S./China Phase I deal, Pennybags drew a "Get out of jail free" card. Optimism returned to stocks as they raced to a new all-time high on February 19. Then all hell broke loose as coronavirus spread beyond the borders of China (orange box). By March 23 (point C) your investment raced ahead of poor Uncle Pennybags to score $1,224 as his wealth evaporated in a bear market to near pre-election levels, $1,047.
Gold Outlook If the "risk-off' posture of the first quarter persists, investor inflows will continue to dominate the demand picture. A transition to "risk-on" could be swift if the pandemic is effectively controlled or a vaccine is developed ahead of expectations. This implies future swings in gold price are closely coupled with the volatility of the stock market. A rush from safe-haven assets could bring a dramatic drop.
However, there is considerable headroom above the bullish gold trendline established October 2018. If the S&P 500 recaptures 3,000 in the near-term, gold price could fall to the $1,500-level without violating the upward trend of higher-lows. Also, inflation-adjusted 10-year Treasury yields have turned negative since the March 23 spike (point C). This makes a noninterest-earning asset like gold even more competitive with our rich uncle's stocks that pay dividends.
I believe we are still in the early innings of this pandemic with more spikes in the gold-to-S&P 500 ratio ahead. Taking out the all-time high of 2011 is clearly in the cards for 2020.
Richard P. Baker is the author and editor of The Eureka Miner's Market Report at eurekaminer.blogspot.com. He owns shares of the SPDR Gold Trust ETF (GLD), iShares Silver Trust ETF (SLV), and PowerShares DB US Dollar Bullish ETF (UUP).
Be the first to know
Get local news delivered to your inbox!