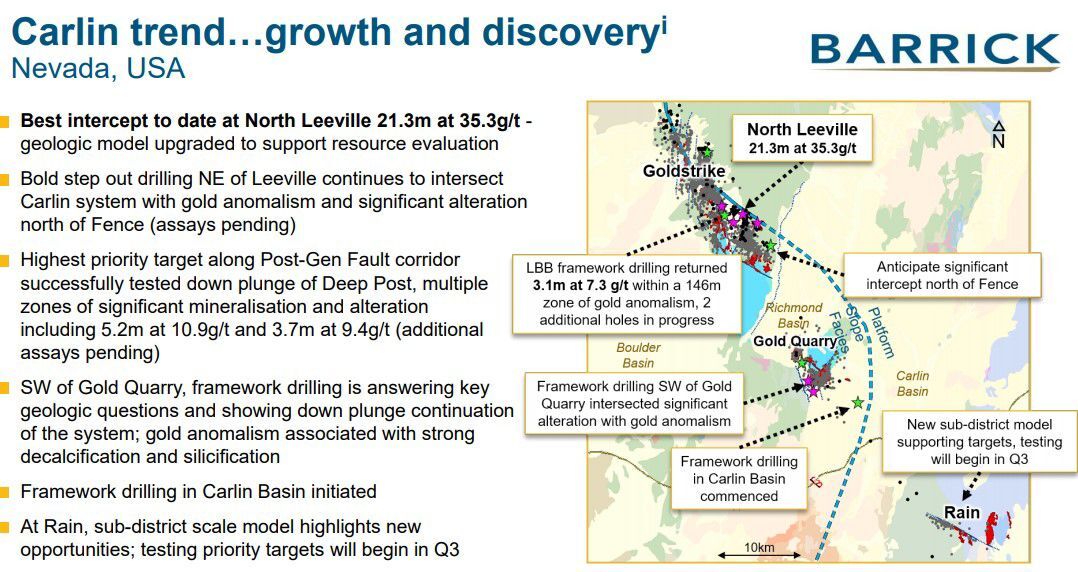 Barrick Gold Corp. on Monday reported higher adjusted net earnings of $415 million, or 23 cents per share, for the second quarter amid increasing gold prices and the COVID-19 pandemic.
Nevada Gold Mines was a strong performer.
Barrick's adjusted net earnings compared with $154 million, or 9 cents per share, in the second quarter of last year, and its announced net earnings of $357 million, or 20 cents per share, in the quarter ending June 30, compared with $194 million, or 11 cents per share, in the 2019 quarter.
Barrick shares were at $28.66, down 23 cents, late Monday as gold prices slipped after reaching highs above $2,060 per ounce last week. The spot gold price was at $2,025.10 in late after trading on the New York Mercantile Exchange.
Thompson Reuters had predicted 18 cents per share for Barrick earnings.
Nevada Gold Mines produced 847,000 ounces of gold for both Barrick and Newmont Corp. in the second quarter, Barrick reported. Barrick is operator of Nevada Gold Mines and holds 61.5%. Newmont holds the remaining 38.5% of the joint venture that combined their properties in Nevada.
"Cortez Hills underground continued to outperform," Barrick President and Chief Executive Officer Mark Bristow said in the earnings webinar as he talked about Nevada operations.
He said the Goldrush team at Cortez has now been integrated into the Cortez operation, and Goldrush development is ahead of schedule. Goldrush, a gold discovery that is in underground development, will move from a contractor to Cortez crews in the fourth quarter.
Bristow said Goldrush is ahead of schedule, and the first ore is expected in the first half of next year. Permitting is expected later in 2021 for full-scale mining.
The Fourmile discovery that is still outside the NGM joint venture also continues to have "exciting potential," Bristow said.
Exploration on the Carlin Trend continues to hold promise, he said, and the North Leeville results included an intercept of the highest grade ever at more than 1 ounce per ton of gold. There also have been thick intercepts at Deep Post, according to the earnings report.
NGM gold production at Carlin, however, was impacted in the quarter by roaster maintenance at Goldstrike, while an increase in higher grade Cortez ore processed at the Carlin roasters displaced lower grade Carlin ore in the feed mix. This roaster usage is an example of a synergy captured with the joint venture, Barrick's earnings presentation says.
Bristow said NGM is adjusting to routing ore through Carlin's processing facilities.
At Turquoise Ridge in Humboldt County, construction of a third shaft is on schedule and within budget, said Bristow, who added the focus is on continued boosting of underground efficiencies.
He said the Turquoise Ridge complex that includes the Twin Creeks Mine has required extra effort to integrate the former Newmont Twin Creeks operation that toll-milled ore from Turquoise Ridge, which 75% owned by Barrick and operated by Barrick.
Still, Turquoise Ridge offers significant opportunities for NGM, said Bristow, who visited the operation a couple weeks ago.
"They're still very exciting upside opportunities at Turquoise Ridge," he said.
Bristow also explained that NGM put a hold on Long Canyon expansion because "we didn't like what we saw," and there was resistance to the proposal to "dewater the whole compartment" for expansion. NGM can do a better job and will be reviewing plans and deciding whether to go underground, he said.
Still, Bristow said Long Canyon is "very profitable," and the mine helps support the community.
NGM notified the U.S. Bureau of Land Management on July 27 that it wanted to pause the review process for the expansion, according to The Associated Press, which reported the BLM planned to issue a decision on the Long Canyon expansion in September 2021.
AP also reported five environmental groups a tribe and a local water-rights holder filed state administrative protests in April over water rights applications.
Bristow said NGM recognizes the impact the pandemic had on Nevada's economy that is dependent on gaming and tourism, so the joint venture is prepaying net proceeds taxes to help the state.
NGM expects to pay $170 million to the state by March 2021, and the joint venture has chosen not to take up the option of deferring payroll tax payments of roughly $40 million, according to the Barrick earnings report.
In another note about Nevada Monday, Bristow said NGM added $13 million more over 10 years to the Western Shoshone Scholarship Foundation, bringing the total to $26 million.
Barrick increased its dividend to shareholders by 14% to 8 cents per share, and Bristow said the company will continue to look at potential dividend increases because of higher gold prices. He said, however, that the company will be careful how it spends money as gold prices climb.
Bristow said that "first of all, the way you do it is you don't blow your brains out like what happened to the industry" when gold prices surged during 2010 into 2013. He said Barrick continues to allocate capital using a figure of $1,200 per ounce.
Barrick's average realized gold price for the second quarter was $1,725 per ounce, up from $1,317 in the second quarter of 2019.
Total gold production for Toronto-based Barrick in the quarter was 1.15 million ounces, down from 1.35 million ounces in the 2019 quarter, but the company stated that at the six-month mark, production is at 2.4 million ounces and on its way to planned production for this year of between 4.6 million and 5 million ounces of gold.
Shutdowns and operation curtailment at the Veladero Mine in Argentina due to COVID-19 impacted production, according to Barrick.
The company also stated in the earnings report that higher gold prices resulted in higher royalty payments and costs. Total cash costs were $716 per ounce, compared with $651 in the 2019 quarter, and all-in sustaining costs were $1,031 per ounce, up from $869 per ounce in the second quarter of last year.
Copper production in the second quarter totaled 120 million pounds, up from 97 million pounds in the second quarter of last year, Barrick also reported. The realized copper price was $2.79 per pound, compared with $2.62 per pound in the 2019 quarter.
Bristow said Barrick handled the COVID-19 pandemic impacts well in the second quarter and is continuing precautions as the pandemic is ongoing, as well as helping the communities where it operates deal with the impact.
"Our flattened and decentralized management structure was a major factor in contending with COVID-19 while at the same time continuing to meet short-term targets and making significant progress towards our strategic objectives," he stated in the earnings report.