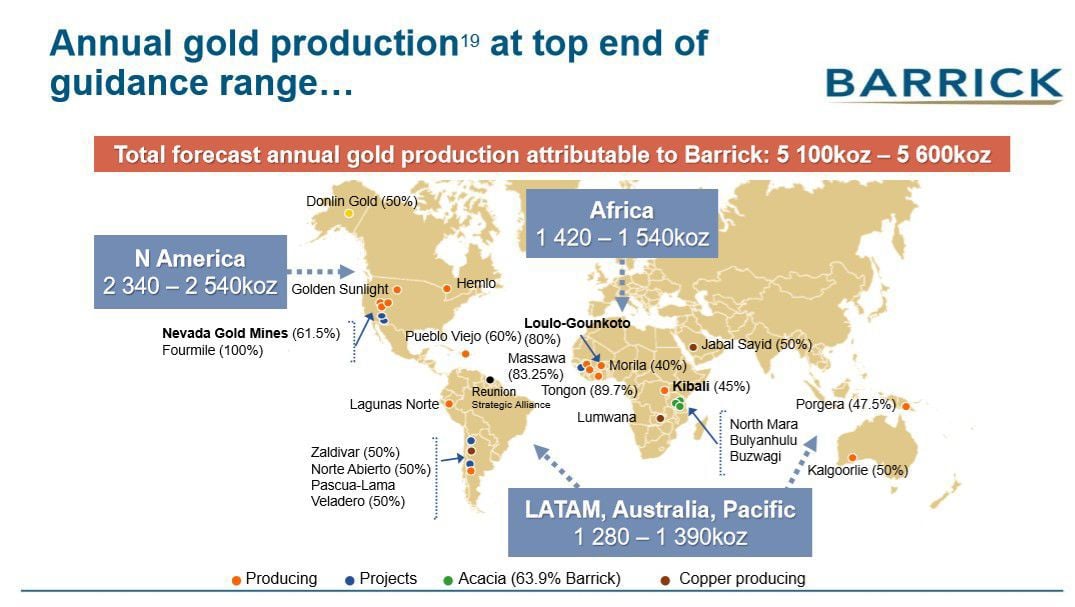 All the mining operations north of Carlin under the new Nevada Gold Mines joint venture between Barrick Gold Corp. and Newmont Goldcorp Corp. now have one name, Barrick President and Chief Executive Officer Mark Bristow said on Monday.
The complex of underground and open pit mines and processing facilities "will be known as the Carlin Mine going forward," he said.
Those mines include the Gold Quarry open pit, Leeville underground, Goldstrike's open pit Betze-Post operation and Meikle and Rodeo underground mines as well as additional former Newmont pits and underground operations on the Carlin Trend.
Bristow was speaking during a presentation and call on Barrick's second-quarter earnings, which don't include the joint venture that went into effect July 1. He said Barrick will be "reporting our attributed share" of the joint venture in future quarters.
Barrick operates the joint venture, 61.5 percent owed by Barrick and 38.5 percent owned by Newmont Goldcorp.
Barrick's earnings were up in the second quarter to $194 million, or 11 cents per share. Net earnings for the quarter compared with a net loss of $94 million, or 8 cents per share, in the second quarter of 2018, and adjusted net earnings for the 2019 quarter totaled $154 million, or 9 cents per share. That compared with adjusted net earnings in the 2018 quarter of $81 million, or 7 cents per share.
Bristow said the adjusted net earnings were "in line with the market across the board." Barrick share prices were at $17.97, down 18 cents, on Monday. The company also announced a 4-cent dividend for shareholders.
The realized gold price for the quarter was $1,317 per ounce, up slightly from $1,313 in the 2018 quarter, however, the gold price has shot up since then with the Aug. 12 spot price in the range of $1,512 per ounce.
Gold production company-wide in the quarter totaled 1.35 million ounces, up from 1.07 million ounces in the 2018 quarter, according to earnings report. Total cash costs were $651 per ounce in the 2019 quarter, compared with $605 in the 2018 quarter. All-in sustaining costs averaged $869 per ounce in the 2019 quarter and $856 in the prior year.
Copper production totaled 97 million pounds, up from 83 million pounds in the 2018 quarter.
Bristow's report on Nevada operations featured an update on the Goldrush and Fourmile deposits on the Battle Mountain-Eureka Trend. He said there are "best-ever, eyewatering intersections" in the exploration at Fourmile, which isn't part of the joint venture but can be when a feasibility study points to mining the deposit.
Barrick reported a new model calls for its Goldrush deposit to merge with Fourmile. Meanwhile, construction of twin declines continues to further access the orebody from underground at Goldrush. Surface drilling continues at Fourmile.
Nevada production in the second quarter of Barrick operations totaled 526,000 ounces, compared with 533,000 ounces in the 2018 quarter.
At Cortez near Crescent Valley production totaled 280,000 ounces of gold, compared with 294,000 ounces in the 2018 quarter, and the company stated that the operation continues its transition to a higher proportion of double refractory, underground ore.
The underground Deep South is expected to begin contributing to Cortez production in 2020. Barrick is expecting a record of decision from the U.S. Bureau of Land Management in the second half of this year on Deep South.
At Goldstrike north of Carlin, gold production totaled 181,000 ounces, up from 170,000 ounces in the second quarter of last year.
Bristow said the joint venture is already showing advantages with more feed from the Carlin operations for the autoclaves, which process certain ores. Barrick also is keeping open mill 5, which Newmont was closing.
Turquoise Ridge underground mine in Humboldt County posted lower gold production of 65,000 ounces, compared with 69,000 in the 2019 quarter because of unplanned shaft repairs and power interruptions, combined with lower cut-off grades, Barrick stated in a slide presentation. Barrick owned 75 percent of Turquoise Ridge and Newmont, 25 percent, until the July 1 joint venture.
Bristow said combining Turquoise Ridge and Twin Creeks will increase the amount of higher-grade ore to be processed at Twin Creeks. Newmont was processing Turquoise Ridge ore under a milling agreement with Barrick.
Construction of a third shaft at Turquoise Ridge is on schedule and on budget, Barrick reported.
Nevada Gold Mines is expected to produce between 2.1 million and 2.3 million ounces in a year, and Bristow said predicted synergy savings with the joint venture are happening.
In the earnings report, Barrick's chief operating officer for North America, Catherine Raw, stated that integration of the Barrick and Newmont operations was a simple objective but a complex task that required enormous effort.
Nevada Gold Mines is now an integrated company with 7,000 employees under the banner "One Team. One Mission," Raw reported.
Toronto-based Barrick's second-quarter report was the second to include former Randgold Resources mines that became part of Barrick with the Jan. 1 merger of the two companies.
Bristow said the Barrick has created new teams for three regions of the world and is acquiring minority interests in Acacia Mining in Tanzania, after brokering a solution for Acacia's long stand-off with the Tanzanian government.
"That's a lot of boxes ticked in a short time," he said.
He also said Barrick is pursuing the sale of its 50 percent ownership in the Kalgoorie gold mine in Australia that is operated by Newmont Goldcorp, which is the other 50 percent owner. Bristow said Barrick doesn't want to be a "passive investor."
Additionally, Bristow said Barrick sees the Pueblo Viejo Mine in Dominican Republic as offering exciting growth prospects with the plant expansion project under way. Barrick operates the mine, which is 50 percent owned by Newmont Goldcorp.
Be the first to know
Get local news delivered to your inbox!