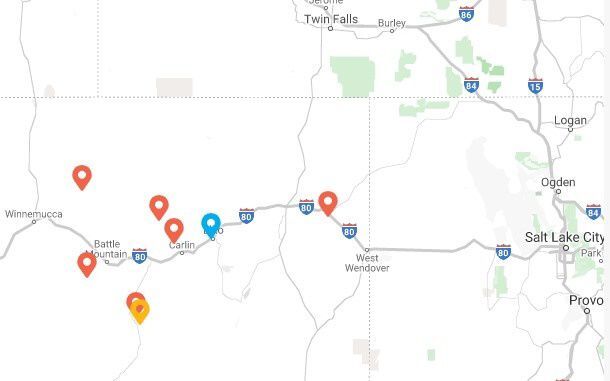 Barrick Gold Corp. reported preliminary gold production of 1.1 million ounces of gold for the first quarter of this year, down from 1.25 million ounces in the first quarter of 2020, but the company stated that gold production is expected to be higher in the second half of this year.
The production announcement came a couple of days after Barrick President and Chief Executive Officer Mark Bristow gave a virtual presentation on the company's just-published 2020 Sustainability Report that includes information on environmental, social and governance efforts in Nevada.
The production total includes 485,000 ounces of gold from Barrick's share of Nevada Gold Mines. The Toronto-based company holds 61.5% of NGM and is the operator, while Newmont Corp. holds the remaining 38.5%.
The first-quarter 2021 production is down for NGM from 526,000 ounces of gold in the first quarter of last year for Barrick's share, with 229,000 ounces coming from the Carlin operations, down from 253,000 ounces in the 2020 quarter, according to the April 15 announcement.
Cortez production totaled 100,000 ounces in the first quarter of this year, compared with 128,000 ounces of gold in the 2020 quarter, while Turquoise Ridge produced 92,000 ounces, up from 84,000 ounces in the prior year. Long Canyon Mine produced 39,000 ounces, up from 26,000 ounces in the 2020 quarter, and the Phoenix Mine produced 25,000 ounces, down from 35,000 ounces in the first quarter of last year.
The Phoenix Mine produces copper and gold, but the copper production is converted to gold for reporting of Nevada operations.
Barrick's copper production for the 2021 quarter totaled 93 million pounds, down from 115 million pounds in the 2020 quarter, but the company predicted higher copper production in the second half of this year, mainly driven by higher grades at the Lumwana Mine in Zambia.
The average realized price of gold for the first quarter was $1,794 an ounce as the price that soared to more than $1,900 per ounce in 2020. The average market price for copper was $3.86 per pound in the first quarter of this year.
Barrick will be reporting more on gold production when the company's first-quarter earnings report is issued on May 5.
ESG report
The sustainability report is released and available on the company's website. The report highlights reduction of greenhouse gas emissions that is a goal in Nevada with the conversion of the coal-fired TS Power Plant at Dunphy to natural gas. A solar plant was also being constructed at the plant, which is part of Nevada Gold Mines.
The 102-page report also mentions the I-80 Fund that NGM established in Nevada during the COVID-19 pandemic to help businesses, its digital education efforts in Nevada and that the Cortez underground operations receiving a National Mining Association's Sentinels of Safety Award in 2020.
The page on the I-80 Fund features comments from Sacha's Sugar Shack owner Sacha Olson. Her ice cream parlor is in Eureka.
"My business was just getting on its feet when COVID-19 hit, and we were shut down. The loan from the I-80 Fund made it possible for me to keep my business. If not for this fund, I would've had to close my doors permanently."
It has been two months since the launch of the I-80 Fund by Nevada Gold Mines, and local businesses are applying for, and receiving low-intere…
In addition, the report includes mention of the sustainability management at the NGM ranches in Nevada that Barrick operates, as well as the company's programs for the Western Shoshone and the $150 Chamber Checks NGM issued in April 2020 to its employees to support local businesses.
"At the beginning of last year, we set an emissions reduction target of 10% by 2030 against a 2018 baseline that combined the data from legacy Barrick and Randgold operations as well as newly acquired assets," Bristow said. "Through the year we worked on identifying further reduction opportunities and this has enabled us to set up an updated target of at least 30% by 2030 with an interim reduction target of 15% based on projects already being implemented, while maintaining a steady production profile."
He said Barrick's ultimate goal is to "achieve net zero emissions by 2050, achieved primarily through greenhouse gas reductions and offsets for some hard-to-abate emissions."
Bristow said Barrick's environmental, social and governance (ESG) advances last year also included zero Class I environmental incidents, a new record of 79% water recycling and re-use by its operations and the introduction of fully functional community development committees at al its operating sites to guide its social investment programs.
"Sustainability has long been a strategic business priority for us. Our strategy is based on four pillars: the creation of economic benefits for all stakeholders; the protection of health and safety at our mines and in their host communities; a respect for human rights; and the minimization of our environmental impacts."
Barrick's group sustainability executive, Grant Beringer, said all the company's sites have been certified to international standards for environmental management and each site is empowered to manage its own environmental issues under the oversight of the group's strategic leadership.
"Our tailings and heap leach management standard has been aligned with the recently updated guidelines of the International Council on Mining and Metals, of which Barrick is a member, as well as those of the Mining Association of Canada. The standard sets out six levels of inspection and surety for the safe operation of tailings and heap leach facilities," Beringer said in the Barrick presentation.