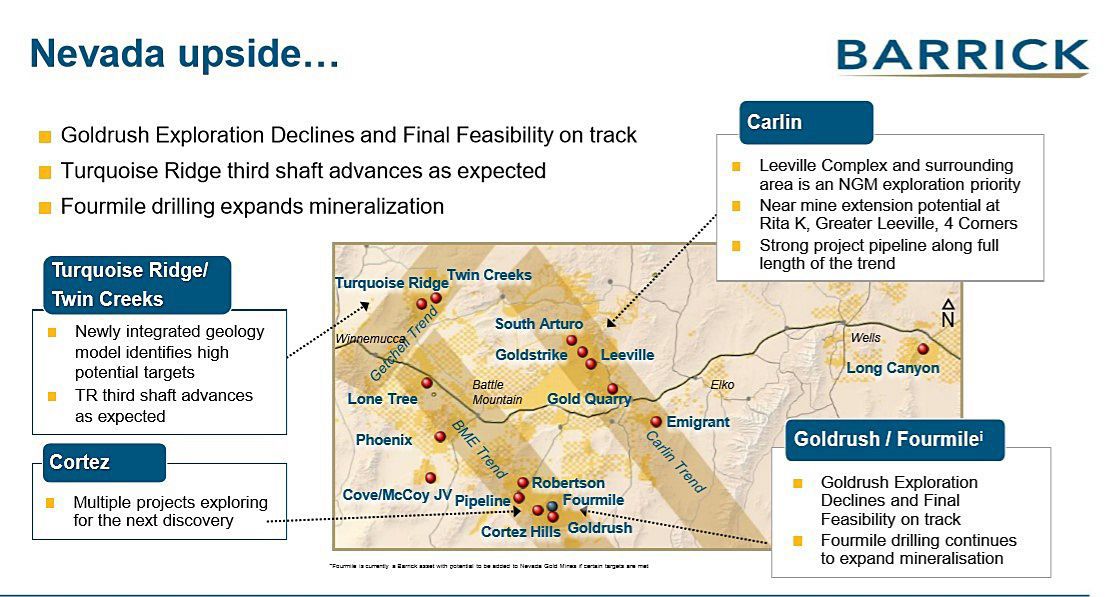 Barrick Gold Corp. on Wednesday reported adjusted net earnings of $285 million, or 16 cents per share, in the first quarter, up roughly $100 million from the first quarter of last year, even as the company dealt with the coronavirus pandemic, including in Nevada.
President and Chief Executive Officer Mark Bristow called the pandemic a "black swan event" that is "likely to change the world forever."
He said Barrick's teams responded early to the crisis, engaging with host governments worldwide since mid-February, and the company has provided more than $20 million for medical equipment and personal protection equipment.
Donations in Nevada came under the umbrella of Nevada Gold Mines, where Barrick operates the joint venture between Barrick and Newmont Mining with Barrick as the 61.5% owner and Newmont, 38.5%.
Nevada Gold Mines has had seven positive COVID-19 cases out of roughly 7,000 employees and a significant number of contractors, Catherine Raw, chief operating officer for North America for Barrick, said in an earnings webinar on Wednesday.
She said NGM was able to contact-trace those who tested positive.
Raw said 593 employees at one point were home for an average of seven days for symptoms, self-isolation, low immunity, taking care of children at home, or other coronavirus-related reasons, but 495 of them are now back at work.
The first three to four weeks of the pandemic were the hardest for Nevada Gold Mines, but things are now becoming "more normalized," she said. NGM continues social distancing and screening. Raw said the way Barrick screened employees minimized risk.
NGM's steps at the mines also include reducing the number of riders on the buses by adding vans and large vehicles for worker transportation and reducing the number of miners on the cages, or elevators, at the underground mines.
"The total number of employees being transported by a cage conveyance system to our underground mines varies by site. All of our mine sites that utilize this type of underground transportation system have reduced the number of employees per cage deck, and employees are encouraged to wear their respirators and gloves while traveling in the cage," NGM spokeswoman Natacia Eldridge said in an April 29 email.
Bristow said in the earnings announcement that "our sustainability and regional teams have done a great job in taking timely action to introduce comprehensive and carefully considered measures at all our sites and offices to manage and mitigate any impacts of COVID-19 on our employees and contractors."
Free cash flowWith higher gold prices, Barrick's free cash flow in the first quarter ending March 31 was $438 million, up from $146 million last year, and Bristow said in the webinar that Barrick will use the money to "ensure we have the financial muscle to get through the challenges" of the pandemic.
The extra cash flow also could be there to pursue opportunities in the mining sector.
"A strong balance sheet is a good place to be," Bristow said.
The company reported net earnings of $400 million, or 22 cents per share, up from $111 million, or 6 cents per share, in the 2019 quarter. The average realized gold price was $1,589 per ounce, up from $1,307 in the 2019 quarter.
The spot gold price Wednesday was below the recently prevailing $1,700 mark at $1,688.60 an ounce on the New York Mercantile Exchange. Barrick's shares were at $26.54, down $1.66, but shares have increased in a 52-week period from a low of $11.65 to a high of $28.50.
Looking at Nevada, Bristow continued to be optimistic about the production and exploration potential in and around the mine sites, stating that Nevada is "our value foundation."
He said the Carlin Trend is the most active exploration area, and Goldrush and the Fourmile discovery at Cortez "ensure Tier One status well into the future." Tier One status means a mine has a life of at least 10 years and produces more than 500,000 ounces of gold per year, according to Barrick.
Goldrush is continuing permitting activities, with a record of decision from the U.S. Bureau of Land Management expected in the fourth quarter of 2021, Barrick stated in its earnings presentation. Fourmile is not yet part of Nevada Gold Mines but could be when certain criteria are met.
Cortez Deep South also remains on track to contribute to production this year, according to the Barrick presentation.
At Carlin, the Leeville area is the exploration focus. The earnings presentation states that the near-mine extension potential is at the Ren, Rita K and Greater Leeville deposits and activities focused on building a regional scale model of the Roberts Mountains Thrust connecting the Carlin Trend with the Battle Mountain-Eureka Trend.
At Turquoise Ridge in Humboldt County, construction of the third shaft is on time and budget, and Bristow said modeling points to exploration potential between Turquoise Ridge and the Twin Creeks Mine, now considered part of Turquoise Ridge.
Bristow also talked about the planned conversion of the TS Power Plant near Dunphy from coal-fired to natural gas, which he said could reduce the carbon footprint by at least 10 percent. Permitting is expected in the fourth quarter.
Barrick's earnings report states that the TS plant conversion to natural gas would save 650,000 metric tons of carbon emissions.
A 200-megawatt solar project also is planned on the TS Power Plant site for a "dual fuel system," said Bristow. According to Barrick, the first project phase of 100 megawatts would save 130,000 metric tons of CO2 per year.
"Nevada Gold Mines is committed to providing its operations low-cost, secure power generation through northeastern Nevada's power grid now and into the future," Greg Walker, executive managing director of NGM, said in the earnings report.
"The conversion of NGM's TS Power Plant and the potential for an additional solar power facility illustrates this commitment while reducing the mines' carbon emissions," he said.
Nevada Gold Mines also has the Western 102 Power Plant outside Reno that has a capacity of 115 megawatts from natural gas-fired generators and 1 megawatt from a solar facility.
Companywide, Barrick produced 1.25 million ounces of gold in the first quarter, down from nearly 1.37 million ounces in the first quarter of 2019. Total cash costs were $692 per ounce, up from $631 last year and all-in sustaining costs were $954 per ounce, up from $825 in the 2019 quarter.
Nevada Gold Mines production totaled on a 100 percent basis was 855,000 ounces of gold in the first quarter, including Newmont's share. Barrick's share alone was 526,000 ounces.
Barrick's companywide copper production totaled 115 million pounds, up from 106 million pounds in the 2019 quarter.
The company has not had problems in Nevada with the supply chain due to the pandemic but has been negotiating supply contracts since the July 1 formation of Nevada Gold Mines and has saved $115 million, Bristow said.
In the earnings report, Barrick's group supply chain and commercial executive, Riaan Grobler, stated that "not only have we focused on remaining active in ensuring we have alternative procurement and logistic arrangements in place, we have also increased the stocks of consumables and other fast-moving items at our mines."
Barrick also announced Wednesday that it would pay a quarterly dividend of 7 cents per share. That amount was paid in the last quarter, too.
Looking ahead, Bristow said Barrick's potential as a global leader means a global reach, even into Japan.
"We're already on the ground in all the world's major gold destinations aside from Russia and East Europe. We're looking at a future built around our existing big operations in Central, East and West Africa, in Nevada, the world's most prolific goldfield, in the massively underexplored Dominican Republic and along the Andean Trend, " he said in the earnings report.
"But we're also looking at new frontiers, such as Japan, where we've formed an alliance with the holder of the largest exploration portfolio in the country. What's particularly interesting to us is that while Japan hosts one of the world's highest-grade gold mines, it has seen no modern exploration," Bristow said.
A problem area for Barrick is the Porgera Mine in Papua New Guinea, which was put on care and maintenance during the pandemic and where the government has announced it will not renew the company's 20-year lease. Barrick is contesting the action but is withdrawing its guidance for production this year from the mine.
Barrick's new outlook for gold production this year is between 4.6 million and 5 million ounces, with roughly 200,000 ounces deducted because of Porgera.
Be the first to know
Get local news delivered to your inbox!