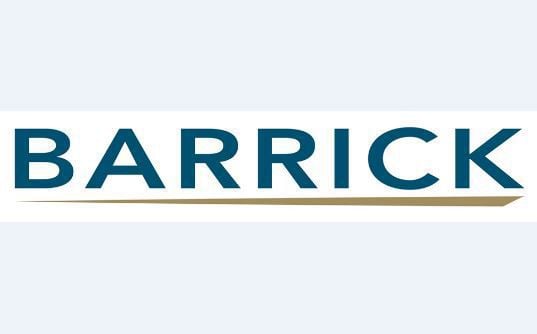 TORONTO — Barrick Gold Corp. on Thursday announced preliminary second-quarter gold production of 1.15 million ounces that is down partially due to COVID-19 impacts that also increased costs, and the company reported its 61.5 percent share of Nevada Gold Mines production totaled 521,000 ounces.
Barrick President and Chief Executive Officer Mark Bristow said Barrick is still on track to meet its production guidance for the year of 4.6 million to 5 million ounce despite lockdowns and impacts from the global pandemic.
He also said the company is continuing comprehensive programs to counter the spread of the coronavirus and manage the impact of COVID-19 on its business.
Total cash costs per ounce of gold are expected to be 2-4 percent higher for the second quarter over the first quarter of this year companywide and all-sustaining gold production costs are estimated at 7-9 percent higher for the quarter over the first quarter of 2020, according to Barrick.
Final figures will be reported when Barrick releases quarterly results on Aug. 10.
For Nevada Gold Mines, which is operated by Barrick and 38.5 percent owned by Newmont Corp., Barrick reported its share of gold production at Carlin operations totaled 235,000 ounces in the quarter ending June 30. The Carlin total includes NGM's 60 percent share of South Arturo, where Premier Gold Mines Ltd. is 40 percent owner.
Barrick's share of gold production at the Cortez operations at Crescent Valley totaled 132,000 ounces, while Turquoise Ridge in Humboldt County produced 79,000 gold ounces for Barrick's share. Phoenix Mine near Battle Mountain produced 35,000 gold ounces for Barrick, and Long Canyon Mine east of Wells produced 40,000 gold ounces.
The Toronto-based Barrick marked NGM's first anniversary on July 1, so there is no direct comparison of the gold production figures with the second quarter of 2019 for Nevada, but NGM produced 526,000 for Barrick's account in the first quarter of this year.
Companywide, Barrick produced 1.35 million ounces of gold in the second quarter last year.
Gold production was deemed essential in Nevada, so there were no lost days due to the coronavirus, but the predicted cost increase for Barrick companywide includes higher costs in Nevada as the company instituted COVID-19 restrictions and donated money to Nevada communities.
NGM Executive Managing Director Greg Walker told Elko County Commissioners Wednesday that because NGM took an offensive position against the coronavirus, the company has continued full operations throughout the pandemic. NGM employs roughly 7,000 people.
Barrick Gold also produced 120 million pounds of copper in the 2020 quarter, compared with 97 million pounds in the 2019 quarter. Costs for copper production are predicted to be 5-7 percent higher than in the first quarter of this year, the company stated Thursday.
Barrick's gold production took a hit at its Veladero Mine in Argentina, where COVID-19 quarantine restrictions were lifted in April and movement and social distancing restrictions slowed the remobilization of employees and contractors to the site, according to Barrick.
Impact to production also occurred because of a planned maintenance shutdown at Pueblo Viejo Mine in the Dominican Republic, 40 percent owned by Newmont, and reduced production at the Porgera Mine in Papua New Guinea. Porgera was put on care and maintenance on April 24.
Barrick is in a legal dispute with the Papua New Guinea government over Barrick's mining lease that the government has refused to renew. Barrick and China's Zijin Mining Group co-own Porgera.
Be the first to know
Get local news delivered to your inbox!