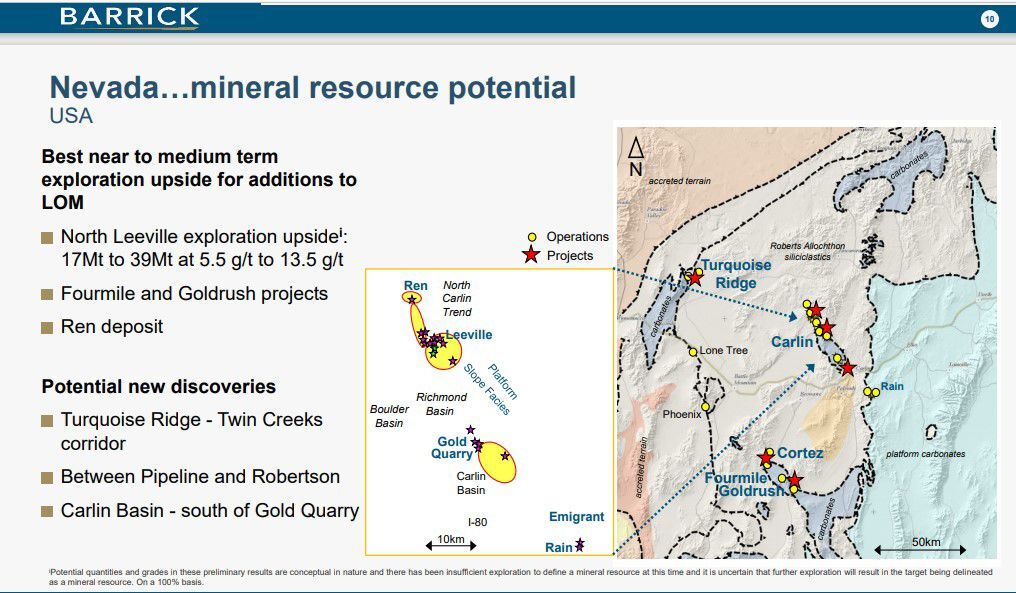 Barrick Gold Corp. President and Chief Executive Officer Mark Bristow continued to be optimistic about exploration in Nevada as the company on Thursday announced fourth-quarter net earnings of $685 million, or 39 cents per share, and adjusted net earnings of $616 million, or 35 cents per share.
Bristow, who has talked in several earnings conferences about the potential of finding and mining new deposits in Nevada, said Thursday that the "Carlin complex is richly endowed with gold," and the Cortez complex "has a wealth of opportunities for expansion."
Barrick's fourth-quarter 2019 net earnings were $1.39 million, or 78 cents per share, because of assets and acquisitions and adjusted net earnings were $300 million, or 17 cents per share. Adjusted net earnings rose for the 2020 quarter on higher gold prices averaging $1,871 per ounce in the quarter.
The earnings beat market predictions of 32 cents per share, but share prices were down 54 cents to $20.27 on Thursday, as the gold price dropped this week, with the New York spot price closing at $1,775.30 per ounce.
The company also reported a quarterly dividend of 9 cents per share and proposed a $750 million special dividend, or capital distribution of 42 cents per share, for 2021, reflecting $1.5 billion in asset sales.
Free cash flow was $1.09 billion for the quarter, and Bristow said Barrick is debt free, down from peak debt of $13.4 billion in 2013.
Net earnings for all of 2020 totaled $2.32 billion, or $1.31 per share, and adjusted net earnings were $2.04 billion, or $1.15 per share.
Barrick stated it met production goals despite the COVID-19 pandemic, with gold production for all of 2020 totaling 4.76 million ounces, down from 5.46 million ounces in 2019. Of that total, Barrick's share of Nevada Gold Mines production in 2020 was 2.13 million ounces, down from 2.21 million ounces in 2019.
Total cash costs were $699 per ounce for the year, up from $671 in 2019, while all-in sustaining prices were $967 per ounce, up from $894 in 2019.
Companywide, Toronto-based Barrick is "putting geology front and center," Bristow said.
The exploration in Nevada is part of the Nevada Gold Mines joint venture operations, with Barrick as the operator and 61.5% owner of the joint venture, and Newmont Mining Corp. holding 38.5%.
Bristow said the "best potential" for expanding gold deposits in Nevada are at North Leeville north of Carlin, Fourmile and Goldrush at Cortez and Ren, and he has "great expectations" for the North Leeville area.
Five drill holes out of seven confirmed significant potential in the footwall of the Basin Bounding fault at North Leeville, Barrick reported, and closer to the mine, drilling from underground continues to extend the Turf orebody to the north and west.
Fourmile's high-grade resource continues to grow as Barrick works to turn the exploration project into a mining operation. The Fourmile and Goldrush exploration complex include the Sophia deposit that is expanding to the northwest, and underground development at Fourmile will provide drill platforms as soon as 2023, according to the earnings presentation.
Bristow said that fourth-quarter performance at the Turquoise Ridge complex shows Turquoise Ridge is turning around, and the third shaft at the underground mine is on schedule and on budget to boost hoisting capacity and improve ventilation.
At Goldrush, development of twin exploration declines was finished in November, and underground exploration and development will continue using NGM employees. Barrick says first ore is expected to be exposed in the first quarter of this year.
Bristow said the record of decision from the U.S. Bureau of Land Management for Goldrush is now expected in the first quarter of 2022, rather than the fourth quarter of this year.
He also mentioned exploration at the Cortez Mine from Crossroads to Robertson and at the Midway Fault between the Turquoise Ridge and Twin Creeks mines. Barrick reported that the indicated resource at Robertson is now 1.1 million ounces on a 100% basis.
Bristow said NGM's Phoenix Mine, which is south of Battle Mountain, and the Long Canyon Mine near Wells are "small but very efficient and deliver exceptional margins."
Looking companywide, Bristow said that in addition to the pandemic challenges in 2020 for Barrick included a coup in Mali, the financial meltdown in Argentina and difficulties with the government of Papua New Guinea over the Porgera Mine there, but the company still made progress on its environmental, social and governance (ESG) commitments.
The government and Barrick are currently working on a settlement for Porgera, according to the earnings report, but until an agreement, no mine production from there is including in Barrick's 2021 guidance of 4.4 million to 4.7 million ounces of gold.
The efforts to reduce harmful emissions continues as part of Barrick's program, and this includes the conversion of Nevada Gold Mines' TS Power Plant at Dunphy from coal to natural gas and construction of a solar farm there, which Bristow said continues.