A gold pour is an impressive sight. The liquid gold, glowing brightly as it flows out of the furnace, is quite beautiful. And it's very hot – the melting point of gold is 1,948 degrees Fahrenheit. And it's very valuable – gold is currently selling for around $1,500 per ounce.
Watching the stream of glowing gold pour into the bar mold is also impressive because so much work went into producing those ounces of gold – so much studying, planning, funding, digging, hauling, and extracting.
A group of people with Nevada Gold Mines and Premier Gold Mines gathered Sept. 26 at the refinery at the Goldstrike Mine to watch a gold pour in celebration of the start of production at the El Niño underground mine at South Arturo.
South Arturo, which is just north of the border with Eureka County, is one of a small number of mines that are currently producing gold in Elko County.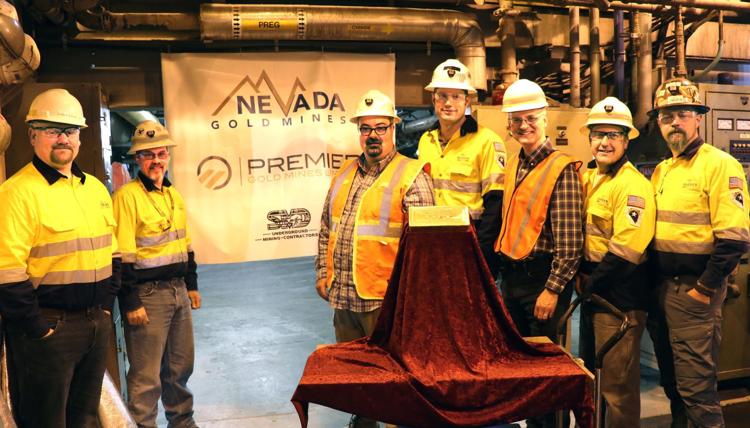 After watching the pour, Nevada Gold Mines and Premier employees gathered around a gold bar that had been poured earlier with gold from the El Niño Mine to pose for photos, and then several of them took the opportunity to hold the gold bar for a few moments. About the size of a brick, it's very heavy for its size. The bar, stamped El Niño 1, weighed 916.46 troy ounces, which is about 63 pounds. And it is worth almost $1.4 million.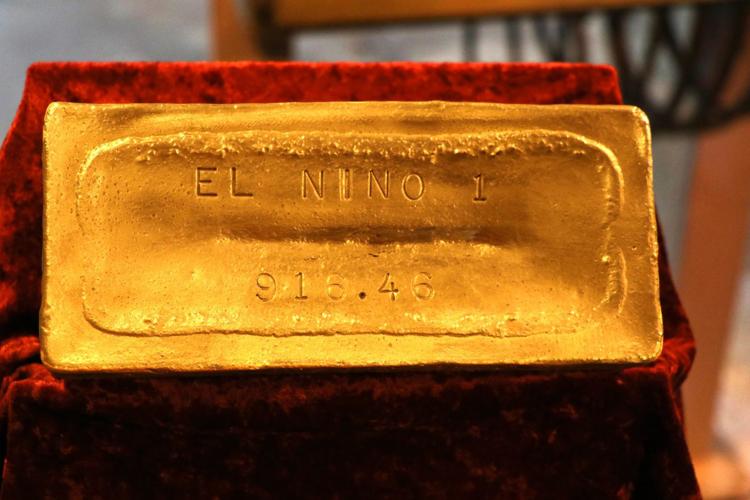 The refinery at the Goldstrike Mine, which is a few miles south of South Arturo, pours around 120 gold bars each month using ore from 18 mines, and the gold in each bar comes from many different sources. For the El Niño 1 bar, however, they made sure that most of the gold came from the El Niño Mine.
The El Niño underground mine is one of the new projects at the South Arturo mine on the Carlin trend north of Carlin. South Arturo is a joint venture between Nevada Gold Mines (60 percent) and Premier Gold Mines (40 percent). The mine was a joint venture between Barrick and Premier until Barrick and Newmont came together in the Nevada Gold Mines joint venture.
Commercial production started at South Arturo in August 2016, and the mine produced 142,810 ounces of gold in 2017. The joint venture completed mining the Phase 2 open pit and began processing stockpiled ore, so production dropped to 52,450 ounces in 2018 and is expected to be around 20,000 ounces this year.
The Phase 2 open pit was partially backfilled and the El Niño underground mine was developed in the Phase 2 area.
Production at South Arturo is expected to accelerate in 2020 now that the El Niño underground mine has begun production, and as material from the Phase 1 open pit begins to be processed.
"Our joint venture with Premier at El Niño is a solid example of the opportunities made available when the industry comes together," Nevada Gold Mines Executive Managing Director Greg Walker said last week. "This project demonstrates our continued ability to provide safe, long-term employment and economic benefits to our local communities."
After the pour and the photos, Brent Kristof, the senior vice president of operations for Premier Gold Mines, talked about the South Arturo mine and the start of production at El Niño.
"It's very exciting for us," Kristof said, "because we've been working with Barrick for several years in the camp, so it's a real pleasure to finally see everybody's hard work coming to fruition."
"We're ahead of schedule with the pour, and the mining I understand is on track, the development of the mine is on track, and we're actually mining at or above the planned rate, so that's great to see."
"I think the underground team — I've been down several times to look at the operation — and they've done a great job of developing a safe little underground mine with all of the facilities that you need," Kristof said. "We think it has the potential to grow to more than what the current stated reserves are. That's often the case in the Carlin deposits, these little mines that are developed in one of the benches in the open pits. Once we get down there and do more delineation, quite often they're more successful in terms of finding more. We're excited about that. We'll see what happens with the exploration program."
Nevada Gold Mines and Premier have contracted with Small Mine Development to operate the El Niño mine.
Kristof said Barrick, and now Nevada Gold Mines, have been very good partners to work with, and they have brought their mine operating expertise and their good safety records to the project. He said he believes the Nevada Gold Mines joint venture will open up even more opportunities for South Arturo because of the different processing facilities and leaching opportunities that will be available.
Premier Gold Mines Limited was founded in 2006 as an exploration company and is now involved in gold production. Its head office is in Thunder Bay, Ontario, and the company has a regional office in Reno. It is a relatively small player in the gold production field, and the South Arturo Mine is a big part of its portfolio.
"We have one mine that we own 100 percent in Mexico, it's 75 to 80,000 ounces a year, and Arturo is significantly more than that over a five, six-year mine plan," Kristof said. "So once we've completed the layback and El Niño keeps going underground we can probably at least double our production on an annual basis with the South Arturo operation. If you think of that from Barrick's perspective, if you had an opportunity to double your annual production, it's pretty exciting."
Premier also has the McCoy-Cove property south of Battle Mountain.
"We've got a pretty exciting underground exploration project going there," Kristof said. "We're doing drilling on that at the moment, and studying the groundwater situation to see what would be economic there."
Mines in Elko CountyWhen you drive on the road that leads northwest out of Carlin toward the mines in the Carlin Trend, the road soon enters the northeast corner of Eureka County, and that's where you'll find a series of mines operated by Nevada Gold Mines. At the northern border of Eureka County is the Goldstrike Mine, and then the road goes back into the northwest section of Elko County. A few miles into Elko County you'll find the South Arturo Mine.
Having another producing mine in Elko County is likely to be good news for the county's budget.
"We like having them in Elko County if they want to be here," Elko County Assistant Manager and CFO Cash Minor said recently.
A lot of the people who work at the mines in this region of Nevada live in Elko County, but many of the mines are in adjacent counties, and the net proceeds of minerals tax goes to the county where the mine is located.
Minor said that in the first year of operation a mine can write off its profits against the development costs, but after that the county may begin to receive money from the mine's net proceeds of minerals tax.
Since commercial production at South Arturo started in 2016, Elko County may see increasing revenues coming in from the mine as production ramps up at the El Niño underground mine and the Phase 1 open pit.
The amount of net proceeds of minerals that comes to a county depends on a lot of factors. There are 12 approved deductions that are subtracted from a mine's gross yield to come up with the net proceeds.
Long Canyon, a rare new mine in the region, is in Elko County between Wells and West Wendover. Newmont broke ground on the mine in April 2015, and commercial production started in November 2016. The mine, which is part of the Nevada Gold Mines joint venture, is now producing between 170,000 and 200,000 ounces of gold per year.
Minor estimated Long Canyon is now putting a total of about one million dollars a year into the county's budget.
A summary from the Franco-Nevada investment firm said that "based on the March 2018 technical report published by Premier, El Niño and Phase 1 are expected to actively mine over a seven year period and produce approximately 550,000 ounces of gold with two strong production years of approximately 170,000 ounces each."
According to those numbers, for some years production at South Arturo could rival production at Long Canyon, which means that during those years South Arturo could possibly also put about a million dollars into Elko County's budget.
In 2015, Elko County received $2.43 million from net proceeds from mining. In that year statewide, Lander, Eureka and Humboldt counties received a total of about 80 percent of the net proceeds from mining in Nevada, while Elko County got 5.58 percent.
Along with Long Canyon and South Arturo, other mines in Elko County include part of the Miekle mine in the Goldstrike complex, Hollister and Midas northwest of South Arturo, Jerritt Canyon north of Elko, and Emigrant south of Carlin.
Hecla Mining Co. announced this year that although it remains "fully committed to Nevada," due to high costs it suspended production at the Hollister Mine and planned to also stop mining at the Midas Mine. Hecla is currently focusing its efforts on the Fire Creek Mine in Lander County.
Be the first to know
Get local news delivered to your inbox!