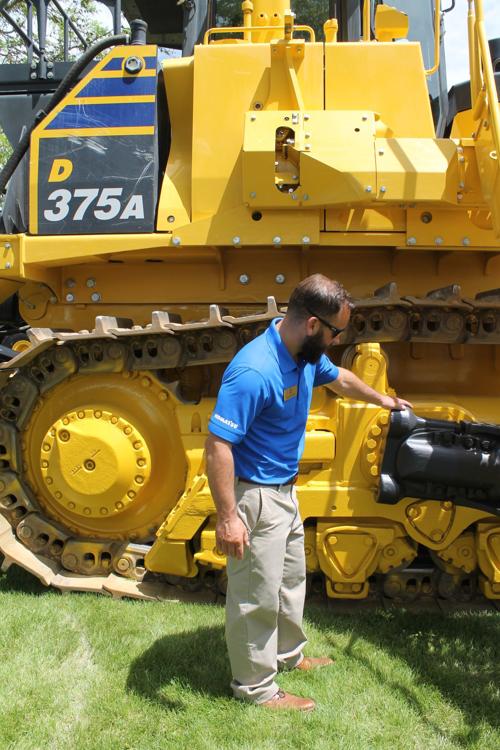 ELKO – Elko Mining Expo is less than a month away and already the golf tournament is sold out, but there is a chance to rent a booth for the June 6 and 7 exhibition and buy tickets for the tournament's barbecue and the opening ceremonies reception.
This year's event features 490 booths, but exhibitors sometimes take more than one booth, so "at this stage we have 350 exhibitors. I have a few booths in the back lot and about 60 booths available in the park," said Erin Myers, events coordinator for the Elko Convention and Visitors Authority.
"If there is space available, we will try to accommodate anyone up to the time of the event," she said.
This is the 34th Elko Mining Expo but the first for ECVA Executive Director Katie Neddenriep, who took over in March to fill the shoes of Don Newman, who retired, and she said she is enjoying being on the ECVA side of the event. She worked as an exhibitor when employed with Barrick Gold Corp.
"I'm really excited to learn about putting it all together and taking my experience as an exhibitor to make it more exciting for exhibitors," she said. "We've got a great staff at ECVA and great partner companies that make it a success each year."
The Elko Mining Expo is the biggest event that ECVA puts on each year, Neddenriep said. The ECVA website states that the annual event attracts close to 8,000 people.
The Expo kicks off June 3 and 4 with the Expo Open Golf Tournament at Ruby View Golf Course, but the tournament "is completely full. We even have a waiting list," Myers said.
The tournament ends with the awards banquet at 6 p.m. June 4 at Ruby View, and tickets can still be purchased at the Elko Convention Center for $25.
On June 5, Expo exhibitors will be setting up. The reception begins at 6 p.m. at the Red Lion Hotel and Casino. Tickets are $40 and are being sold online through EventBrite.com.
Neddenriep said the online sales are an example of ECVA's effort to add "a little bit of technology" to the Expo. "This is one of the changes we've made." Next year, the plan is to streamline the registration process, she said.
Myers said the opening reception is a chance for industry professionals to "mingle and have a good time."
The two-day exhibition is from 9 a.m. to 5 p.m. June 6 and from 9 a.m. to 3 p.m. June 7. There will be booths inside the Elko Convention Center, the adjacent conference center, a tent mall, in the parking lots, along College Avenue and Moren Way, and at Elko City Park.
"We have a lot of returning vendors and a lot of new exhibitors," Myers said. "We're going to have a cool exhibit from Container Canopies."
The company sells canopies over containers used in shipping so they can be used for housing equipment, she said.
Neddenriep said there will be vendors selling food outside.
Hilton Garden Inn will have the concession inside the convention center, and there will be five food vendors, a couple of them coming from out of town, according to Myers.
This year's Mining Expo won't have any activities especially geared to children, however, since school will still be in session, Myers said.
In the past, hotels and motels in Elko were sold out for the Expo. With the addition of new hotels there may be rooms available, although those planning to attend should get reservations soon.
"I haven't heard anyone say, hey, we can't get a room," Neddenriep said.
For barbecue tickets, booth rentals or inquiries, the Elko Convention Center can be reached at 738-4091. The Elko Convention and Visitors Authority website contains information about the Expo, including registration and booth rentals.
Be the first to know
Get local news delivered to your inbox!