ELKO — Companies from around the world sent team members to the Elko Mining Expo this June to engage face-to-face at one of the first major networking events for mining since the start of the coronavirus pandemic.
Representatives from mine operations, support and service companies, government agencies and members of the public mingled on the grounds and inside the Elko Convention and Conference centers for the 35th Elko Mining Expo on June 10-11. The event was postponed in 2020.
Elko Convention & Visitors Authority Executive Director Katie Neddenriep described the expo as a "reunion," although the event attracted not only established companies but also those hoping to expand into the Western mining scene.
At one of the event's 318 booths, James Harvey of Carbon Activated Corp. held out a handful of activated carbon made from processed coconut shells used to collect gold through a physical and chemical process. He said because of the porous nature of the material, that small amount has more surface area than a football field. The activated carbon manufacturer and distributor has several buyers in the area but was ready to do more business.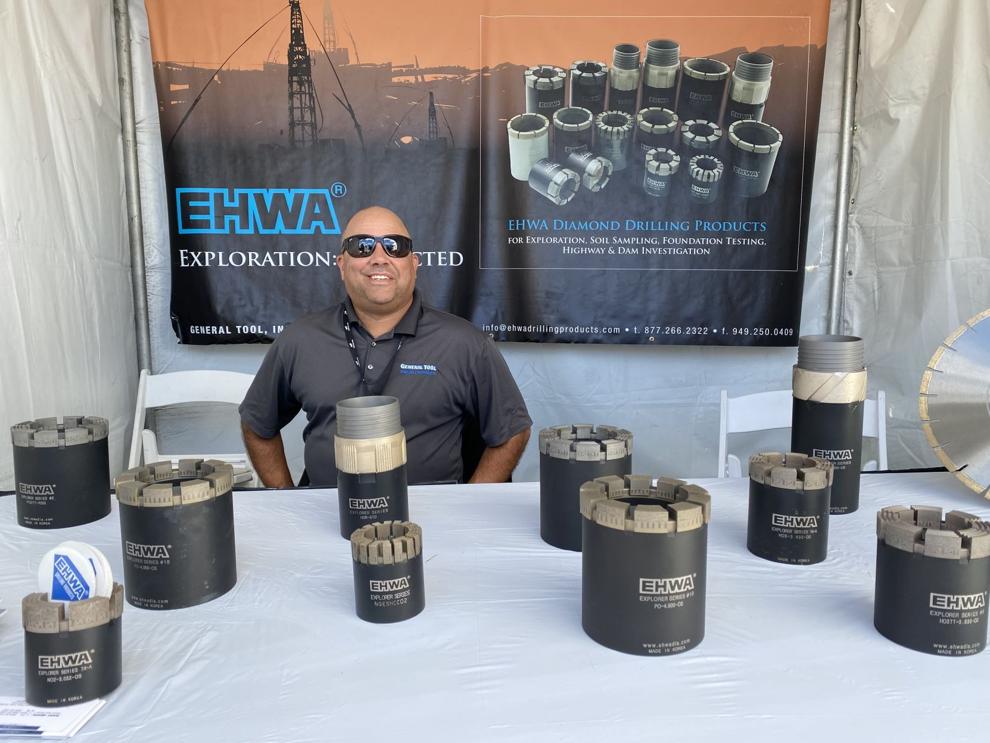 "We're just happy there is a show," Harvey said. "We're glad for the opportunity."
Several other companies also embraced the chance to help expand their reach in Nevada's mining scene.
Consulting and engineering company Wood Group, based in Scotland, hoped to find clients interested in its mining and minerals solutions. Wood offers services across the entire life cycle of a mine, from geology to processing to environmental consulting, design, management, construction and closure. The company acquired Amec Foster Wheeler in 2017, and employs about 40,000 people in 60 countries. Wood has an office in Elko to service area mines.
Conspec Controls Inc. is bringing its gas detection systems to the state, recently contracting with Hecla Mining Company to work in the Hollister gold and silver mine northeast of Winnemucca, according to Conspec Business Development Manager Jeremy McKern. The 50-year-old Pennsylvania-based company brings experience from working in the coal industry and in Canada, South Africa and China.
We are "trying to get going in hardrock mining," McKern said. "We are already the standard in coal."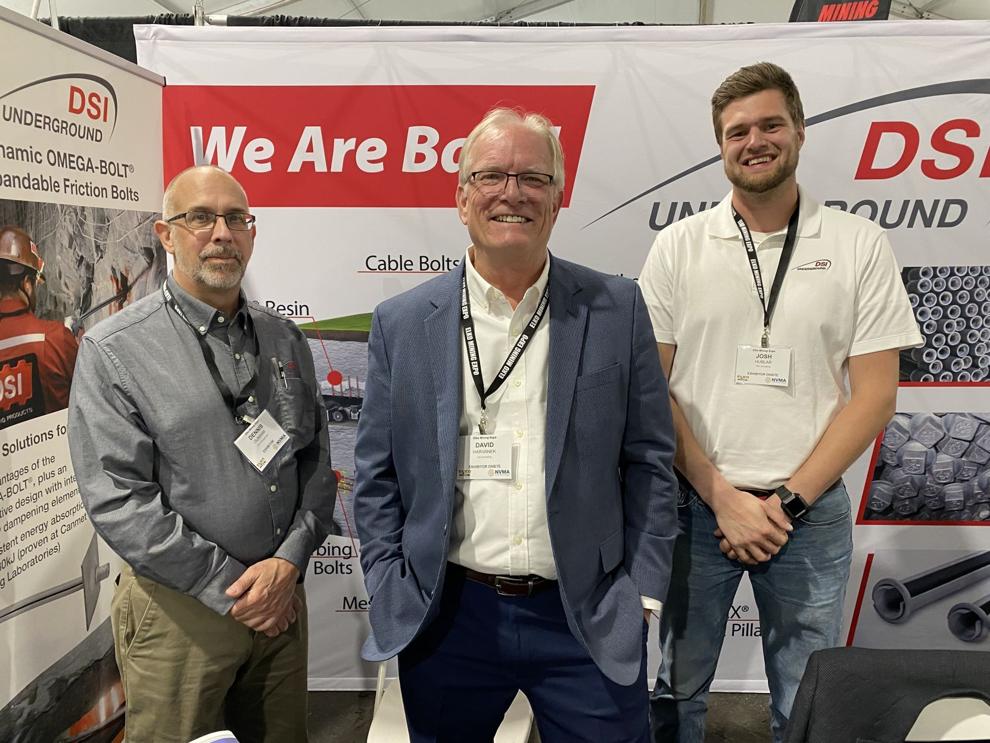 The banners behind DSI Underground's booth made an announcement: "We Are Back." The company re-entered the U.S. market with ground support products, systems and solutions for underground mining and tunneling April 1 after the end of a non-compete agreement with Jennmar Corp. The expo was one of the Germany-based company's first opportunities to interact with potential clients, said David Harvanek, general manager.
Mincon Inc. sought to spread the word that the rock drill designer, manufacturer, and service provider for rock drills opened a shop in Elko about eight months ago, said account manager Clay Gremel. The company was founded in Ireland and now operates worldwide.
Other companies are expo regulars that already have a presence in the West.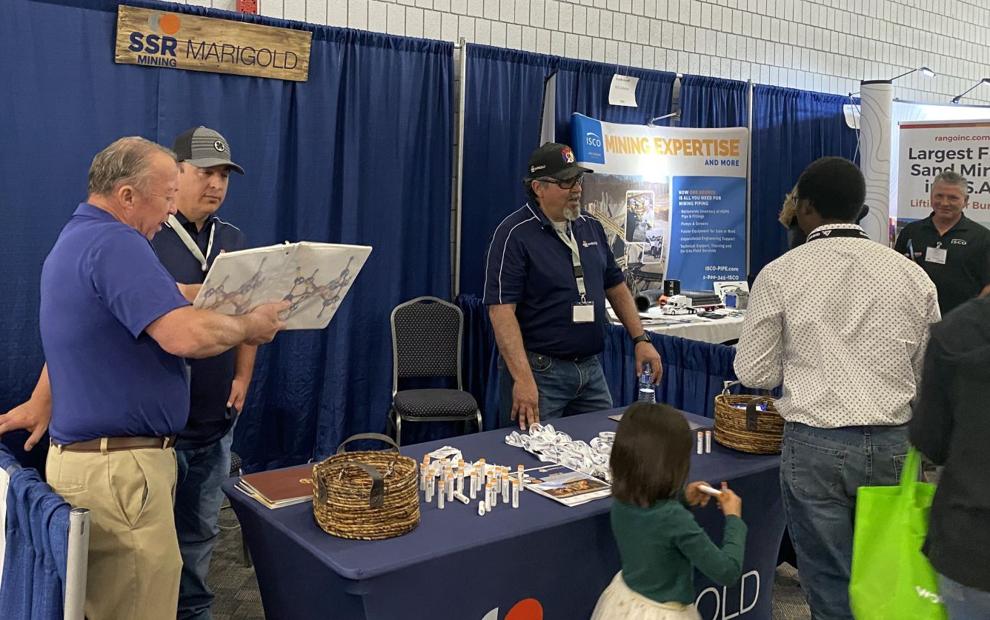 IDS GeoRadar, an Italian company, provides monitoring technology that helps identify risk of slope failure at surface mines, among other services. Clients include Nevada Gold Mines and Rio Tinto's Kennecott copper mine in Utah, where IDS GeoRadar helped forewarn of an imminent wall failure. The prediction allowed the operator to move all personnel to safety before the slide, according to a statement provided to Reuters.
Depending on the material, "we can see things years in advance of a problem," said Johnny Lyons-Baral, geological engineer with IDS GeoRadar.
Summit Engineering Corp. of Reno and Elko offers engineering, surveying, geotechnical and planning services. The company's diversified base helped keep employees of the firm busy during COVID-19, said Thomas Hannum. Summit staff was able to do inspections, for example, while clients' employees were working from home.
Garry Gray of Western Environmental Laboratories said the lab saw a slight slowdown during the pandemic but continues to serve Elko-area customers including mines. WETLABS now is entering its busy season and might get even busier after adding crushing capabilities to its testing services, Gray said.
Among operators with exhibits, a theme emerged: Mines are seeking to fill job openings.
Representatives from Nevada Copper presented a list of openings at Pumpkin Hollow. The company needs skilled labor for a variety of positions and has openings for specialized roles including engineers. Pumpkin Hollow is a surface and underground copper mine in Yerington.
At the Rochester mine outside of Lovelock, Coeur Mining is working on an expansion of the silver and gold mine. The company is looking not only to neighboring Lovelock but also outside of the state to recruit employees. Neyda Maymi recently joined the company from Texas as a data and operations analyst.
"We need to hire more people now," she said.
McEwen Mining Inc. presented a similar case for its Gold Bar gold mine near Eureka. The company started commercial production at Gold Bar in 2019 and is planning a leach-pad expansion, according to representatives at the expo. Vacancies include a process maintenance/equipment operator, and electrical and instrumentation technician.
SSR Mining, the company behind the Marigold open-pit gold mine in Valmy, also has vacancies.
The event is all about "networking and getting people together," said Drew McGregor, outreach manager for the Nevada Mining Association, which helped the ECVA with the expo.
Although the 35th expo was smaller this year — down from 490 booth spaces in 2019 — participants expressed their gratitude for the opportunity to gather.