"We're very aggressive and doing deals all the time," said Trey Wasser, president and chief executive officer of Ely Gold Royalties Inc., a company that is expanding its royalty and land portfolios in Nevada.
Ely Gold's recent acquisitions include royalties on the Ren property on the Carlin Trend, and Wasser said Nevada Gold Mines could soon be mining Ren underground. NGM is a joint venture of Barrick Gold Corp. and Newmont Corp.
"It's definitely going to get mined, so that's going to be a really significant royalty," said Jerry Baughman, president of the Ely Gold subsidiary Nevada Select Royalty Inc.
Ely Gold did not just buy royalties on Ren but bought the VEK Associates company, he said.
Ely Gold also has interests at the SSR Mining's Marigold Mine at Valmy and producing royalties at the Jerritt Canyon Mine, royalties around McEwen Mining's Gold Bar Mine in Eureka County and on the Isabella Pearl operations owned by Gold Resources Corp. in Mineral County, to name a few.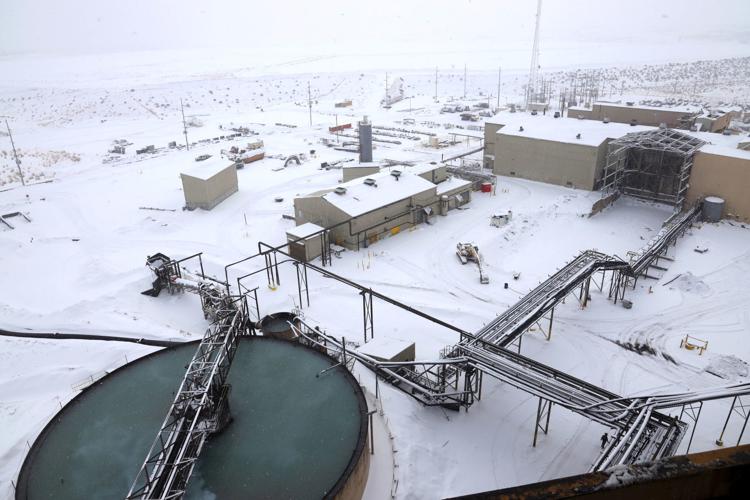 Jerritt Canyon Gold LLC, a private company, operates the mine roughly 50 miles north of Elko. The major owner is investor Eric Sprott of Toronto, who also is a major shareholder in Ely Gold Royalties.
"We see plenty of deals in Nevada. We're flying under the radar and buying existing royalties," Wasser said. "Sprott coming on certainly helped."
Ely Gold also has properties for sale. Wasser said the company has become a major property owner in Nevada.
Higher gold prices of around $1,700 per ounce have helped the company, too, because for a royalty company "when gold goes up, costs don't go up, but revenue does," Wasser said. "At higher prices, more projects are being dusted off."
Ely Gold started out with development of the Mt. Hamilton property in White Pine County with Solitario Exploration & Royalty Co. The Mt. Hamilton project was permitted in 2015 and drilled out to 1 million ounces before Waterton Global purchased the property, which had been a producing mine years ago.
Claims experienceWasser said he then connected with Baughman, who had a royalty portfolio and years of claims experience. Reno-based Baughman and Wasser are the only two full-time Ely Gold employees, but they share the services of a chief financial adviser and secretary in Vancouver with other companies. Baughman said he has a part-time executive assistant at his Reno office.
Before joining Ely Gold, Baughman worked for Fronteer Gold, which later sold the Long Canyon property in Elko County to Newmont Mining. Baughman later worked for the Fronteer spinoff Pilot Gold. He also worked on his own at different times over the years.
"Ely Gold was set up for exactly what I do, what I've always done," he said in a telephone interview. "Working with Ely has been great."
Ely Gold also bought properties from William Sheriff, who came on board as a director. Between Baughman and Sheriff there is 70 years of experience, along with a huge database, Wasser said. The company changed its name from Ely Gold & Minerals Inc. in November 2017.
"We don't do any joint ventures, just sell properties outright and retain a royalty," he said.
This work often involves putting a package of claims together to form a property.
"We're a royalty company. The most we do on a property is claim consolidation."
That sometimes means finding properties that have not been explored since the 1980s or 1990s.
"You find gold where it has been found before," said Baughman, who is a geologist with a specialty in land claims and how to put claims together to consolidate them into a land package that will interest buyers.
Tonopah district "We just did a deal in the old Tonopah district," Wasser said in a phone interview.
The Tonopah Extension Claims are in Esmeralda and Nye counties and are contiguous to the company's Tonopah West property. Tonopah West was sold to Blackrock Gold Corp. contingent on acquisition of the Tonopah Extension Claims.
Ely Gold Royalties now has interest in 100 properties in Nevada. These include 11 key royalty assets, 34 properties for sale, 22 development assets, 21 exploration properties and 12 properties that are not having any work done on them.
"They don't have to become mines to pay a royalty, just be mineable," said Wasser, who lives in Dallas. "We're buying some pretty incredible assets."
One such asset is at Fiore Gold's Gold Rock Project near Fiore's Pan Mine in White Pine County. Fiore is proposing Gold Rock as a satellite operation to Pan.
Ely Gold's royalty assets also include a 15 percent interest in the Regent Hill property near the Rawhide Mine in Mineral County operated by Rawhide Mining LLC. Another asset is the Lincoln Hill project near the Rochester Mine in Pershing County. The company has a royalty on the Rodeo Creek property near the South Arturo Mine operated by Nevada Gold Mines.
A 40 percent share of South Arturo is owned by Premier Gold Mines Ltd. NGM holds the remaining 60 percent.
The company additionally has royalty interests in an advanced project in Quebec and an Idaho property, as well as others in Nevada.
Baughman said Ely Gold focuses on the royalties and land packages, and that will continue to be the focus, because if a company steps away from its main purpose, "the market will spank you."
Be the first to know
Get local news delivered to your inbox!