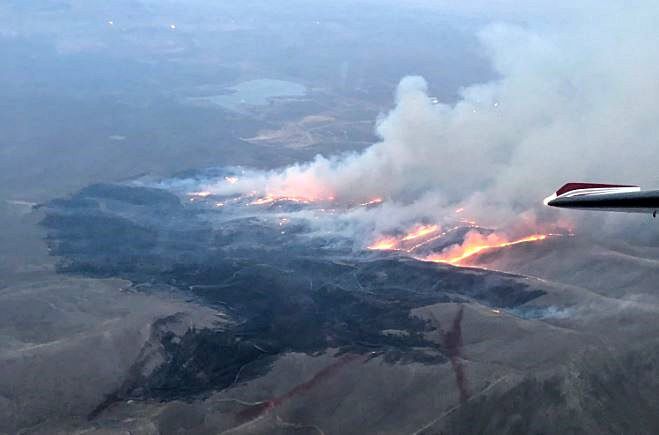 WINNEMUCCA – A fire came close to structures at the Getchell Mine last week but they were spared, thanks in part to preseason planning between Nevada Gold Mines and the Bureau of Land Management.
On July 22, lightning ignited the a wildfire on BLM land approximately 2 miles west of the mine. Despite prompt reporting by personnel from the Turquoise Ridge mine to Central Nevada Interagency Dispatch Center, the Osgood Fire spread quickly due to high winds from passing thunderstorms.
At one point approximately 30 of the mine's out-buildings, structures and improvements were threatened. CNIDC dispatched seven engines, one water tender, three dozers, one hotshot crew and a battalion chief and were supported by four single engine air tankers (SEATs) dropping retardant, four "scooper-type" water dropping aircraft, one helicopter and one aerial supervision aircraft called an "Air-Attack."
Crews battled the wildfire through the night aided by firefighting equipment and personnel from the Golconda and Valmy Volunteer Fire Departments as well as a large capacity water tender from Nevada Gold Mines.
"This was a perfect example of how preseason coordination between a stakeholder (NV Gold Mines) and the Bureau of Land Management, pays dividends in having established, easy to implement protocols and contacts in place to facilitate rapid engagement and water use to fight this fire" said Donovan Walker, Interagency Fire Management Officer for the Winnemucca District BLM. "The new Memorandum of Understanding between the BLM's Winnemucca and Battle Mountain Districts and Nevada Gold Mines LLC went into effect in early June of this year and was implemented very effectively for this fire."
The incident was managed under unified command between the Bureau's firefighters and Golconda chief officers. By 10 p.m. the fire had grown to over 1,000 acres.
"Rapid coordination between BLM and NV Goldmines (Turquoise Ridge and Getchell properties) allowed for immediate use of pre-identified water sources on those properties where engines and the helicopter could get water," added Walker. "Mine personnel were readily on hand to provide escorts and rapid and safe access through the mine properties to access the fire."
The Osgood fire was contained and controlled on July 24.
Be the first to know
Get local news delivered to your inbox!