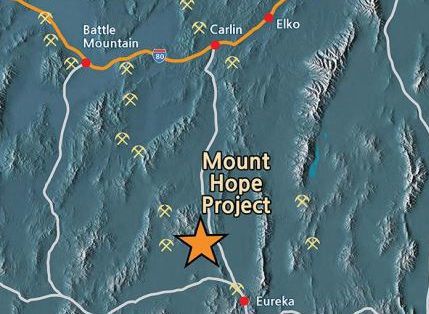 LAKEWOOD, Colo. — General Moly Inc., which is planning a large molybdenum mine northwest of Eureka, announced Thursday that a Kobeh Valley ranching family's protests to the Mt. Hope project's water rights applications pending before the Nevada state engineer have been formally withdrawn in exchange for the funding of an initial $1 million payment to a trust account.
The release of funds to the ranchers is pending issuance of water permits from the Nevada state engineer.
"We are extremely pleased to have reached a compromise settlement with the ranchers and have now resolved all remaining protests filed with the Nevada state engineer to the water permit application for the Mount Hope project," General Moly Chief Executive Officer Bruce Hansen said May 23. "We will continue to focus on the future development of the Mount Hope moly mine for the economic betterment of the broader community and the state of Nevada."
With the withdrawal of protests, the ranchers have also forfeited any right to judicial review of any decision by the Nevada state engineer concerning the water rights applications and permits, and the ranchers agree not to oppose any other proceedings with any state or federal agency related to the Mt. Hope project.
You have free articles remaining.
If the Mt. Hope joint venture partners at Eureka Moly LLC secure project financing, additional consideration representing less than 1.5 percent of the remaining project capital budget will be paid to the ranchers. If EMLLC has not secured Mt. Hope Project financing within 12 months, EMLLC will make monthly payments of $10,000 to the ranchers until financing is achieved and the remaining consideration will be paid to the ranchers.
EMLLC, which operates the Mt. Hope Project, is owned 80 percent by General Moly and 20 percent by POS-Minerals Corp., a subsidiary of POSCO of South Korea.
"We are on the cusp of having the Mount Hope project fully permitted as the federal Bureau of Land Management is finalizing its review of public comments recently received on the draft Supplemental Environmental Impact Statement and preparing a final Supplemental Environmental Impact Statement ahead of issuing the anticipated Record of Decision later this year," Hansen said.
The Mt. Hope Project is considered one of the world's largest and highest grade molybdenum deposits. General Moly Vice President Pat Rogers said in March that the mine is expected to employ over 700 people during the construction phase, and when the mine becomes operational, it is expected to employ about 400 people.
General Moly also owns 100 percent of the Liberty project, a molybdenum and copper property also located in central Nevada. The company's goal is to become the largest primary molybdenum producer in the world.
Molybdenum is a metallic element used primarily as an alloy agent in steel manufacturing.